Jerk-Off Democrat Who Boned Medicaid Is Your State Legislative Sh*tmuffin Of 2014!
News
December 31, 2014 10:00 PM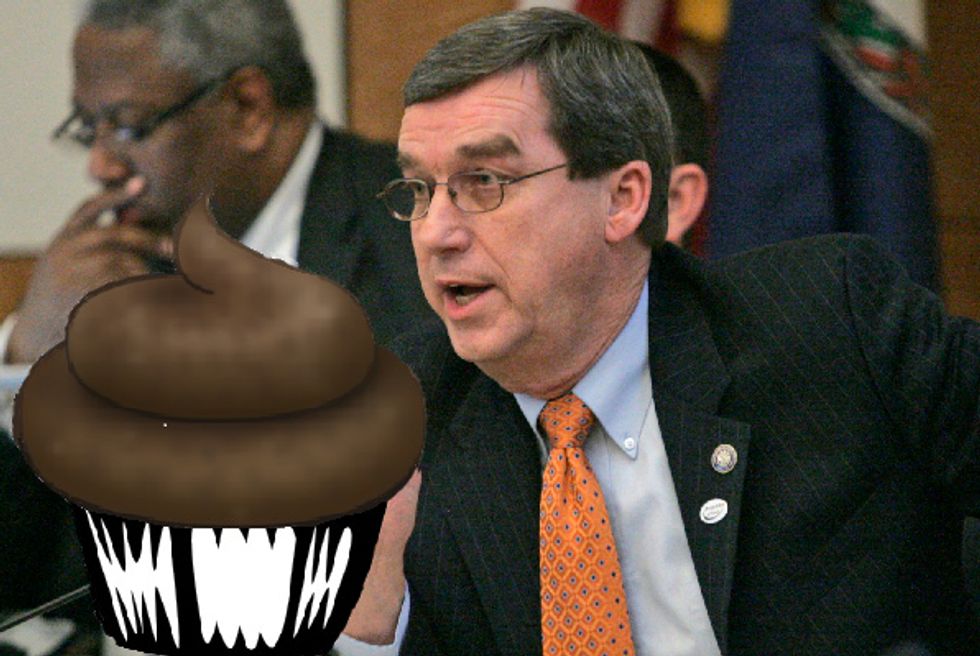 Dear readers, do you live in a state? The Washington Bureau is located in a lawless wasteland known as the District of Columbia, where our primitive jungle council attempts to rule only to be thwarted by unseen but all-powerful overlords who hold the key to our riches. Someday, we shall find and defeat this "Congress."
---
Of course, having your own state legislators can be a mixed blessing. Take Virginia. The commonwealth's been punching above its weight class in the shitmuffin state division: the 2014 Shitmuffin of the Year and the runner-up are from Virginia. And of course Wonkette conspired with the rest of the liberal media to hush up their shenanigans, since they are both Democrats.
Runner-Up/Shitmuffin-in-Waiting: still-Virginia state delegate Joseph Dee Morrissey (D-Henrico)
Del. Morrissey did not have to give up his seat in the Virginia House of Delegates after pleading no contest to contributing to the delinquency of a minor in order to avoid trial on charges of distributing child pornography. He was sleeping in jail and only allowed to go to his office unless he got permission from the police, but technically he wasn't a felon! Finally, Morrissey rolled his eyes and said he'd resign, but not until after the special election to replace him.
In which he was planning to run.
Virginia Democrats held a quickie caucus which, unbelievably, led to a different candidate winding up on their ballot line. While Morrissey's law partner and some supposedly disenfranchised voters sued the party for following the law that allows them to skip an open primary, the non-felon himself got together the signatures for an independent run. Morrissey remains a member of an elected body, and for at least the next two weeks he will be campaigning for re-election from the confines of his law office. You know what to do, voters of Virginia's 74th House District.
State Shitmuffin of the Year: former Virginia state Sen. Phillip P. Puckett (D-Russell)
Former Virginia state senator and human onomatopaeia Phillip Puckett had a banner year. He'd put in 16 years in public service and was about to make a lucrative jump from legislating to managing tobacco settlement funds for a GOP-controlled state panel when everyone got all upset, just because he was quitting in the middle of a budget standoff and handing control of the chamber to the Republicans, who were poised to spike Democratic Gov. Terry McAuliffe's plan to expand the Medicaid program to cover 400,000 Virginians.
While Puckett didn't get his plum tobacco job, his resignation did succeed in getting his daughter confirmed to her judgeship and depriving hundreds of thousands of low-income Virginians of access to health care. In the wake of Puckett's shitmuffinry, McAuliffe used some cost shifting to add 25,000 people to state health care programs, but the Medicaid expansion was dead. Phil Puckett killed it.
Phil Puckett is slightly less loathsome than Joseph Morrissey in one important regard: when he resigned, it was effective immediately. Thankfully, 2014 draws to a close with only one of these shitmuffins still in public office.
Happy New Year, Virginia! We wish you a finer grade of legislator in 2015.
You can follow Beth on Twitter. She is Virginia-adjacent.