Jim Jordan, Mark Meadows Screaming, Hollering Because The FBI Investigated Crimes
Russia
April 10, 2019 03:28 PM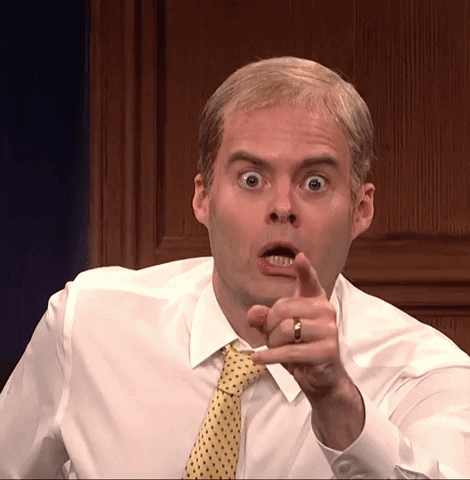 Another day, another document dump from Team Treason. Congressman Doug "Heehaw Sweet Tea" Collins, ranking obstructor on the House Judiciary Committee, is on the warpath. No sheep is safe tonight!
Last night, Collins released the transcript of an October 3, 2018, interview with James Baker, former general counsel at the FBI and not the former secretary of State. There's other testimony, but Ol' Sweet Tea is keeping that in his back pocket for a day when the GOP needs to make some noise about BIASSSSS at the Department of Justice. There's 152 pages of this nonsense, but just imagine five hours of Jim Jordan and Mark Meadows shouting....
WHY YOU NO PRETEND THAT EVERYTHING WAS TOTALLY NORMAL IN 2016? WHY DIDN'T THE FBI JUST FOLLOW THE PROTOCOL FOR TIMES WHEN A FOREIGN HOSTILE POWER TRIES TO HACK THE ELECTION IN FAVOR OF ONE CANDIDATE! WHY YOU DINT LOCK HER UP HILLARY AND ALL THE COUP PLOTTERS WHO SAID DONALD TRUMP WANTED TO CONSPIRE BUT HE JUST COULDN'T GET THERE? SAY THIS RUSSIA THING WAS JUST OBAMA TRYING TO COVER UP FOR HILLARY'S DEMON EMAIL SERVER! SAY IT! SAY ITTTTTTTTTTTTTTTTT!
And that is why we read it FOR YOU, and you are WELCOME. Let's dive in!
---
Mark Meadows is MAD that James Baker took a copy of the Steele Dossier from David Corn, who knew him from back when their kids carpooled together.

Why would you take possession of evidence here? Why would you not have said, You know what, Peter Strzok is lead investigator. Let me have him reach out to you? Why would you take possession of that evidence?
But Mark Meadows is also MAD that Baker didn't read the dossier before handing it off to FBI agents.
So you lacked the curiosity to read something that significant? That seems strange. I mean, I would probably have read it.
And don't journalists usually just reveal all their sources to law enforcement? That's what Mark Meadows wants to know!
So you have a personal relationship with this reporter, you continue that personal relationship today, and you are telling me that he has never told you where he got the dossier from?
Also, the distinguished Messrs. Jordan and Meadows are SHOCKED and CHAGRINED that a lawyer from the DNC would go to the FBI to report that they'd been hacked by the Russians.
But I am troubled by abnormal activity that a seasoned general counsel for the FBI takes possession of evidence from what is obviously a political -- has political connections. Why would you take possession of that in this unique situation?
Obviously the correct procedure when a campaign realizes it's been breached by a hostile foreign power is to deny it forever while publicly imploring that power to hack one's political rivals. Extra points for making up some bullshit story about Russian adoption when the papers finally get ahold of the evidence.
Now, to be fair, Baker never explicitly said that Perkins Coie lawyer Michael Sussman came to him in the summer of 2016 with info on the DNC hack. He said it was regarding a cybersecurity matter relating to the Russia investigation. But we're taking a wild shot that this was regarding the Russians breaking into the DNC server and stealing emails to feed to their Wikileaks cutout. As Jim Jordan and Mark Meadows knew damn well in October when they asked these stupid questions, since they've seen most of the underlying evidence. But if they can just prove that the FBI only started the investigation because BIASSSS, then maybe we can all pretend that the Russians didn't have their finger on the scale for Trump and it's like he won fair and square in 2016. 'KAY?
NO?
Congressmen Jordan and Meadows seem singularly unconcerned that Trump may have fired Comey to end the Russia investigation. Can't be obstruction of justice if you move on it like a bitch but you just can't get there, right? But inside the Justice Department, which is governed by IRL laws, Trump's erratic behavior set off something of a panic. Baker recounts Deputy Attorney General Rod Rosenstein being horrified that his Comey memo might have been used to further an obstructive effort to end the Russia investigation.
The DAG was having a hard time with the blow-back, I guess you would say, from the firing and the extent to which that he -- his recommendation to the President had been used to justify the firing. I understood that he thought that he had been used or misused with respect to the firing and that he was quite alarmed by this whole situation. In the context of those conversations at some point in time I thought it was -- my understanding was it was the deputy attorney general who came up with the idea of wearing a wire into a conversation with the President and that my understanding from my conversations with at least with Andy and/or Lisa was that they took it as a serious statement, that it was a serious thing to think about.
Rod Rosenstein: Babe in the woods, or devious undercover agent? Or is it BOTH?
Whichever it was, the DAG was apparently not alone. Two of Trump's original cabinet members thought Trump was so batshit they were willing to invoke the Twenty-Fifth Amendment.
The 25th Amendment conversation, my understanding was that there was a conversation in which it was said I believe by the DAG that there were -- that there were two members of the cabinet who were willing to go down this road already.
It's A COUP. Or perhaps it's exactly how the Constitution envisions our democracy working. Definitely one of those! Holler in the comments and tell us which of the Trumpland Cabineteers were ready to throw his crazy orange ass out in spring of 2017. Was it Rex? Sonny? Ryan? Elaine? Wilbur? Betsy? Ben?
IT WAS LODESTAR!
Follow your FDF on Twitter!

Please click here to fund your Wonkette, who read that whole damn transcript JUST FOR YOU!
Liz Dye
Liz Dye lives in Baltimore with her wonderful husband and a houseful of teenagers. When she isn't being mad about a thing on the internet, she's hiding in plain sight in the carpool line. She's the one wearing yoga pants glaring at her phone.