Joe the 'Plumber' & Kirk Cameron Plot Moral Crimes At CPAC
News
February 09, 2012 04:10 PM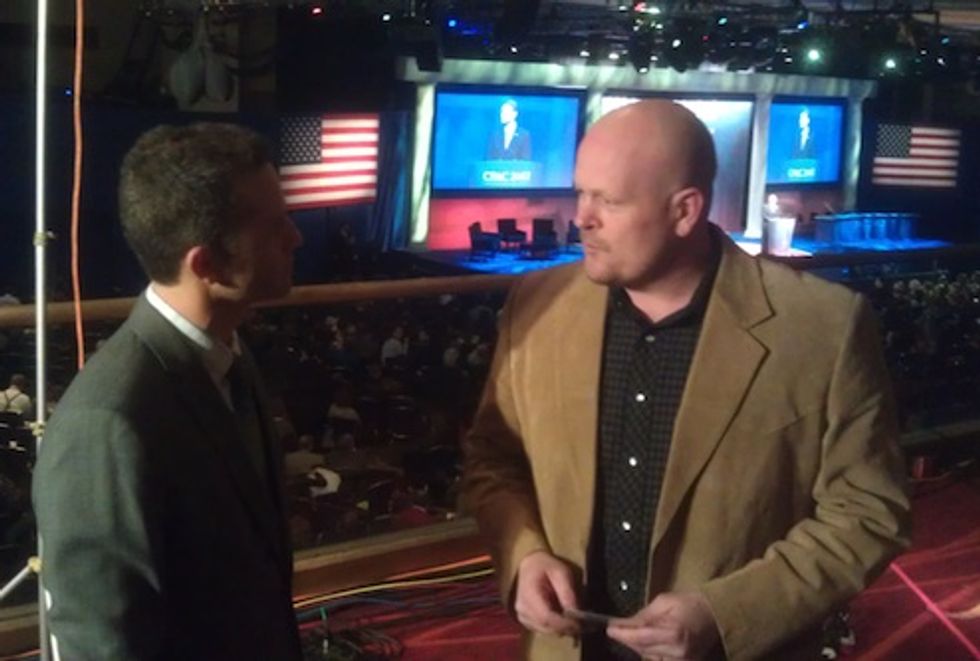 What are these two future co-presidents of Walmerica talking about, high above the commoners at CPAC? Nothing that makes any sense, that is for sure! Also is there some sort ofBehind the Music style sob story to explain why 1980s teen teevee heartthrob Kirk Cameron is now reduced to hanging out with a spoiled pot roast like Samuel Wurzelbacher?
---
Yes, and this is the story, courtesy of the Happygrrls' "People we used to care about" feature:
Kirk, who played Mike Seaver on "Growing Pains" (1985) and is the older brother of Candace, is a devout Christian who starred in Left Behind (2000), Left Behind II (2002), and Left Behind IV (2004), a series of straight-to-video movies about the second coming of Christ. He adopted a whole bunch of children with his wife, Chelsea Noble (who played Kate on Growing Pains), and started The Firefly Foundation, which sponsors camping trips for terminally ill children. He's currently working for Living Waters, a fundamentalist Christian church ....

Kirk's still heavily involved with the Way of the Master and writes updates on the site frequently, most of which have to do with him trying to coerce people into joining his church.
"Way of the Master" is a BDSM "Dungeons and Dragons"-style adults-only role-playing game with real goblins from Hell and a talking dildo demon (Pat Sajak).
Photo by Garrett Quinn. Text made up by a Wonkette editor.