John McCain Is Voting HEHNGNN? On Sotomayor
News
August 03, 2009 03:52 PM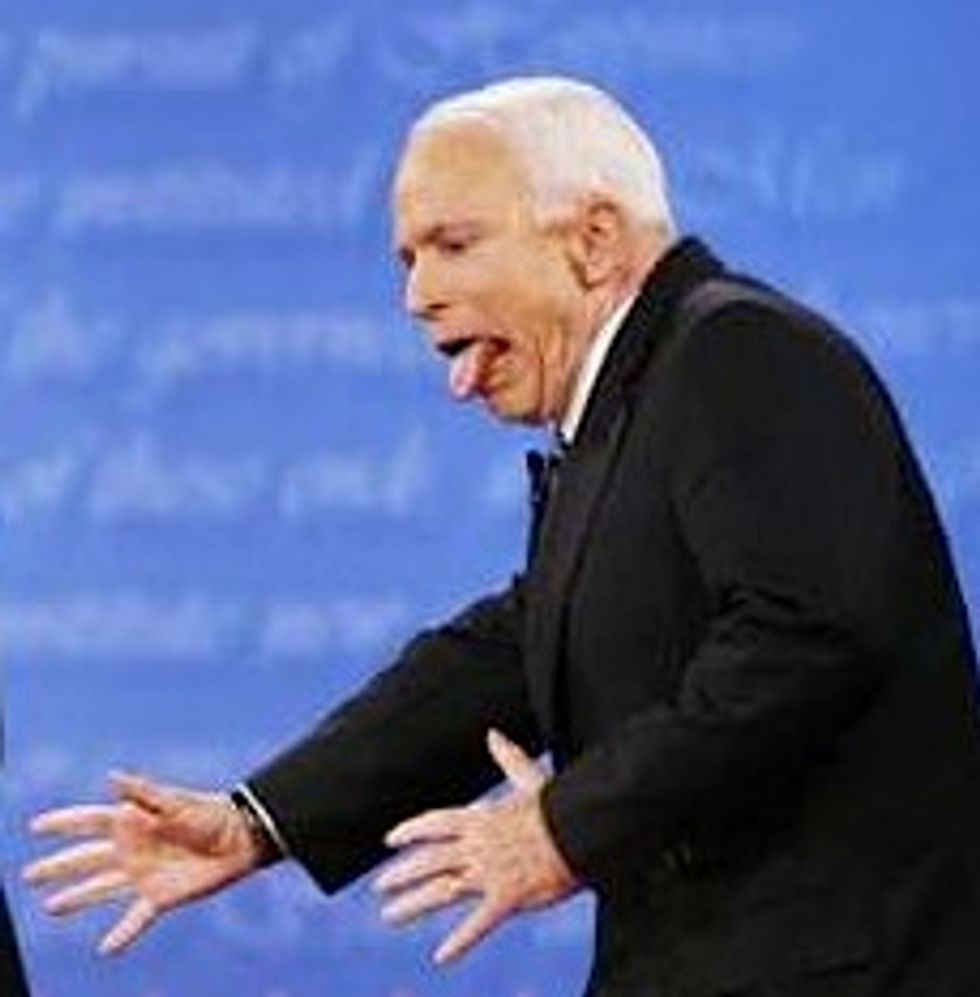 Hey B'araq, Here's another rotten egg for your breakfast poop salad: John McCain, the elderly gentleman born and raised in Arlington, Virginia,simply will not vote for the Mexican Supreme Court lady. Everyone values John McCain's opinions and that is why he informed America of this decision on no less a stage than the floor of the United States Senate, in a Speech.
---
McCain's reasons for opposing a Democratic nominee to the Supreme Court are quite original -- something about how a judge might have an erroneous tendency to revise statutory law in a process insiders call, "legislating from the bench." It is the hot new term in politics, 40 years ago!
Again and again, Judge Sotomayor seeks to amend the law to fit the circumstances of the case, thereby substituting herself in the role of a legislator. Our Constitution is very clear in its delineation and disbursement of power. It solely tasks the Congress with creating law. It also clearly defines the appropriate role of the courts to "extend to all Cases in Law and Equity, arising under this Constitution, the Laws of the United States, and Treaties." To protect the equal, but separate roles of all three branches of government, I cannot support activist judges that seek to legislate from the bench. I have not supported such nominees in the past, and I cannot support such a nominee to the highest court in the land.
They make it sound like such a struggle. "I just... can't... DO IT!" Lord knows what it's like when these guys have to pinch a loaf. PUSH HARDER!
Speaking of anus, John McCain's best friend Lindsey Graham has already voted for Sotomayor in committee and will presumably do so in the final floor vote, so maybe there's trouble in paradise? Maybe Lindsey Graham is hanging out with Joe Lieberman more these days and John McCain is getting jealous?
Anyway, John McCain's entire pretend state is made up of Mexicans, and his primary opponent in 2010 is some psychotic outlaw whose job is to shoot as many Mexicans as possible each day -- a real base-pleaser if ever there were -- so maybe this is why he will not vote for Maria So-So.
McCain To Vote "No" On Sotomayor [Hotline]