John Oliver Brings You The Scottish Independence Story You Didn't Know You Were Dying To See (Video)
News
September 15, 2014 09:31 AM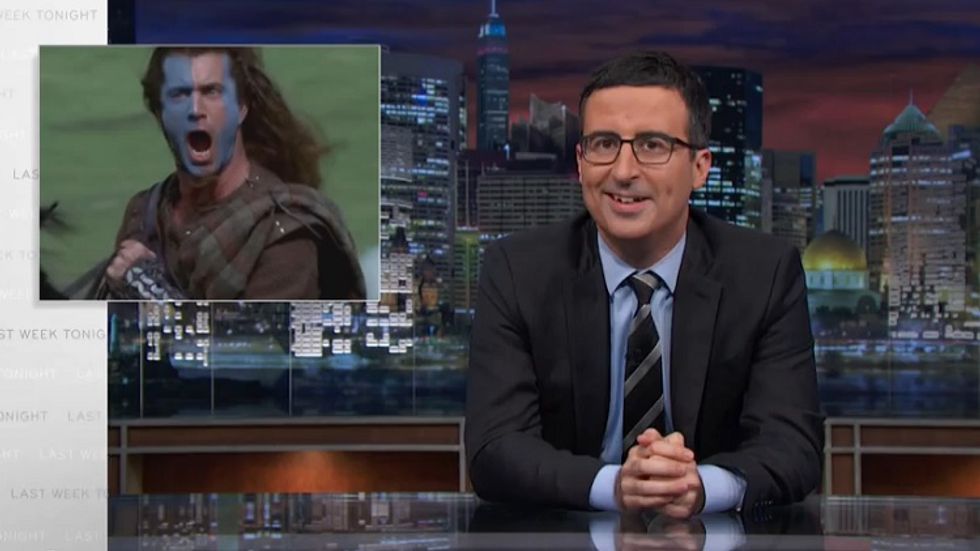 John Oliver andLast Week Tonight have a real treat for us this week: the funniest reporting on this week's Scottish vote on whether to leave the United Kingdom. Yes, Scotland -- which Americans know as "the birthplace of Shrek and that accent you think you can do but actually can't." It's an explainer, an editorial, and a comedy bit all rolled into one, and damned if it doesn't get at the major issues far more effectively than any of the American TV reports that we've seen on Scottish independence. Which would be none.
---
Turns out that there's actually more to the story than just that "millionaire Australian anti-Semite on horseback" from that one movie. Even the chief funders of the two positions are fun -- J.K. Rowling is supporting the pro-Union effort, and the independence campaign has gotten 80 percent of its funding by a couple who won the lottery -- "an adorable Scottish version of the Koch brothers." And there are serious issues at stake: oil revenue, nuclear weapons, and the likelihood that if Scotland leaves the UK, it will no longer have the pound as its currency, and would have to either "join the currently unstable Euro, or revert to Scotland's old currency, which I believe was sheep and threats."
Watch this video, and you are guaranteed to be more informed about this important issue than 95 percent of your fellow Americans. If nothing else, it's nice to see that other nations have political campaigns that are almost inept enough to be on American TV.