Josh Duggar's Penis Had A Accident On Another Porn Star
News
September 30, 2015 03:45 PM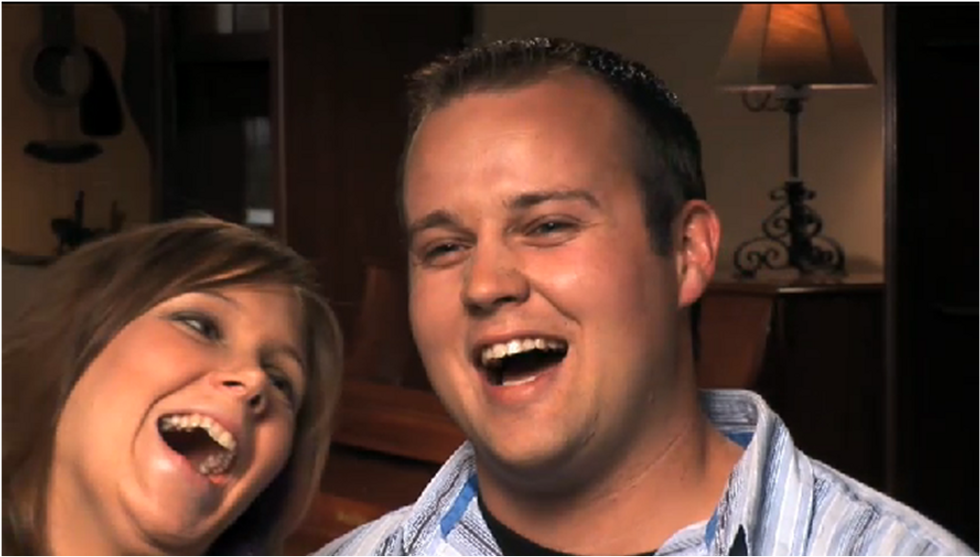 Close that filthy mouth, slut boy.
---
Everybody in the front row, cover yourselves with plastic, because we're about to Gallagher some more Duggar spooge your way. Remember how Josh Duggar had to go to the Fuck-No-More Bible Camp, after it was revealed that the porn demons in his penis forced him to make nasty all over the Ashley Madison website, and that he also hired one of his favorite porn stars, Danica Dillon, for the purposes of doing rough sex to her in a way that creeped her out far more than any violent hardcore sex scene she had ever filmed? And remember how Dillon said at the time that she was pretty damn sure there were more porning ladies out there who had been violently Duggared? Well, InTouch is back with a new story, and it sounds like Dillon was right!
"A second porn star is saying she also hooked up with Josh and had a bad experience, too," a source told

In Touch

magazine, adding that the woman plans to go public with her story.
[contextly_sidebar id="Oe8KQZefsxKQs33uIRSrKP0cADP8DVDz"]
Ooh! Bad! Wonder what this lady's story will be! Because with Dillon, it was all about how he threw her around violently, like how she does it in the movies, so he figured she was into that. Yes, when you grow up a Duggar, you don't understand that porn is a fantasy, and your sisters are off limits. Dillon also reports that he stiffed her (financially) the first time he bought sex from her, and that during the violent fucking, he said, "Come on, be a good, dirty little [expletive]." We don't know what [expletive] is, but we're pretty sure it's not "Christian sidehugger." Or maybe it IS "Christian sidehugger," and that's just what Duggars call all skin-to-skin contact that sexually arouses their shame areas.
Honest question: Since we keep hearing that Anna Duggar is going to Stand By Her Man or whatever, on account of because she's brainwashed by the same batshit religious teachings as the family she married into, is she finding out about each new porn star in real time, along with the viewers at home? Because THAT could be an idea for one of those new Duggar specials TLC is forcing upon an innocent nation. They could call it "Anna Gets The News." New episodes premiering all the fucking time! (JUST KIDDING, THAT WOULD BE A BAD IDEA.)
[contextly_sidebar id="89UQPKrxM1mwFyFGaiBJbIFVZ5EUmr6n"]
Another question: Anna, GO TO PLANNED PARENTHOOD. Our bad, that was not a question. We have said this a million times, and we're going to say it again. With each new revelation, there is more and more of a likelihood that Josh caught the gono-herpo-spyhil-AIDS from SOMEBODY, and he just might have regifted it to his wife. Get the ol' hoo hoo checked out, Anna! They'll even check you for booby lumps, and if you're a very good girl, you get a coupon for a free Frosty at the end of your appointment, just like the dentist.
[contextly_sidebar id="bsfFElIojyw0J34FIirlq73SZWHUN317"]
Anyway, we can't wait to hear all the gruesome details from Porn Star Number Next. You can be sure we'll update you in a timely manner.
[InTouch]
Evan Hurst
Evan Hurst is the managing editor of Wonkette, which means he is the boss of you, unless you are Rebecca, who is boss of him. His dog Lula is judging you right now.
Follow him on Twitter RIGHT HERE.