Josh Hawley Pretty Sure MAGA Bros Watch Porn All Day Because Liberals Hurt Their Fee-Fees
White Nonsense
November 01, 2021 02:03 PM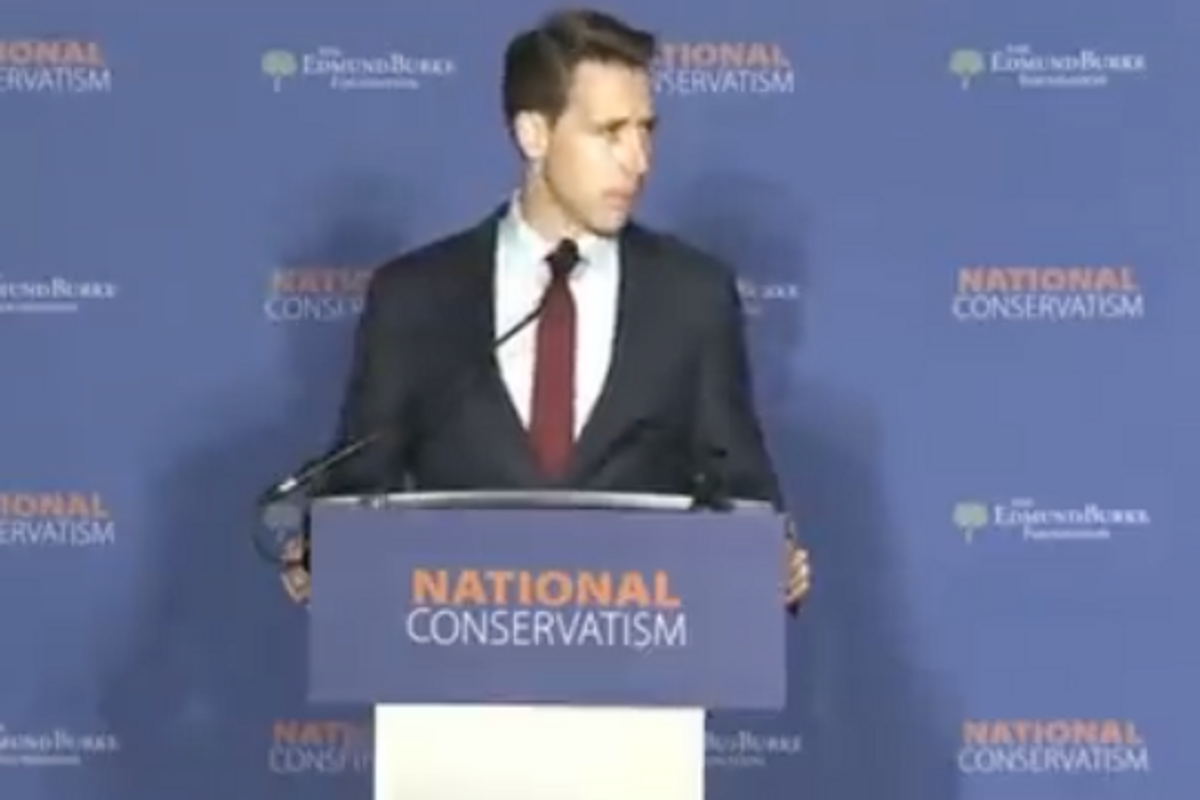 Whenever I'm feeling especially annoyed with Democratic Senator Joe Manchin, I remember that GOP Senator Josh Hawley exists. Former Democratic Senator Claire McCaskill from Missouri was hardly a liberal icon, but she was far preferable to that preening, seditious asshole. Hawley ranted last night about video games and porn at the National Conservatism Conference. He sounded like John Lithgow in Footloose, but without the capacity for personal growth.
Here's a clip if you have a strong stomach:
Josh Hawley says more men today are watching porn and playing video games because their masculinity has been critic… https://t.co/E7dsCysAzM

— Ron Filipkowski (@Ron Filipkowski) 1635762775.0
Let's break down his bullshit.
HAWLEY: The Left want to define traditional masculinity as toxic. They want to define the traditional masculine virtues — things like courage, and independence, and assertiveness — as a danger to society.
This is what the kids call a "strawman" argument. First place, "courage, independence, and assertiveness" are not traits that are exclusive to men. This is 2021, motherfucker. Women don't pass out at the sight of mice like in an old "Tom & Jerry" cartoon. Donald Trump's cowardly bullying exemplifies what the "Left" considers toxic. It's as if Hawley was asleep for the past five years and woke up with that smirk stuck on his face.
---
Trump is so emotionally damaged he created a separate reality where he didn't suffer a public and humiliating election defeat. Hawley enabled Trump's alternate reality to serve his own political ambitions. He also grossly cheered on the spoiled brats who turned up at the Capitol on January 6. They didn't all join the insurrection, but they bought Trump's lies like chumps. That's not independence, either.
HAWLEY: This is an effort the Left has been at for years now. And they have had alarming success. American men are working less, getting married in fewer numbers; they're fathering fewer children. They are suffering more anxiety and depression. They are engaging in more substance abuse.
So, Hawley's now blaming "the Left" for the GOP's lousy domestic policies. The war on drugs failed and the "Left" could've told Republicans this back when Nancy Reagan guest-starred on "Diff'rent Strokes." Drug addiction has also drastically increased since the 1980s in states such as West Virginia and Kentucky, which also shifted further to the right politically during that time. Blaming the "Left" for their own mess makes no sense, but that's how conservatives roll.
After the Cold War ended, conservatives decided the true existential threat to America was other Americans, specifically those who weren't white cis heterosexual men. The whole uproar over so-called "critical race theory" is that it supposedly pits races against each other, which is something Republicans loathe unless they're doing so to win elections. Republicans initiate and escalate culture wars against marginalized groups whose sole offense is openly existing in the modern world. Who else is the "Left," other than the LGBTQ community, uppity Black people and even more uppity women? I'm tired of these assholes scapegoating us for everything in their lives they can't handle.
HAWLEY: Responsibility is one of God's greatest gifts to mankind, and men must be held responsible for their actions.
He's literally blaming half the country for society's ills. His diatribe contains zero self-reflection. Then he finally gets around to the porn and video games. He's demagoguing like it's 1999.
Hawley thinks the "Left" is too mean to (white) men, as if the poor guys can't catch a break. The senator voted to overturn the results of a free and fair election so conservative white men would feel better about themselves. I think they've been pampered enough.
HAWLEY: Still, can we be surprised that after years of being told they are the problem, that their manhood is the problem, more and more men are withdrawing into the enclave of idleness, and pornography, and video games.
Wait, who is telling all the men their "manhood" is the problem? Where is that happening? The "Left" has not collectively denigrated men. We want to free all men from toxic masculinity. Like Atticus Finch, we don't believe courage is a man with a gun in his hand.
A 2017 study of Pornhub data revealed that women spend more time on the site each day than men. The percentage of women who play video games is also increasing, and that's caused some male gamers to lose their damn minds. Trump appeared in softcore porn videos (we don't want to think about it, either), and Hawley doesn't seem to think he's part of the problem.
Josh Hawley is 41 years old, but all he has to offer is some stale Rick Santorum rhetoric. This is why I'll definitely endorse Joe Manchin in 2024 over whatever young rightwing creep Republicans run against him. Hawley proves daily that we can always do much worse.
[JoeMyGod]
Follow Stephen Robinson on Twitter.
Do your Amazon shopping through this link, because reasons.
Yr Wonkette is 100 percent ad-free and entirely supported by reader donations. That's you! Please click the clickie, if you are able!
Stephen Robinson
Stephen Robinson is a writer and social kibbitzer based in Portland, Oregon. He writes make believe for Cafe Nordo, an immersive theatre space in Seattle. Once, he wrote a novel called "Mahogany Slade," which you should read or at least buy. He's also on the board of the Portland Playhouse theatre. His son describes him as a "play typer guy."