Just FYI: Harry Reid Has Absolutely Nothing To Do With the Economy
News
September 08, 2010 11:55 AM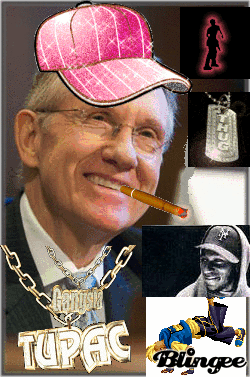 Dear Nevada,
---
Please stop blaming Harry Reid for your economic woes, because do you people even know what the economy (or Harry Reid) is? The Economy, like the Internet, is a series of tubes. Harry Reid is just an old man from Nevada. So why must you insist that Harry Reid is somehow related to the struggling economy? Harry Reid has nothing to do with the economy, they are not even distant acquaintances. So honestly, enough with the "Sharron Angle told me Harry Reid tricked me into buying toxic assets so that he could foreclose on my trailer park home" whining. If you knew anything, you would understand Harry Reid needed that billion-dollar bailout, because he is too big to fail.
Poor Harry Reid is just cold groveling for votes at this point:
"I had nothing to do with the massive foreclosures here," Reid said during an appearance on the ABC News/Washington Post "Top Line" program, adding that he also had no part in contributing to the state's dismal unemployment figures.

At 14.3 percent, Nevada's unemployment rate ranks the highest in the country. The Silver State has also been hit hard by foreclosure and bankruptcy; an Associated Press analysis found that Nevada is the most economically stressed state in the nation.

Reid's opponent, former state Assemblywoman Sharron Angle (R), has placed the blame for Nevada's economic woes squarely on Reid's shoulders. Her latest TV ad highlights the state's record unemployment and charges that Reid "has dragged Nevada down to perhaps its lowest point ever."
We're pretty sure it is actually Sharron Angle who has dragged Nevada all the way down to the Earth's fiery Inner Core. [WaPo]