Mark Harris's 'Victory' In NC's 9th Too Shady *For North Carolina Republicans*
Elections
November 30, 2018 10:10 AM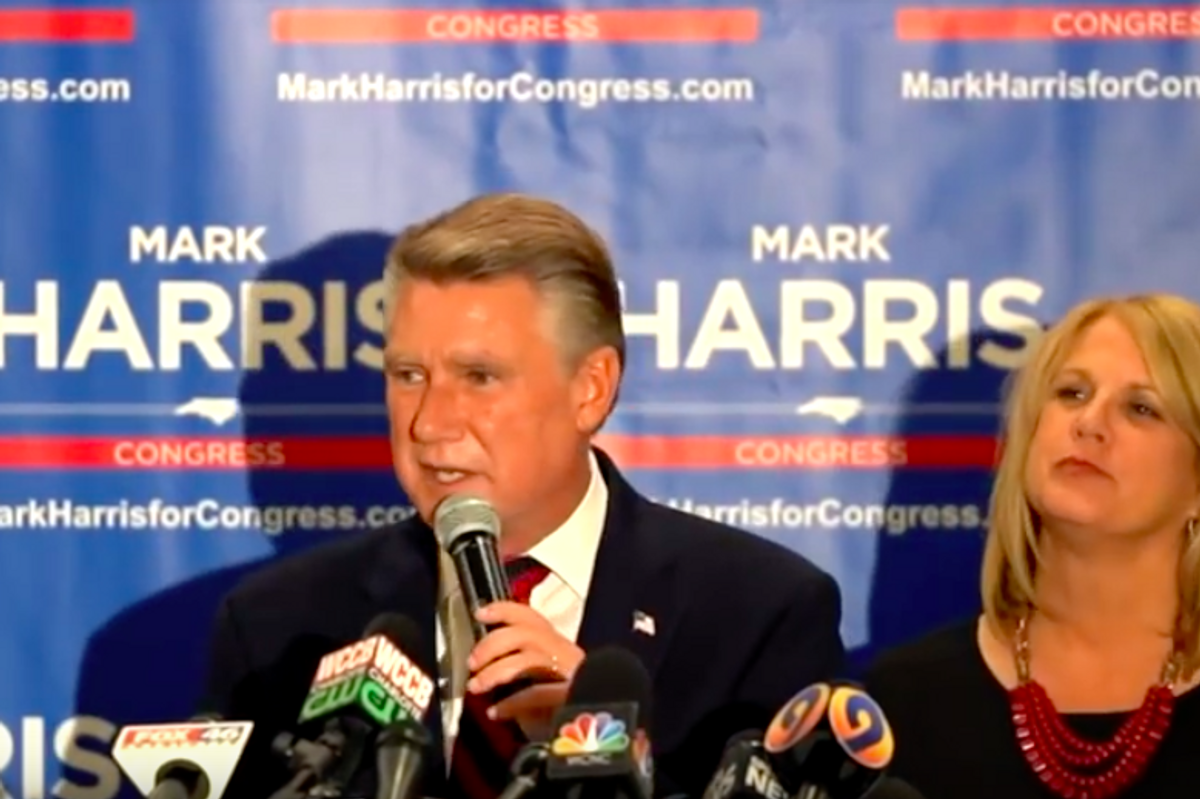 There's some underhanded shadiness going on in North Carolina. There's always some underhanded shadiness going on in North Carolina. Remember when Democrat Roy Cooper defeated anti-gay hatemonger and bathroom busybody Pat McCrory, and the GOP-controlled state legislature cooked up some bills to ensure Cooper had the same executive powers as the local dogcatcher? Well, it wouldn't be an election season without more shenanigans from the state.
Republican Mark Harris narrowly beat Democrat Dan McCready in North Carolina's 9th Congressional District. FiveThirtyEight's election forecast rated the race as a tossup. This was despite a partisan lean of almost 14 points in favor of Republicans. Unfortunately for Harris, the North Carolina State Board of Elections and Ethics Enforcement hasn't certified his 905-vote "victory" over McCready and have no immediate plans to do so, either. The hold-up is related to a mounting evidence of fraud.
---
Election officials are investigating whether hundreds of absentee ballots were either illegally cast or illegally destroyed. According to sworn statements, voters in Bladen and Robeson counties, near the South Carolina border, claim people showed up at their homes and urged them to hand over their absentee ballots, sometimes without filling them out. Others say they received absentee ballots by mail that they had not requested. This is all very illegal.
There was an unusually high number of absentee ballots from Bladen County, in both the general election and the May 8 primary. Harris upset incumbent Rep. Robert Pittenger by 828 votes. This was good news because Pittenger is a Donald Trump-loving racist jerk, who declared that protestors of police violence were just jealous "because white people are successful and they're not." The bad news is that Harris is worse. In a 2013 sermon, the former pastor wondered if women working was the "healthiest pursuit for society." He suggested women "submit" to their husbands (he later claimed this was taken out of context). He also argued that no peace was possible between Jews and Muslims until they both converted to Christianity. He's not really an unfrozen caveman politician but was actually born in the 20th Century.
In his primary race, Harris won 96 percent of all absentee ballots in Bladen, a significantly higher percentage than his win in the county overall. But let's not immediately assume fraud like a common Paul Ryan.

In one sworn statement, Bladen County voter Datesha Montgomery attested that, on Oct. 12, a young woman came to her door and asked for her ballot, stating that she was collecting people's ballots in the area.

"I filled out two names on the ballot, Hakeem Brown for Sheriff and Vince Rozier for board of education," Montgomery wrote in the affidavit. "She stated the others were not important. I gave her the ballot and she said she would finish it herself. I signed the ballot and she left. It was not sealed up at any time."
OK, what?

Dan McCready released a statement Thursday regarding the State Election Board's decision not to certify the election results.
I was as shocked as anyone to see the State Elections Board, in an unprecedented bipartisan 9-0 decision, delay cer… https://t.co/Nl67g5m5xU

— Dan McCready (@Dan McCready) 1543541978.0
Harris gave an interview to Spectrum News Thursday where he delivered a Trump-tastic statement about the fraud allegations: "It's been out there. We were fully aware of it. There are some particularly unsavory people, particularly out in Bladen County, and I didn't have anything to do with them."
Election law expert Gerry Cohen said he found one precinct in Bladen County with some wonky results. In Bladenboro 2, 159 people voted by mail — 18 Democrats, 32 Republicans and 109 unaffiliated. Only four were black. That's not very consistent with the racial demographics of the state. Another 156 people requested absentee ballots but never returned them. Cohen described this as "a whole series of suspicious events." Wonkette describes that as the understatement of the yearmonth okay the morning.
Follow Stephen Robinson on Twitter.
Yr Wonkette is supported ONLY by reader donations, and it's the end of the month! If you've got spare scratch lying around, why not shoot it to us?
Stephen Robinson
Stephen Robinson is a writer and social kibbitzer based in Portland, Oregon. He writes make believe for Cafe Nordo, an immersive theatre space in Seattle. Once, he wrote a novel called "Mahogany Slade," which you should read or at least buy. He's also on the board of the Portland Playhouse theatre. His son describes him as a "play typer guy."