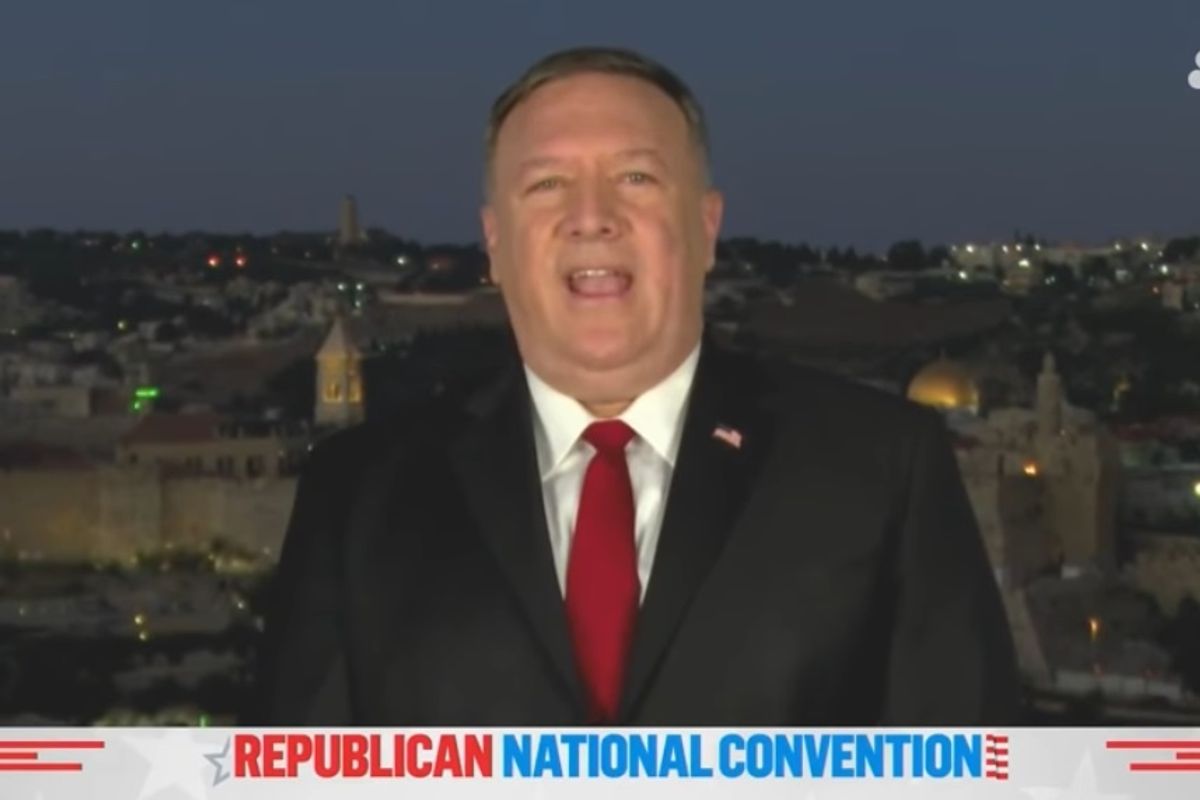 Mike Pompeo ignoring the Hatch Act in Jerusalem, NBC News video screenshot
Don't sleep on Mike Pompeo! The competition for Evilest Villain in Trumpland is stiff, but the fascist from Kansas is really giving Stephen "Baby Snatcher" Miller a run for the money.
Here's how Pompeo answered a question about the presidential transition this afternoon in an official State Department briefing.
Pompeo said Tuesday there will be a "smooth transition to a second Trump administration." A State Department offi… https://t.co/wLKUT6y3FG

— Bloomberg (@Bloomberg) 1605035775.0
REPORTER: Is the State Department currently preparing to engage with the Biden transition team? And, if not, at what point does a delay hamper a smooth transition or pose a risk to national security?

POMPEO: There will be a smooth transition to a second Trump administration.
The smirk afterward really makes it.
---
Some commentators interpreted this as a weak attempt at humor, noting that the secretary added "The world should have every confidence that the transition necessary to make sure that the State Department is functional today, successful today, and successful with the president who's in office on January 20th a minute after noon will also be successful." And perhaps we can charitably read this as an attempt to mock those people expressing alarm that the outgoing president is blocking all transition planning for the Biden administration.
But we see absolutely no reason to be charitable after four years of this nonsense. And certainly not when the president is filing lawsuit after dumpster fire lawsuit to overturn the will of the voters. The Trump campaign is literally in court right now trying to get a federal judge to throw out 2.6 million absentee ballots in Pennsylvania, so GTFO with "jokes" about a transition to a second Trump administration.
From hosting dinners on the State Department dime to build his political capital, to defying congressional oversight, to screaming at reporters, Mike Pompeo has flouted every law and norm for the past four years. There is absolutely no reason to doubt that he means exactly what he says about not intending to surrender power.
And we don't even need to take his word for it! The president's fixer Johnny McEntee is firing anyone who even thinks about sending out their resume, and Yahoo! News just reported the White House shifted hatchet man cum attorney Trent Benishek over to the General Services Administration in case GSA Administrator Emily Murphy gets any bright ideas about letting transition planning get started.
One top official who was involved in the Obama transition in 2008 speculated that the young attorney was put there "to keep tabs on Murphy." The former transition member, who would only discuss the matter on the condition of anonymity, went further, speculating that Benishek "was installed there so the [White House] could fire the administrator and chief of staff, then have [Benishek] take over the agency to stop the ascertainment," a reference to the process GSA undertakes during a presidential transition.

Though Murphy is a Republican, she is not a White House insider, meaning that she may not be fully trusted to do the president's bidding.
Does that sound like people who are planning to willingly surrender the reins of power?
So let's assume that Mike Pompeo means exactly what he says, and file that away for 2023 when that filthy sumbitch will undoubtedly announce his intention to run for president.
Because MATH doesn't care about Mike Pompeo's feeling, and the Electoral College math is not on his side. That bully may think he can park his keister at the State Department and refuse to leave, but come January he's going to find himself tossed out on his Foggy Bottom.
Say, you know know what else doesn't care about your feelings?
GRAVITY.
And it's a long, long way down, Mister Secretary.
[Yahoo!]
Follow Liz Dye on Twitter RIGHT HERE!

Please click here to support your Wonkette. And if you're ordering your quarantine goods on Amazon, this is the link to do it.
Liz Dye
Liz Dye lives in Baltimore with her wonderful husband and a houseful of teenagers. When she isn't being mad about a thing on the internet, she's hiding in plain sight in the carpool line. She's the one wearing yoga pants glaring at her phone.