KA-FUCKIN-BOOM. Wonkagenda For Wed., March 21, 2018
Russia
March 21, 2018 09:12 AM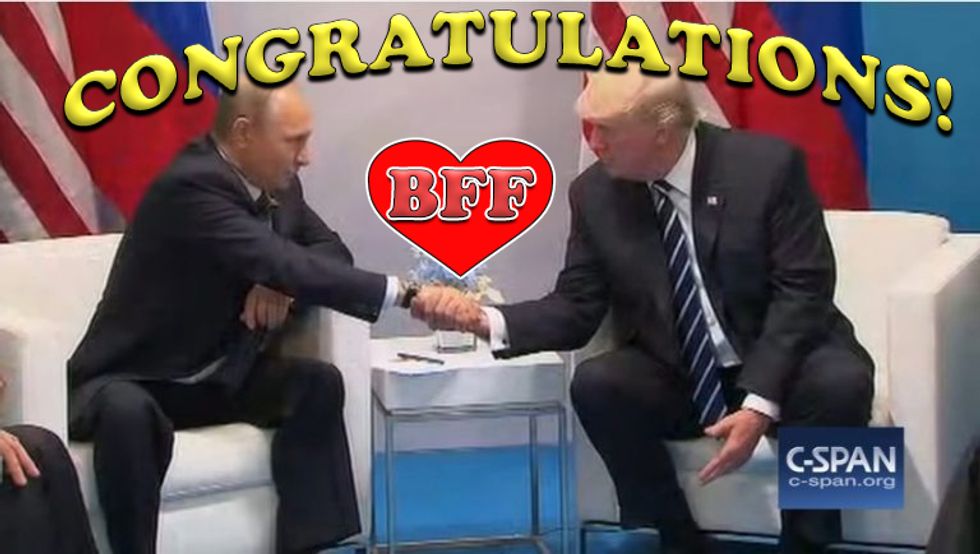 Morning Wonketariat! Buckle up, it's a NEWS FIREHOSE TODAY.
---
The Austin Bomber, an as-yet-unnamed 24-year-old man, exploded himself as the cops moved in. Jesus Christ.
The Mercers and Steve Bannon started Cambridge Analytica with the specific purpose of trying to reach out and touch all the disaffected deplorables ignored by Fox and Friends; because of Facebook's blind ignorance, you and your grandma helped them.
Here's your quick Illinois primary roundup, and what some of these races mean moving forward to November.
Trump called Vladimir Putin to congratulate him on his latest stolen election, despite the express wishes of national security adviser, HR McMaster, who literally wrote "DO NOT CONGRATULATE" on his cue cards. Trump was elected to lead, not to read! 
Multiple foreign observers are calling bullshit on the Russian elections after numerous videos showing ballot stuffing at polling stations in Russia went viral across numerous social media platforms and news outlets.
The Moldovan researcher accused of getting Facebook data for Cambridge Analytica claims he's a "scapegoat," and that he had NO idea what was actually happening, even though he bragged about it several years ago during a speech in St. Petersburg.
The FTC has opened an investigation into Cambridge Analytica's Facebook fuckery after an apparent violation of a 2011 settlement that mandated Facebook get users' permission to harvest and share data.
A New York judge has tossed a defamation suit filed by Carter Page claiming his reputation was damaged. Apparently Carter Page runs his mouth so much that he didn't have much of a reputation left to hurt.
One right-wing jackoff tried to kill another right-wing jackoff over the Seth Rich conspiracy theory; they'll probably blame Killary's secret deep state brainwashing machine or something.
Ret. Lt. Col. Ralph Peters, a Fox News talking head, has "You're Fired" himself over Fox's inability to shit talk Russia, according to an exit-email obtained by Buzzfeed that says Trump is "terrified" of Putin. He also criticizes Fox hosts for calling THE DOSSIER a "nothing burger...covered with Russian dressing."
Breitbart is hemorrhaging eyeballs, losing as much as half of its readership since November, according to a web traffic monitoring agency. :(
Now there are MORE women with MORE lawsuits moving forward that claim Trump is a dirty old man, including former Playboy model Karen McDougal and former Apprentice contestant Summer Zervos.
Texas Republican Rep. Pete Sessions has been busting legal weed reforms, and that has pro-pot advocates on both sides of the aisle feeling burned out enough to consider using medical marijuana to boot Sessions. The enemy of my enemy...
The Senate voted 55-44 to uphold the expanded war powers of the president just as super sketchy Saudi Crown Prince Mohammad bin Salman was sitting down with Trump. How convenient for THEIR genocide war in Yemen.
Congress has squashed the idea of adding protections for Robert Mueller into the omnibus spending bill because, apparently, Republicans like to let their friends drive drunk.
The Koch Brothers are making a last minute, $25 billion push to help Messicans and Dreamers and build "border security." It's a win-win as far as they're concerned.
Thanks to John Q. Taxpayer, Scott Pruitt has racked up $105,000 in first class frequent flyer fuck you's, according to documents submitted to the House Oversight Committee.
The House Appropriations Committee interrupted Ben Carson's regularly scheduled nap to bug him about that $31,000 dining room he bought. Carson is blaming his wife, telling the committee that old furniture was too old.
The Bro-Caucus is reeling this morning over news that "Gross" Blake Farenthold might fuck off before the end of his term in order to dodge an Ethics Committee investigation that would find he's a genuinely repugnant piece of shit who runs around Georgetown playing grab-ass.
Democratic candidates in Florida's 27th are screaming about Donna Shalala's contributions to local GOP heavy weights, adding to the mounting criticisms that Shalala would rather ignore.
The University of Wisconsin is sick of freethinking liberals polluting its campus, so it's killing off 13 majors in humanities and social sciences, including English, philosophy, history, sociology, Spanish. Look at it this way, Scott Walker just saved you $100k, you weren't going to get a job with an art therapy degree anyway.
Carl Nett, a Republican candidate for secretary of state in Kentucky, is super sorry he implied Democratic state Rep. John Yarmuth should be shot for bragging about his "F" rating from the NRA, stating, "I now join the long list of imperfect human beings with 'foot-in-mouth' disease."
A UK court has denied extradition of a hacker who broke into the US Missile Defense Agency, the Federal Reserve, NASA, and other federal agencies, on humanitarian grounds due to severe medical problems. TLDR: he's too nerdy to survive in the US prison system, which is...fairly accurate.
On this week's Days of Our Deplorables, one of those neo-Nazi groups might actually be a Satanic cult, and all the other crazy white nationalists are getting all the attention.
And here's your morning Nice Time! A baby tamandua!
We're 100% ad-free, reader-supported, and we don't steal your data! If you want, we CAN send you a newsletter.
Follow Dominic on Twitter, and watch him go shithouse on tech-bros!
Dominic Gwinn
Dominic is a broke journalist in Chicago. You can find him in a dirty bar talking to weirdos, or in a gutter taking photos.