Internet Dicks Zapruder The Sh*t Out Of Kamala Harris Smokin' Some Sh*t
Post-Racial America
February 13, 2019 04:30 PM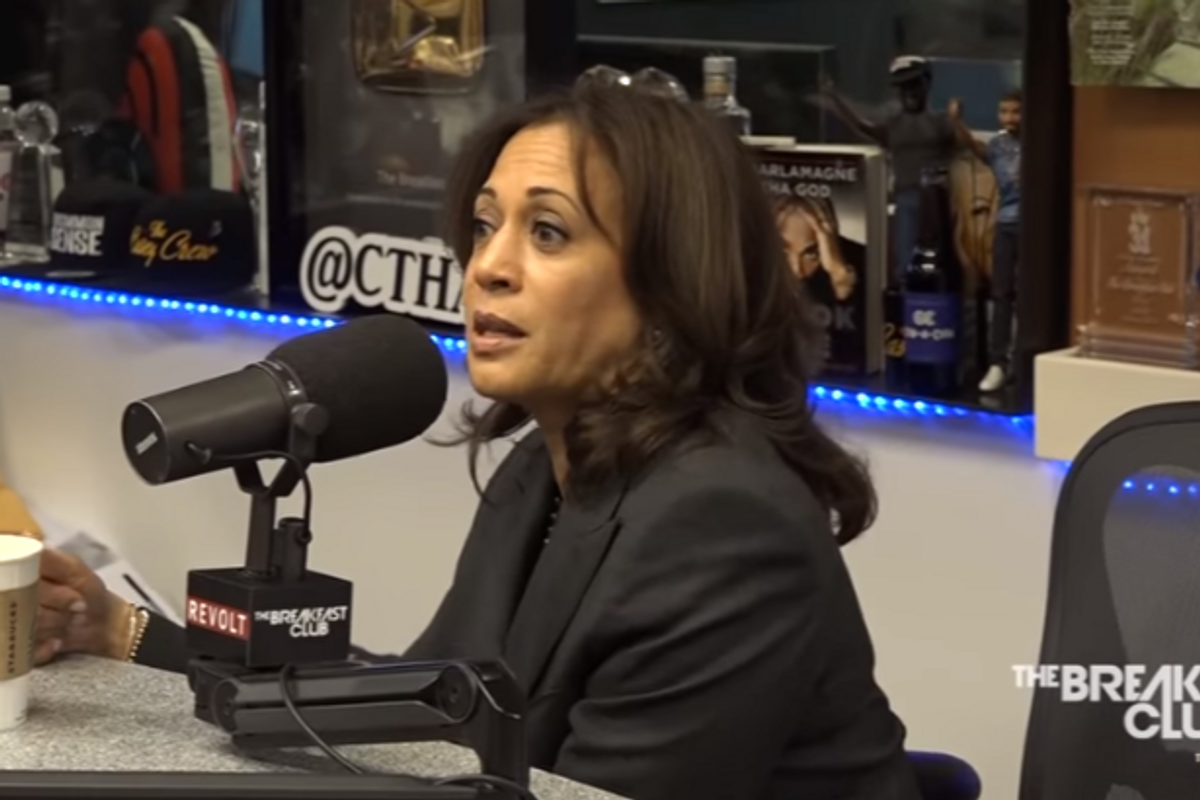 On today's episode of "Please Stop Creating Bullshit Ass Conspiracy Theories About Kamala Harris, Asshole!" we will explore the latest dumb shit the internet has manufactured to attack a woman who is running for President while wearing a vagina.
Kamala Harris recently had a great interview with the Breakfast Club (It's a hip-hop related show, VERY popular with black folks and yes I watch it), and everything seemed fine ... for a while. She spoke about all types of issues and even told on herself about when she smoked weed back in college. A joint, she said. Nobody really gave a shit that she smoked, it was just nice that she didn't lie about it and pretend she didn't inhale.
Then DJ Envy asked her about her choices in music, and as she was answering, Charlamagne tha God tossed out a joke about what she listened to while she was smoking. They laughed. She looked back at Envy and started talking music, listing off stuff she likes, including Cardi B. Therefore ALL HELL BREAK LOOSE AND OMG REEFERGATE!!?!1? ARE YOU FUCKING KIDDING US, OH YOU AREN'T, GO TO FUCKING HELL.
Why are people saying Kamala is lying about smoking weed and trying to pander to black people?
Because people are stupid and they listen to other stupid people and it causes regular shit to get blown the fuck up. Also because they are liars. And also they can fuck the entire way off, not sure if we mentioned that already?

---
Let's watch:
The rightwing is so desperate to attack @KamalaHarris they're trying to make Reefergate happen. @djenvy asked what… https://t.co/oPfsaL42Ym

— Ian Sams (@Ian Sams) 1549990632.0
After the very nice interview was finished, all was well, especially for most people who saw the video version. People like me laughed at the joke, I mean, who would expect anyone to think a presidential candidate was seriously about to list out their weed playlist? I don't even have a weed playlist and I'm pretty sure I'm composed of approximately (I don't math) 34% THC at this point.

It could have ended there if people actually cared about the facts. Most English speaking humans who are in possession of working eyes would have absolutely no difficulty seeing who she directed her responses at, if they were watching the podcast. Perhaps if one heard it on the radio or on an audio podcast, it can be argued that they could make a mistake, like the genius who ran with the sillyass idea that she was responding to Charlemagne Tha God's hilarious joke about her smoking music.
Here is the genius tweet that managed to light the flames of this dumbass shitfire:
As you can see this person obviously didn't watch the video. This tweet was based off of an article written about the podcast by a writer who ostensibly watched the video version, because the article photo is a screenshot of the video podcast. I say ostensibly because they are the ones who started the drama by saying she said she smoked while listening to Tupac and Snoop when that's not at all what she said. Which was clear in the video.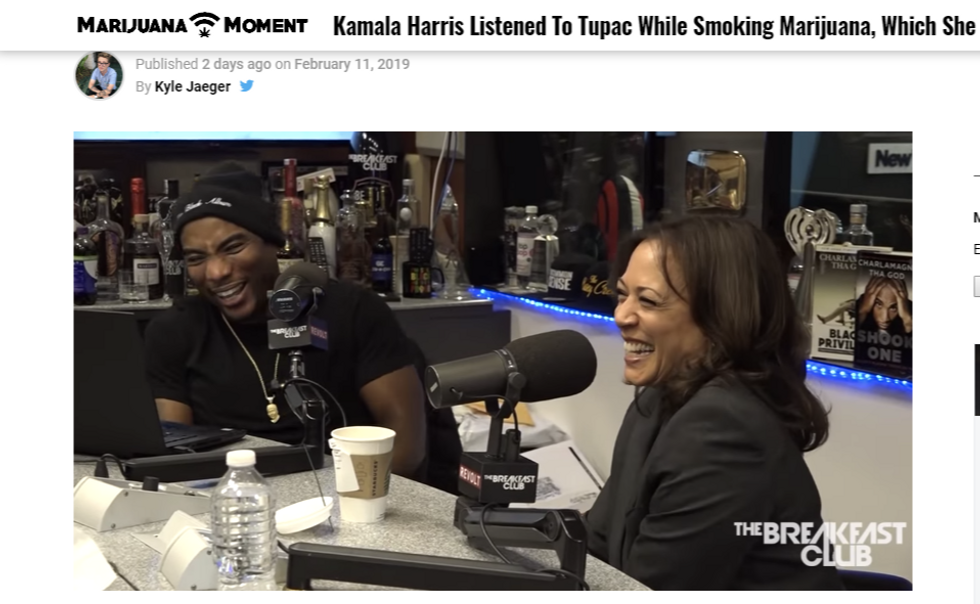 So, the original article that spawned a frenzy of screaming and wailing about how "inauthentic" Kamala is (where have we seen this before?) was entirely wrong from the headline on down the page to the last conclusion.
I will show you what I mean.
From NYT:
Charlamagne tha God, one of the show's hosts, asked Ms. Harris if she had ever smoked marijuana herself — a question presidential candidates have long been loath to answer. Ms. Harris confidently said she had, adding, "and I did inhale."
"It was a long time ago," Ms. Harris said, laughing.
Also, I distinctly heard her mention the ONE joint. How many songs worth of weed smoking is that? One? Two at most? How the fuck would she know wtf was on the radio that ONE TIME she smoked A JOINT? Basta!
Later in the interview, Ms. Harris was asked about her taste in music. She has previously named California artists like Tupac and Snoop Dogg among her favorites.

"What does Kamala Harris listen to?" asked D.J. Envy, another one of the show's hosts.
THIS IS THE ACTUAL QUESTION SHE WAS ANSWERING. SHE WAS LOOKING AT HIM WHEN SHE WAS SPEAKING.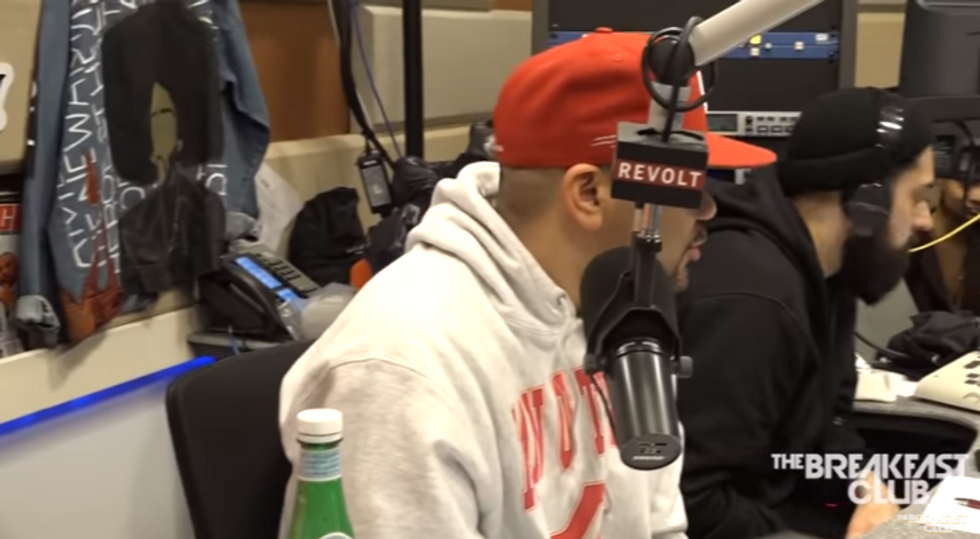 This is DJ Envy who asked her what she listens to.
Before Ms. Harris answered the question, Charlamagne tha God interjected, asking her to say what she listened to while she smoked in college.
THIS IS WHAT YOU CALL "A JOKE" IN MOST PLACES. SHE DID NOT RESPOND TO THE JOKE BEYOND LAUGHING.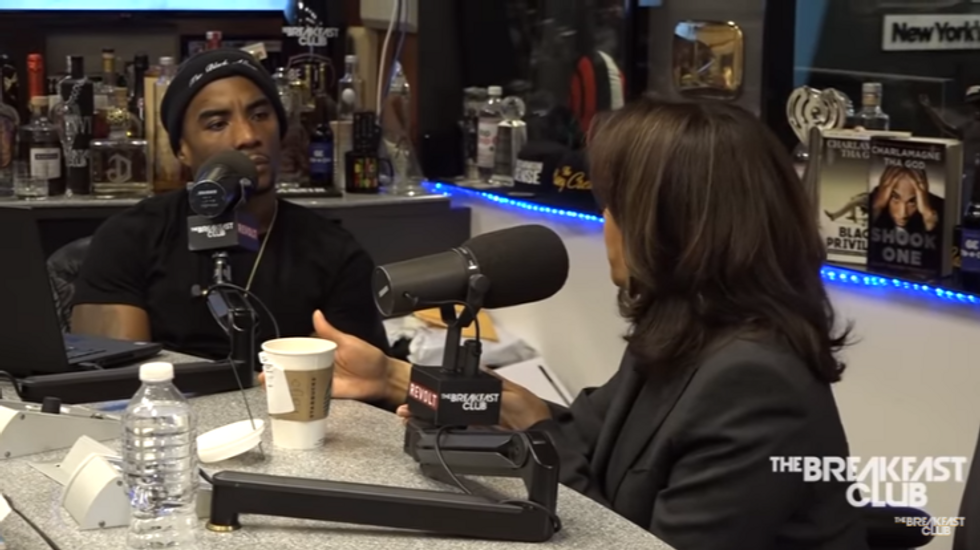 This is Charlemagne who is funny. He is who asked about the weed playlist.
This is her agreeing that she likes Snoop and Tupac, not that she was smoking blunts and Sippin on Gin and Juice. Stop it.
Everyone laughed, before D.J. Envy appeared to return to his original question.

"Was it Snoop?" he asked.

"Oh yeah, definitely Snoop," Ms. Harris said. "Tupac for sure."
(NOTE FROM WONDERBITCH: HE DID RETURN TO HIS ORIGINAL QUESTION, AND SO DID SHE.)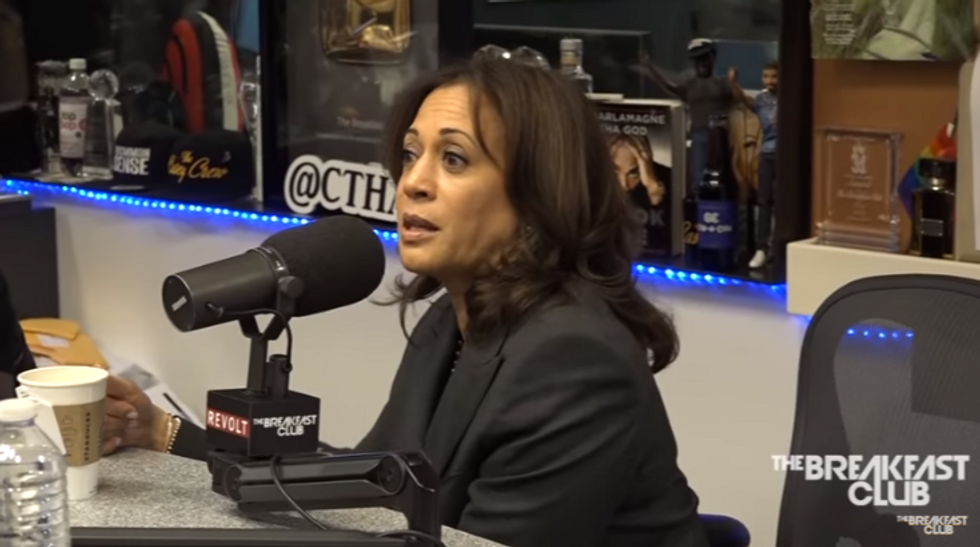 This is where she was looking when she replied and discussed music further.
DID I REALLY HAVE TO BREAK DOWN HOW FUCKING CONVERSATIONS WORK? YES.
Let me also just say this: Why the fuck would a politician not named Gary Johnson list out what was on their "420 Smooth Jamz and Old Skool Rap" Memorex tape back in the day like a common Norville "Shaggy" Rogers? Also, who the entire fuck can remember what the hell they listened to while smoking their ONLY joint 30 goddamn years ago? I cannot tell you what I was doing the LAST time I smoked. Oh. I was typing this. *puts it down* This is what I mean, y'all, it's obvious that we have a whole bunch of weed smoking Encyclopedia Browns and Nancy Drews, and they are TERRIBLE at solving these dumb ass mysteries for the simple reason that ... they are the ones making this stupid shit up themselves. This is not a real scandal. Maybe SOME people need to smoke weaker weed, or smoke better weed so they're not such fucking dicks all the time, BASTA ENOUGH and if you're gonna Zapruder, LEARN HOW HUMANS WORK, AND CONVERSATIONS, AND TALKING TWO ON ONE, and not being pissy little liar shits, you ass trolls of assness.
Now we are mad just in time for THIS, your OPEN THREAD.
Wonderbitch
Follow Wonderbitch aka Bravenak aka Bianca DeLaRosa, loves her jobs as Social Media Manager for Wonkette more than Sarah Huckabee Sanders loves lying to America. Bianca also moonlights as a Witch (THE BAD KIND!!) and is a Freelance Goddess of All Things Ever. Be very nice her because she likes to curse people, especially mean people. You can find Bianca on Twitter @Wonderbitch81, or email her at bianca@wonkette.com