Katie Hill Was In The Closet Making Babies And I Saw One Of The Babies And The Baby Looked At Me!
Congress
October 25, 2019 01:05 PM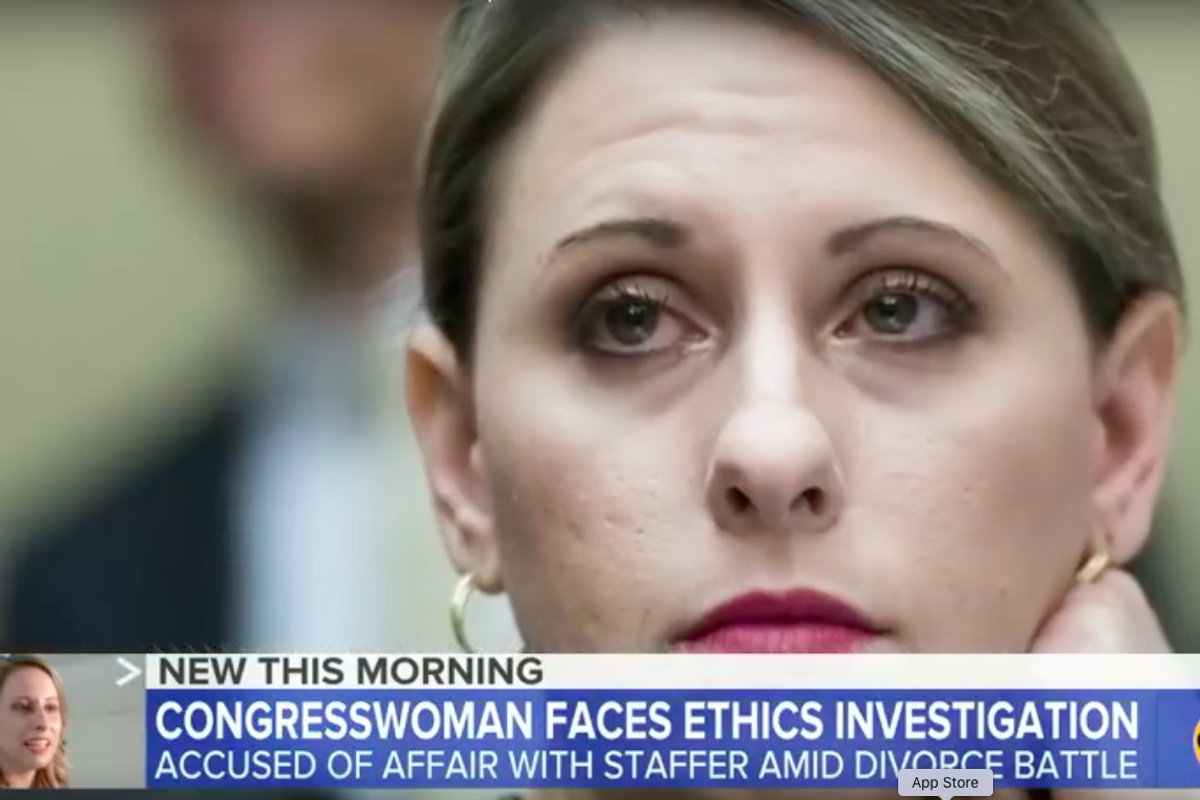 Democrat Katie Hill is a freshman House member who flipped a California district that Republicans had held since 1993. Hill is a rising star, or rather she was. She's now the subject of a House ethics probe over a matter I don't think is anyone's business. Hill confirmed that she had an "inappropriate relationship" with a female campaign staffer. However, she's denied an affair with her legislative director, Graham Kelly, who is a current member of her office staff.
House rules forbid a "sexual relationship with any employee of the House who works under the supervision of the Member, Delegate, or Resident Commissioner." It's a new rule the House implemented last year in response to longstanding allegations of sexual misconduct, specifically involving Michigan Rep. John Conyers. But unlike Brutus, Conyers was not an honorable man. He was Dabney Coleman in 9 to 5, a gross letch who repeatedly made unwanted sexual advances to female staffers and reportedly retaliated against those who resisted.
Consensual sex is both natural and fun, but nonconsensual sex isn't a great pop song. I don't understand how we conflated the two. My personal opinion is that office romances are a bad idea but they're not inherently unethical or criminal. Yes, there are oppressive workplace environments where (mostly) women aren't empowered to say "no" to their supervisors. Brooke Nevils legitimately believed her career was at risk if she didn't continue a sexual relationship with former "Today" show host Matt Lauer, who she says raped her. Vanina Guerrero recently charged that Louis Lehot, co-managing partner at DLA Piper, assaulted her multiple times. He lied about the nature of their "relationship" and actively sabotaged her professionally. Mark Halperin and Louis C.K. masturbated in front of horrified women because that's something disgusting but powerful men like to do.
---
Katie Hill: Opponent won't love being unseated by a millennialwww.youtube.com
Hill is not like any of these men. I respect the opinion of those who believe sexual relationships with a subordinate are always wrong. And elected officials should have the will and ethical restraint to follow simple rules. But people make mistakes. Hill fooling around with a staffer during the fractious, final days of her marriage is a lapse in judgment. It should remain private. There's no evidence that she forced herself on the staffer or coerced her in any way. The relationship is just ... inappropriate, which seems like we're judging someone's personal choices without considering their actual impact on others. It just feels weird and regressive, like when you learn one of King Henry's wives was executed because she cheated on him.
I'm also wary of the argument that these relationships are wrong simply because society believes they're wrong so it makes a politician subject to blackmail because they're desperate to avoid exposure (whew!). This is the kind of circular logic that was used to discriminate against gay people in the not-so-good old days.

Even Republican Rep. Matt Gaetz agrees, which concerns me a little. But I guess this falls under the "stopped clock" principle.
Hill's troubles began this weekend when Red State published a series of articles accusing Hill of an affair with her unnamed staff member and Kelly. It also ran a nude photo of Hill -- a gross violation of her privacy. Red State isn't a common Penthouse magazine, which printed nude photos of Vanessa Williams in 1984. Penthouse just wanted to cash in on the first black Miss America's sudden fame and didn't care if her life was ruined in the process. (Williams bounced the fuck back, by the way.) Red State is a publication with the journalistic ethics of a Peeping Tom that likes aiming wrecking balls at Democrats. Red State even ran some followup articles (nope, not linking them) expressing its annoyance that legitimate media hadn't hopped on the Katie Hill Smear Campaign bandwagon.

The Daily Mail, unfortunately, did jump on with all eight feet like a common Hustler. The Mail identified the female staffer without (as far as we know) her consent, which was gross and served no public good.

What's "shocking" is that the Mail would print someone's personal photos -- amateurishly obscuring the "naughty bits" with what looks like a Sharpie. Monica Lewinsky's life was steamrolled in 1998 but she was a witness in an independent counsel investigation. There's no reason to think that the female staffer would ever have to come forward publicly. Lewinksy also turned over the infamous dress. The staffer did not turn over these pictures. It's also not clear that Hill's tattoo is of the Iron Cross, and I've already examined it longer than my wedding vows permit.
The likely source for Hill's personal text messages and nude photos isn't anyone who works for her but probably her soon-to-be ex husband, who Hill claims was "abusive." Years ago, an employee's jilted ex came to the office to personally tell me what he believed was incriminating information about her. There's nothing worse than trying to destroy a woman because she wants nothing more to do with your sorry ass. (I had a sudden bout of amnesia that day so immediately forgot everything the asshole told me.)
Hill is standing firm and cooperating with the ethics investigation. She's apologized to her constituents in a public statement:
"During the final tumultuous years of my abusive marriage, I became involved in a relationship with someone on my campaign. I know that even a consensual relationship with a subordinate is inappropriate, but I still allowed it to happen despite my better judgment. For that I apologize. I wish nothing but the best for her and hope everyone respects her privacy in this difficult time."
Reportedly, some male Democrats privately believe Hill is the beneficiary of a double standard -- like all those lucky ducky women in the working world. They think a man in Hill's situation would've immediately resigned by now. They must have trouble comprehending consent. Rep. Tim Murphy resigned in 2017 because he was outed as a creep who abused his staff. Rep. Joe Barton sent unsolicited dick picks. Rep. Trent Franks asked female employees if they'd consider bearing his children. Katie Hill had an affair.
Ideally, we would create workplace cultures where employees are free to report sexual misconduct without fear. But I don't think the solution is to remove employees' freedom to choose their sexual partners.
[CNBC]

Follow Stephen Robinson on Twitter.
Yr Wonkette is supported by reader donations. Please send us money to keep the writers paid and the servers humming. Thank you, we love you.
Stephen Robinson
Stephen Robinson is a writer and social kibbitzer based in Portland, Oregon. He writes make believe for Cafe Nordo, an immersive theatre space in Seattle. Once, he wrote a novel called "Mahogany Slade," which you should read or at least buy. He's also on the board of the Portland Playhouse theatre. His son describes him as a "play typer guy."