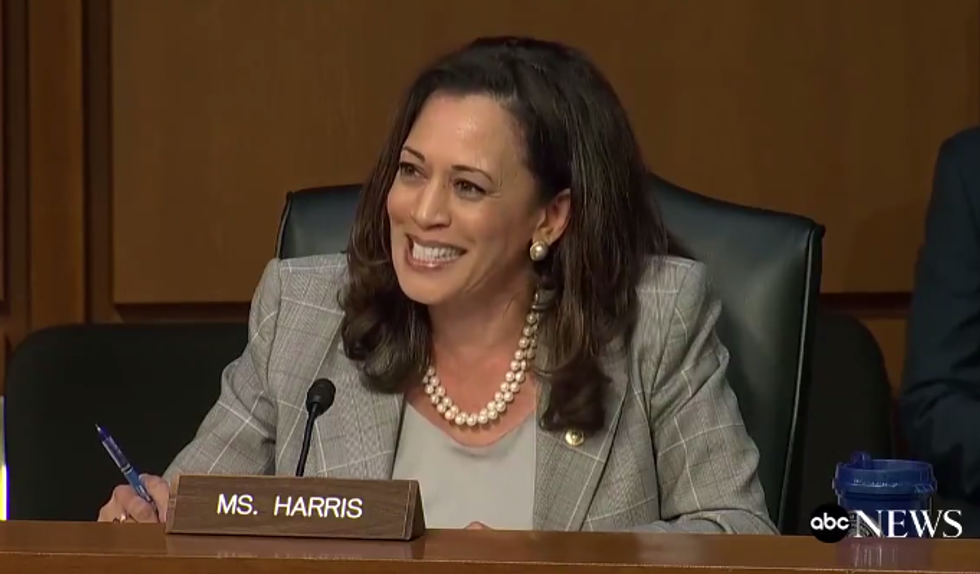 via Twitter Wonker@BewareSailor
---
On Tuesday, Attorney General Jeff Sessions sat his cattywampus ass down, lied to the Senate Intelligence Committee about why Donald Trump fired James Comey, refused to answer questions about his non-privileged conversations with the president, and STILL couldn't recall whether he had international relations with the Russian ambassador three times. One of the most memorable moments was when he made clear that, though he might be recused from the Trump-Russia investigation, "I DID NOT RECUSE MYSELF FROM DEFENDING MY HONOR AGAINST SCURRILOUS AND FALSE ALLEGATIONS!" Duly noted, sir!
But our favorite Sessions quote of all was, "I'm not able to be rushed this fast! It makes me nervous!" That's what he said when extremely mean black lady woman vagina-having whippersnapper Senator Kamala Harris was doing THAT THING SHE DOES -- asking really good rapid-fire questions, like the badass former prosecutor she is. Old Republican weasel-snatches in the Senate do NOT like it when she does that! Let's LOL at it again together:
Jeff Sessions, under questioning from @SenKamalaHarris: "I'm not able to be rushed this fast, it makes me nervous." https://t.co/Cpo7HflTUNpic.twitter.com/tK1R6oDC0O

— Evan McMurry (@evanmcmurry) June 13, 2017
But then it got even crazier. Senator Harris, like MANY OTHER senators, was trying to figure out precisely why the fuck Sessions wouldn't answer any questions about his conversations with Trump, who, again, had not invoked executive privilege in regards to Sessions's testimony. Sessions claimed to be following Department of Justice "policy," and Harris wanted to know, hey, is this so-called "policy" a thing that's written down somewhere, or is it just some bullshit? There was a prolonged back-and-forth, but then A THING HAPPENED, which was 954-year-old Senator John "Butterscotch Farts" McCain, playing the part of INTERRUPTING COW, MOOOOOOOOOOO! Watch it:
Kamala Harris continues to push Sessions on what policy he's citing for not answering Qs. John McCain complains she's not letting him speak. pic.twitter.com/PnpvbGMPBG

— David Mack (@davidmackau) June 13, 2017
McCain is not even a regular member of the intel committee, but that did not stop him from POUNDING HIS FISTS AND STOMPING HIS FEET, because the awful mean black lady senator was asking TOO MANY QUESTIONS. McCain must speak up for his fellow addle-brained morons, to demand that that woman over there STFU and let them answer!
When McCain interrupted, committee chair Richard Burr reminded him that HE controlled the hearing, and then he promptly gave Sessions time to NOT answer the question. Sessions kept talking about "principles," and did not confirm or deny whether he was referring to actual DOJ policy, or whether he was just making up shit to cover for Trump. After Sessions didn't answer the question, Burr quickly cut Kamala Harris off, because her time was expired.
At least Burr gave McCain shit in this instance, because LAST WEEK, when McCain POUNDED HIS FISTS AND STOMPED HIS FEET at Kamala Harris, as she was interrogating Deputy Attorney General Rod Rosenstein, Burr only scolded Harris, who was apparently not being sweet enough:
I asked Deputy AG Rosenstein to commit in writing that Mueller has full independence. The American people deserve it. pic.twitter.com/0Wi5o2d5Th

— Kamala Harris (@SenKamalaHarris) June 7, 2017
Once the little lady had been shushed up real good, Rosenstein, like Sessions, decidedly did not answer Harris's question. (In that case, she also wanted to see something in writing, specifically a written guarantee Rosenstein wouldn't fire special prosecutor Robert Mueller for no reason. When the deputy attorney general finished his bullshit answer, Harris memorably deadpanned and said, "So is that a no?")
What the hell is up with how these men cannot handle Kamala Harris? Obviously John McCain haaaaaaaaaaaates her. Maybe he and Sessions just can't follow along with the mean black lady senator, much they same way they couldn't follow along with the Emancipation Proclamation when they were young senators, and they've been struggling to keep up ever since. Or maybe it is just common sexism with a splash of racism thrown in! Oh, and also she is a Democrat.
Whatever it is, these old white dicks are helping make Kamala Harris a star. Now we're not saying she needs to run for president in 2020, as it's very early for that -- but we're not not saying it. Because when things like this happen, EVERYBODY notices, and it pisses people off, just like it pissed people off when Donald Trump called Hillary Clinton a "nasty woman," or when Mitch McConnell "rebuked" Elizabeth Warren for trying to read the words of Coretta Scott King in ... oh wait, that was at Jeff Sessions's confirmation hearing! So many connecting threads! In explaining what a NAUGHTY LADY Warren is, McConnell memorably said, "NEVERTHELESS, SHE PERSISTED," and a million t-shirts and bumper stickers were born. (Why yes, Wonkette sells paraphernalia with that slogan, thank you for asking!)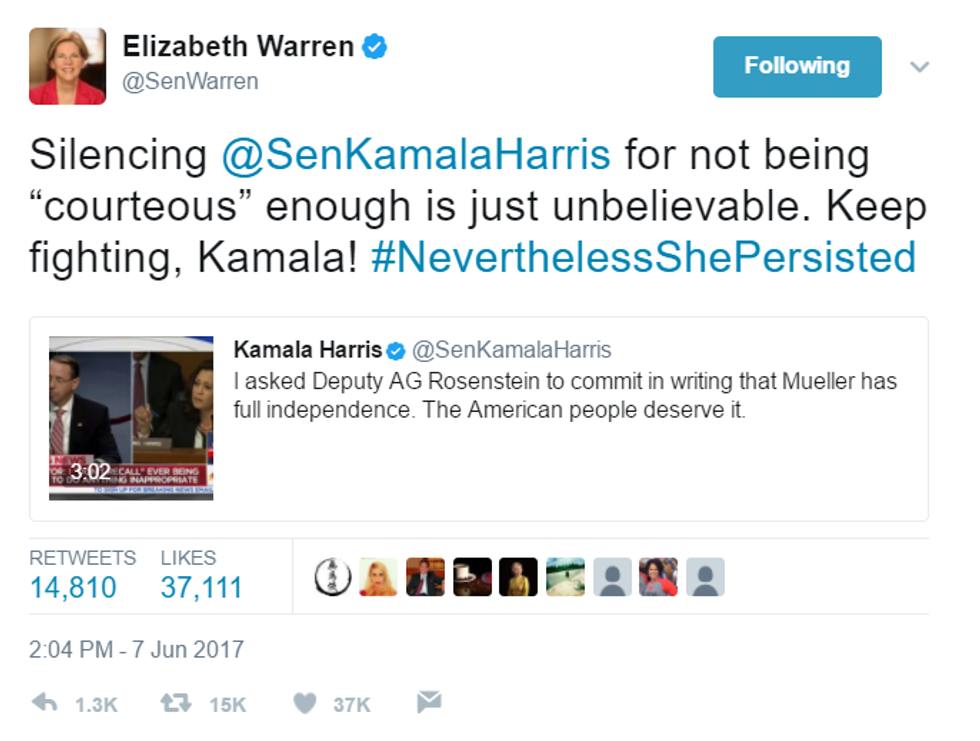 And Kamala Harris seems to not give two fucks about it. She thrives off of this. After the hearing, she went after Sessions on Twitter, and then last night, tweeted this: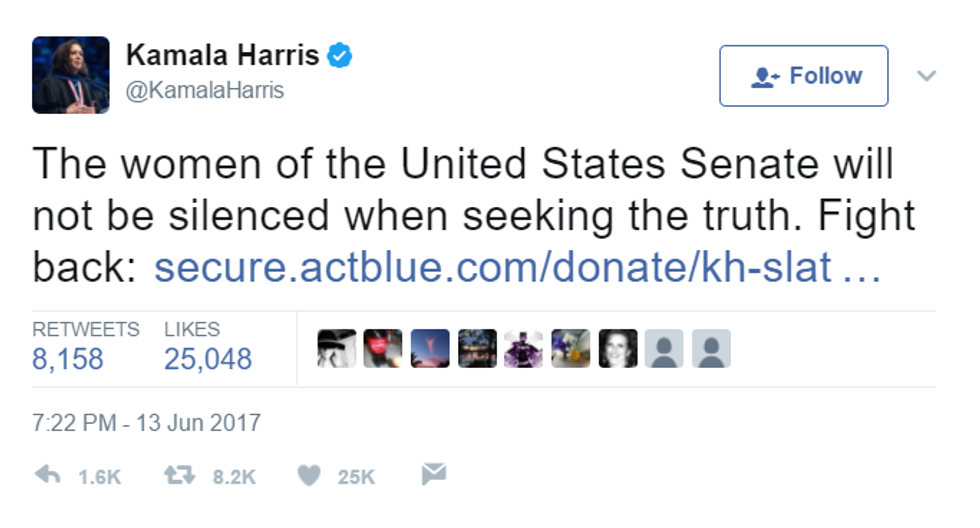 If you go to Harris's website right now, you can get this sticker for free, in exchange for some information. "Courage Not Courtesy" sounds like a pretty good presidential campaign slogan to us!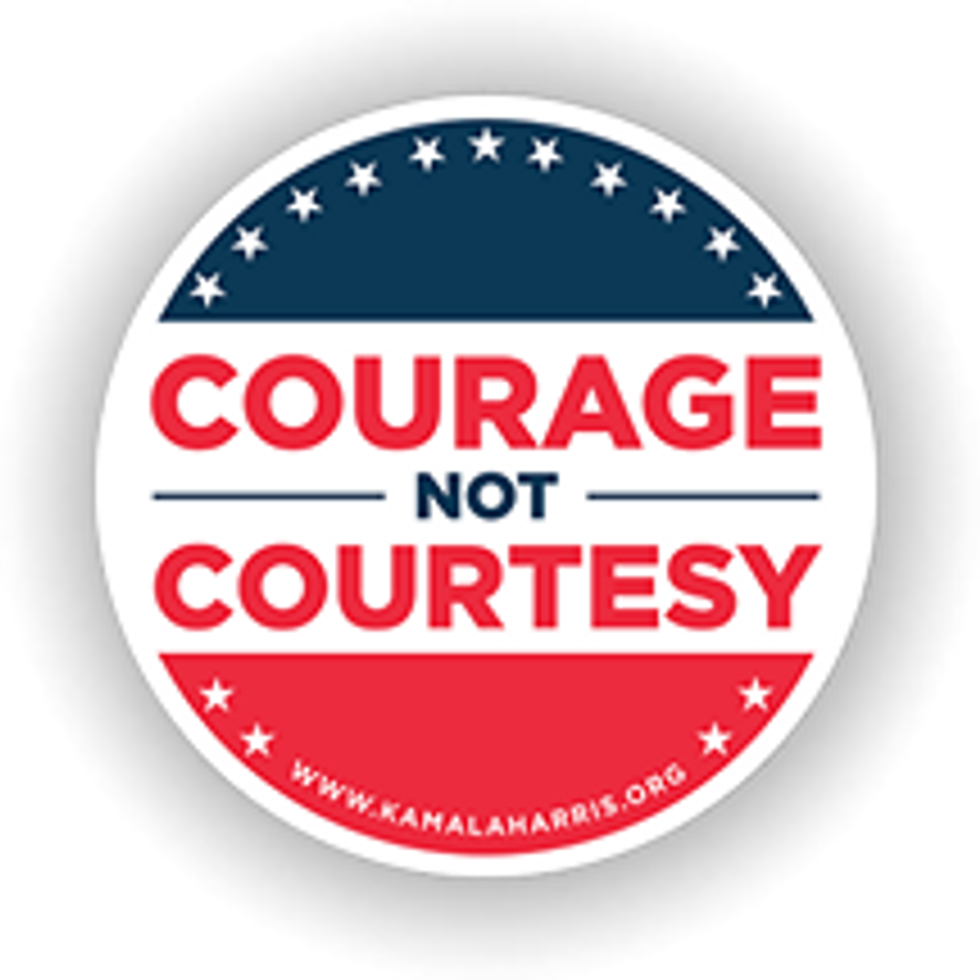 Or she could always go with "Don't Start No Shit Won't Be No Shit." Whichever she likes best.
Wonkette is fully funded by readers like you! If you love us, click below to fund us!
Evan Hurst
Evan Hurst is the managing editor of Wonkette, which means he is the boss of you, unless you are Rebecca, who is boss of him. His dog Lula is judging you right now.
Follow him on Twitter RIGHT HERE.