Kelly Loeffler's Husband Writes $1M Check To Trump PAC, Memo Line DOES NOT Mention Stock Trade Investigation
2020 Congressional Elections
May 21, 2020 12:13 PM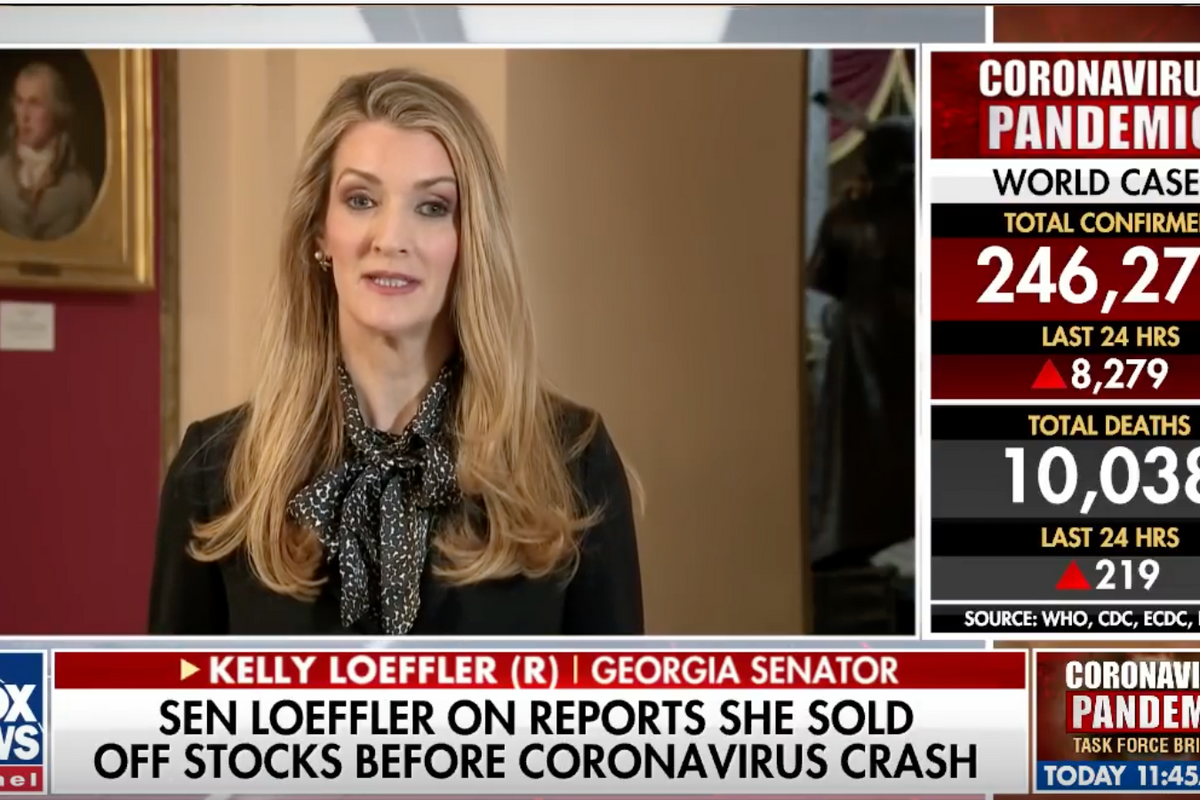 Georgia Senator Kelly Loeffler is desperate. She's getting fragged by Republican Congressman Doug Collins, who decided that actually he'd like the Senate seat to which she was appointed for himself. She's under fire for conducting the same type of stock trades that got North Carolina Senator Richard Burr in deep shit with the FBI. And, after initially denying it, she had to admit that she also fielded inquiries from Johnny Law about buy and sell orders executed on her behalf after she received a January briefing on the looming coronavirus pandemic, although she adamantly denies having personally directed the transactions.
So Loeffler and her husband, Jeffrey Sprecher, are going to do what they do best. That's right, they're going to throw money at the problem.
---
Weeks after Kelly Loeffler came under fire for dumping millions in stock following private coronavirus briefings, h… https://t.co/AEqKaTJX51

— Brendan Fischer (@Brendan Fischer) 1590025342.0
Sprecher, who happens to chair the company that owns the New York Stock Exchange, is a kabillionaire who can probably rustle up a million dollars under the couch cushions at the beach house. The whole reason Georgia Gov. Brian Kemp chose Loeffler over Collins to fill the seat vacated by Johnny Isaakson's retirement was that she promised to pony up $20 million for her own campaign. Georgia Republicans were already going to have to raise cash to hold Senator David Perdue's seat this cycle, and they wanted a candidate who could self-fund for the other seat. Plus, Loeffler is a lady, so perhaps she could hang on to some of those suburban women who are deserting the GOP in droves.
Or, as Georgia GOP graybeard and former US Rep. Lynn Westmoreland put it to the Atlanta Journal Constitution. "The governor made a decision that a woman could definitely help him and the other Republicans on the ticket in the suburbs. I understand his thinking."
Who knew that Loeffler would be a walking, talking Your Plans/2020 meme? She was already losing to Collins in the primary polls before the stock sales came to light, and if Bill Barr comes knocking on her door, she's toast. On the other hand, if she drops out, Collins might be able to get over the 50 percent mark in November's jungle primary and avoid a January runoff.
Which is why Westmoreland is looking at the tea leaves and advising the GOP to have a "kitchen table conversation" with Loeffler about her future, saying, "I don't know that I could find a suburban woman in a year that could relate to having her husband buy her a private plane to take her to the office."
Wait 'til old Lynn hears about the million dollar Hail Mary check Sprecher just sent to Donald Trump, in hopes that he'd call the DOJ off investigating his wife!
Which is not to say it won't work. Using the DOJ for political gain is very much Donald Trump's bag, baby. Remember when he tweeted out a complaint to Jeff Sessions about going after Duncan Hunter and Chris Collins, two of his earliest congressional supporters, during the 2018 election cycle?
After Barr swooped in to save Michael Flynn and Roger Stone at Trump's behest, Loeffler's million dollar bet on Trump as her bodyguard seems like a pretty good play. The fact that it's going to his America First Action PAC is just the icing on the cake.
America First is the outfit that pocketed $325,000 from Lev Parnas and Igor Fruman. Their check came from a company called Aaron Investments, LLC, but the PAC was kind enough to credit it to Parnas and Fruman's company Global Energy Partners. GEP never had any income, but America First didn't have any scruples, so no harm, no foul. The PAC has sent upwards of $900,000 to companies owned by Trump campaign manager Brad Parscale and his wife Candice. So you know it's totally legit and would never serve as a clearinghouse for bribes to get Donald Trump to direct a federal investigation away from a donor. That's why the Trump campaign describes it as the sole "approved outside non-campaign group" for people wishing to show their love for Donald Trump over and above the $5,600 donation limit.
In summary and in conclusion, Kelly Loeffler is a wonderful candidate, the swamp is drained, and allowing unlimited contributions to pour into federal elections was a beautiful gift bestowed upon the republic by wise Chief Justice John Roberts. THE END.
Follow Liz Dye on Twitter RIGHT HERE!

Please click here to support your Wonkette, which is ad-free and staying afloat due to readers like you. And if you're ordering your quarantine goods on Amazon, this is the link to do it.
Liz Dye
Liz Dye lives in Baltimore with her wonderful husband and a houseful of teenagers. When she isn't being mad about a thing on the internet, she's hiding in plain sight in the carpool line. She's the one wearing yoga pants glaring at her phone.