Kellyanne Conway Is Not Gaping Abyss Of Bald-Faced Lies From Hell, YOU ARE
Culture
April 12, 2017 04:03 PM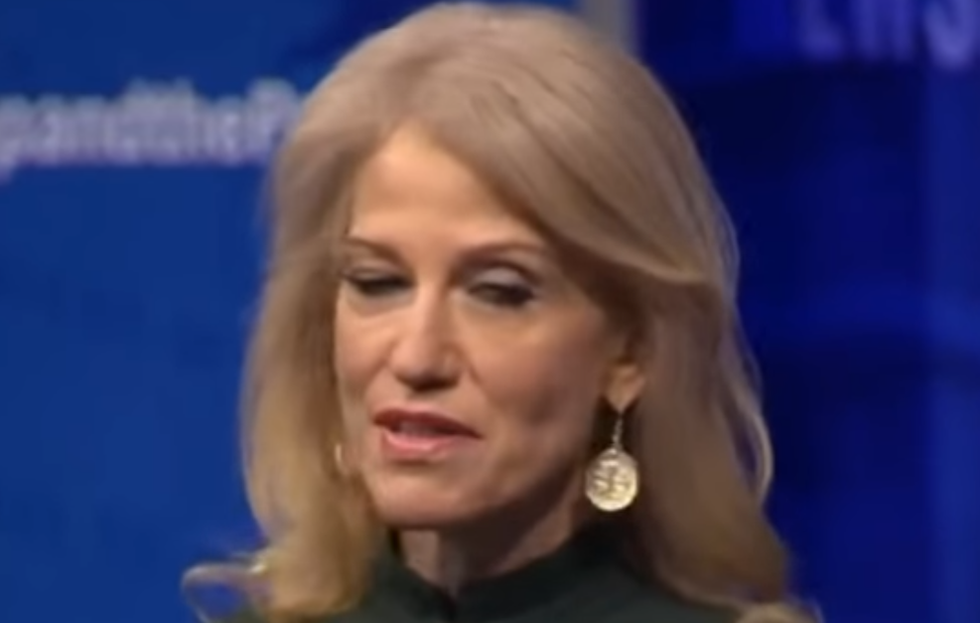 Truth Lady
---
There has been a special event happening at the Newseum in DC all day today (Wednesday), about the Trump administration's relationship with the press. Early in the morning, Press Secretary Sean Spicer sat with Greta Van Susteren, for a candid conversation about why he doesn't believe in the Holocaust. KIDDING, he was actually very apologetic for the gross comments he made Tuesday, and you can tell he feels like a real idiot for all the stuff he said. There was also a super fun conversation between CNN's Jim Acosta and Breitbart reporter Charlie Spiering, where Acosta came across like a grown man with a career, and Spiering came across like an overgrown toddler without social skills who doesn't really understand, deep down, why he was even sitting on that stage. He was also bad at using microphones and looked like he might have done surprise poopy in his pants.
But the Newseum interview we'd like to focus on right now is with Kellyanne Conway, the White House's Queen of Alternative Facts and the founding member of the Bowling Green Massacre awareness club, who sat with (gross) journalist Michael Wolff to talk about how she DOES NOT EITHER suck as bad as everybody says she does. To say she shared new information with us during this interview would be Fake News, but she sure did share some bullshit.
Want to watch a 35 minute interview with Kellyanne Conway in it? Hahahahaha, of course you don't. We will paste the video, but we will tell you the important parts below that, because there are only two or three:
4:18:
CONWAY: You can turn on the TV ... and people literally say things that just aren't true. They're not even disguised as opinion.

AUDIENCE: LOLOLOLOLOL OH WAIT SHE IS BEING SERIOUS?
8:20:
WOLFF: How personal do you take this?

CONWAY: How personally do I take what?

WOLFF: This coverage of you, this "Democracy Dies In Darkness," because I'm gonna tell you, when they say, "Democracy Dies In Darkness," you're the darkness.

AUDIENCE: HAHAHA DARK ABYSS LIE-HOLE FACE LADY, CAN WE TAKE UP A COLLECTION FOR THE VICTIMS OF THE BOWLING GREEN MASSACRE? LOLOLOLOL!

CONWAY: I'm not the darkness! ... Again, it's what I tell small children, just because somebody says something doesn't make it true. And it's a great lesson for everyone.
It's funny because Kellyanne Conway is the empress of lie-faced dishonesty, the lady the "Morning Mika" kids won't even talk to anymore because she is such a craven liar from Liar-ville.
Moral of story, for all little children who might be reading this (Wonkette is a family blog after all): Kellyanne Conway is right. Sometimes you turn on the TV and there is a lady who is lying. Her name is Kellyanne Conway. She is the darkness in which democracy would die, except for her lies are a punchline for all the people of America, so democracy will be OK. (OR WILL IT?)
There is a bonus funny that happens at 24:28 or so, where Michael Wolff asks Conway why Trump keeps talking to the New York Times's Maggie Haberman, considering the "president's views" of her, which led to this:
CONWAY: What do you mean his views of her?

WOLFF: I mean his views of her is he doesn't like her.

CONWAY: Why would you say that?

WOLFF: Well, because he's told me.

AUDIENCE: LOLGIGGLES.
We admit, we LOLed.
To be very fair, Kellyanne Conway went on to be highly complimentary of Maggie Haberman, which is a bit refreshing to hear from an administration that's been so vile and combative toward the press, especially those who are critical of them.
So ... maybe our Trump administration is learning how to be more gooder, at least when it comes to dealing with the media? PFFFFFFFFFFFFT FAKE NEWS, ALTERNATIVE FACTS, TRY HARDER, DICKBRAINS.
Wonkette is funded by readers like you! If you like this post, click below to give us a few bucks!
[h/t The Hill]
Evan Hurst
Evan Hurst is the managing editor of Wonkette, which means he is the boss of you, unless you are Rebecca, who is boss of him. His dog Lula is judging you right now.
Follow him on Twitter RIGHT HERE.