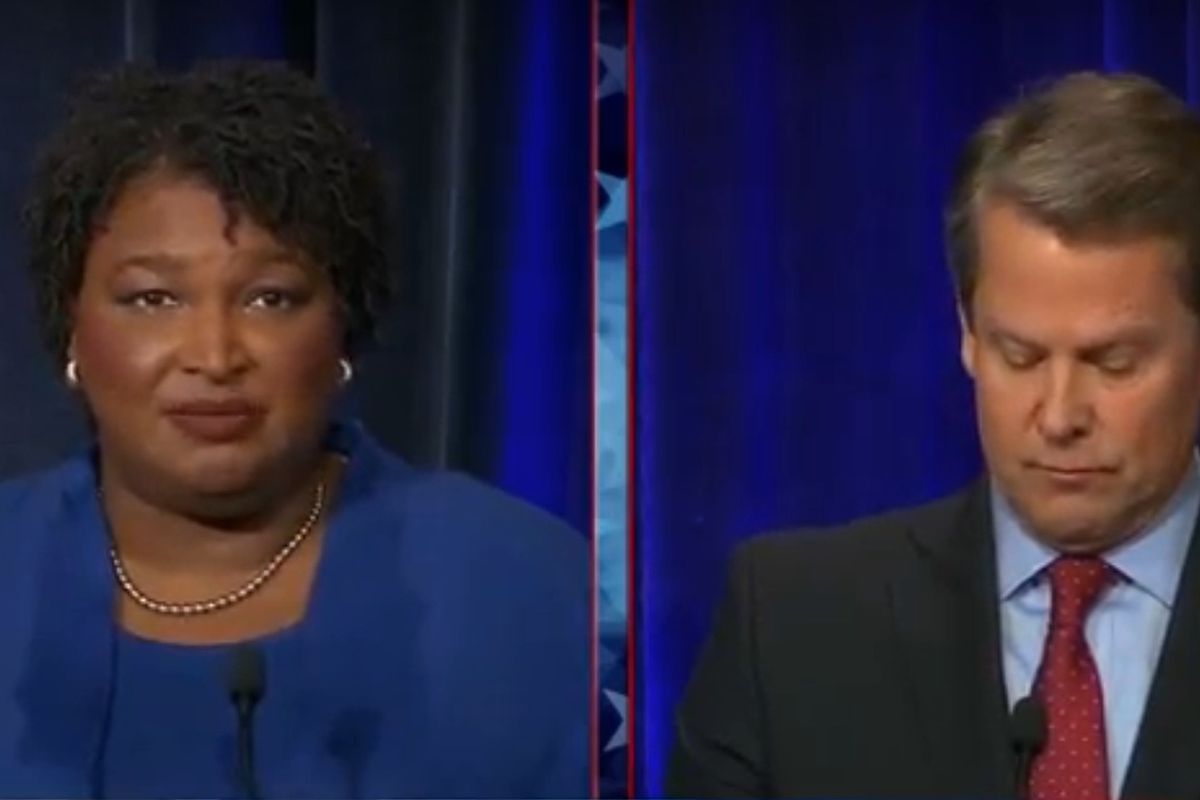 PBS Georgia
The final debate on Sunday night between Georgia gubernatorial candidates Stacey Abrams and Brian Kemp has been super extra CANCELLED, just like the voting rights of so many black people in that lovely state. According to Kemp, it's all Abrams's fault because she refused to reschedule the debate at the last minute, immigrants and welfare, and she's a radical Black Lady, ok? Kemp was overcome with a burning desire to join Trump at the upcoming hot white hate rally in Macon, and really, shouldn't Abrams be more attuned to Trump's MAGA hate rally schedule?
In a series of statements, the Kemp campaign came off looking like utter and completely outmatched losers, because of how they're utter and completely outmatched losers, it is kind of their "thing."
---
Lauren Groh-Wargo, campaign manager for Abrams issued her statement to WSBTV:
"Brian Kemp says he wants to be our next governor, but he's breaking his promise to show up for the job interview. This isn't a surprise since his entire career has been defined by his failure to keep his commitments. Whether defaulting on a half a million dollar loan he personally guaranteed, abandoning his responsibilities as Secretary of State to campaign on the taxpayer's dime, or kicking thousands of pregnant women off Medicaid, Kemp has proved he can't be trusted to show up for Georgians. Unlike Brian Kemp, Leader Abrams is proud of her record and happy to explain her plans to the people of Georgia – that's why she'll be answering questions from Georgians about her plans to invest in excellent public education, create good-paying jobs, and expand access to quality affordable health care."
Looks like the days of spineless Dems being super accommodating and acquiescing to the whims of the GOP are over. Not sad. Please continue.
Brian Kemp's campaign manager, Ryan Mahoney, sent a statement too:
"We offered multiple days, times, and venues to debate. Unfortunately, Stacey Abrams cancelled the WSB-TV debate. Abrams is ducking Georgia voters because she can't defend her extreme, radical agenda on live television."
So just a lie then. Understood.
The Abrams campaign slapped him again with another statement:
"It is both unacceptable and unsurprising that Brian Kemp is yet again blaming his failures on someone else and not keeping his promises. This has been a pattern of behavior for him for as long as voters have known him. His list of failures is long and growing, including overseeing massive data breaches that exposed millions of Georgians' Social Security numbers, defaulting on a half a million-dollar loan he personally guaranteed, and now he is now backing out of his commitment to answer Georgia voters questions' about the issues they care about most. Georgia voters are ready for authentic, honest leadership, which is why they're early voting in record numbers for Stacey Abrams."
No lies detected.
His campaign tried it again:
"We offered multiple days, times, and venues to debate. Sadly, Stacey Abrams refused and canceled the debate. Now, we have accepted another gracious invitation from WSB-TV to debate on Monday night. Will Abrams join Kemp on the debate stage or just continue to hide from her radical record and extreme agenda?"
Kemp released a statement of his own on why the debate is cancelled. It is absolutely insane and literally has not one fucking thing to do with the reasons why HE couldn't keep to the schedule that had been decided six weeks ago.

"After repeated efforts to schedule a debate on the issues that matter most to Georgia voters, radical Stacey Abrams decided she would rather hide behind television ads paid for by San Francisco socialists than face the voters and defend her extreme agenda that will raise taxes by $13,000 a person, give welfare and voting rights to illegal immigrants, and usher in the government takeover of healthcare."
Okay, that's better. The statements from his staff were completely lacking the required amounts of fear mongering and hate tactics. The Trump GOP is seriously going ALL IN on the Latino Willie Horton shit, now. Like, I GUESS it worked 30 years ago with black people, so why would they ever even dream of creating an actual strategy to appeal to anyone but racists? Don't bother telling him that undocumented immigrants can't do any of the shit he's accusing them of. He doesn't actually care about facts.
Abrams, who lives in reality, also had things to say. Her things make sense because she is not out of her mind.
"We are disappointed that the Kemp campaign is demanding we renege on our promises," her campaign said in a statement. "We refuse to callously take Georgians for granted and cancel on them. Just because Brian Kemp breaks his promises doesn't mean anyone else should."
Well, there you have it, folks. There will be no debate and it's all Kemp's fault. Abrams is obviously unbothered about Kemp running off to play with Trump in the MAGA sandbox. Black women are used to the antics of the Grand Old Party, and we have plenty of other things to do, like team up with Oprah to get out the vote. Thanks to Trump, we have reached peak epic levels of dog whistling: It's actually so meta that the new dog whistles are just fan-fiction copies of echoes of other dog whistles we knew and hated in the past. Thanks, GOP. You suck. Don't forget to vote on Tuesday, everybody else. Please.
[Huffington Post/KempForGov/WSBTV]
Wonkette is the ONLY NEWS ON THE INTERNET. Please give us money RIGHT THERE BELOW if you want us to live FOREVER.
Wonderbitch
Follow Wonderbitch aka Bravenak aka Bianca DeLaRosa, loves her jobs as Social Media Manager for Wonkette more than Sarah Huckabee Sanders loves lying to America. Bianca also moonlights as a Witch (THE BAD KIND!!) and is a Freelance Goddess of All Things Ever. Be very nice her because she likes to curse people, especially mean people. You can find Bianca on Twitter @Wonderbitch81, or email her at bianca@wonkette.com