While We Wait For SCOTUS TO DQ Texas Suit, Let's Check In On Ken Paxton!
lawsplainer
December 11, 2020 04:40 PM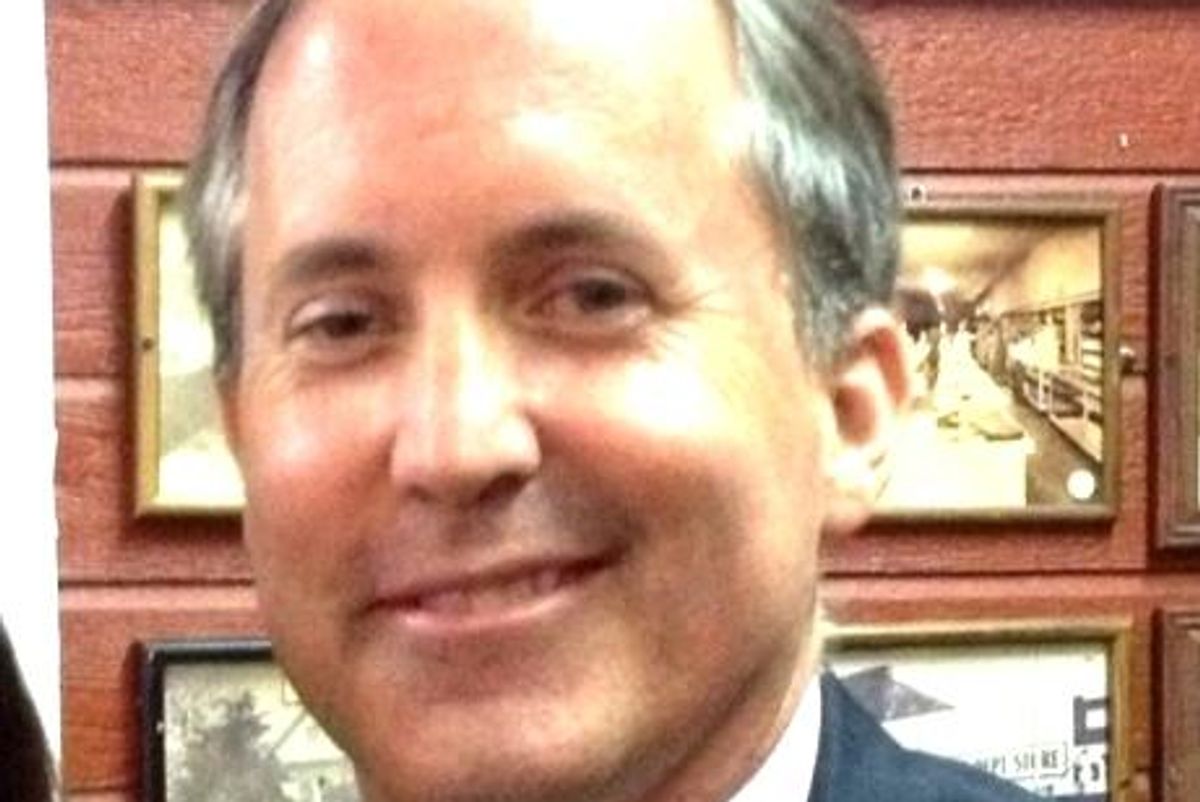 Let's talk about Texas Attorney General Ken Paxton.
Yes, that asshole who is suing all the swing states Biden won.
But that's not what we're talking about right now.
Right now, we're talking about all of the other illegal shit Paxton has been doing. Allegedly.
This week, the FBI raided the Texas Attorney General's headquarters in Austin. Why? Oh, just because the state of Texas's top law enforcement official may have done a bunch of corruption and committed a whole bunch of crimes.
This comes after a group of whistleblowers close to Paxton told the FBI they believed their boss had been on a crime spree. In October, several top officials in the AG's office asked federal law enforcement to investigate Paxton for all sorts of public corruption, saying they had "a good faith belief that the attorney general is violating federal and/or state law including prohibitions related to improper influence, abuse of office, bribery and other potential criminal offenses."

Oh just that?
---
That's nice

Multiple FBI investigations are ongoing, and the feds have refused to release any details about the investigations to the public. But here's what we know so far.

All of this craziness is related to Austin businessman Nate Paul, a large donor to Paxton's reelection campaign. Paul is an Austin-based real estate developer under federal investigation. He gave a $25,000 campaign donation to Paxton's reelection efforts. Paxton has used the office of the attorney general to intervene on Paul's behalf on at least four separate occasions. We don't know the specifics of Paxton's relationship with Paul, except that, at some point, Paxton recommended his mistress (yes, he is married) for employment with Paul. She now works for one of his companies.

The FBI has never disclosed the reason for its investigation into Paul, but it, with help from state authorities, executed warrants and search his home and offices in August 2019.
Paul, for his part has alleged this is all part of a bizarre conspiracy where federal agents, a bunch of other businessmen, and a federal judge are trying to steal $200 million worth of his properties.
Sure.

Paxton has had his office do all kinds of shit to help Paul. Paxton even brazenly admitted to his staff that he was actively working to "impede the investigation" into his friend. He hired an outside attorney as a "special prosecutor" — after his office had already reviewed Paul's complaint and closed the matter — to go after the FBI agents who searched Paul's property and other people and entities Paul is at odds with.
Brandon Cammack, the "special prosecutor" Paxton hired, is a 34-year-old, 2015 law school grad who has mostly handled drunk driving and criminal misdemeanor cases. Cammack's father, also an attorney, has said his son has "zero" relevant legal experience. This fall, Cammack had a series of grand jury subpoenas issued against Nate Paul's creditors and other foes. One of Paxton's deputies then had to go to court to get the subpoenas quashed, because Cammack has no actual, legal authority. He is paid $300 per hour by the state of Texas.
As the whistleblowers allege in their lawsuit,

"Paxton and Paul were using their so-called 'special prosecutor' to bring the weight of the [Office of Attorney General] to bear on Paul's enemies."
Paxton dropped the investigation after it became public.
This also appears to involve Paxton's former mistress, whom he helped get a job with Paul's company. Paxton admitted the affair to his staff in 2018, amidst worries that the story would break in wide circles during his reelection campaign.

Former state and federal prosecutor and retired Texas judge Mike Snipes said what Paxton and Paul have done is "the kind of thing somebody will do when they're trying to scare the FBI off their tail. Now that never works, but it's something that someone might attempt."

Every single one of the seven whistleblowers has been fired, been put on leave, or resigned since reporting their boss to the FBI. Six have made formal complaints, saying they were retaliated against and being subjected to a hostile work environment for reporting on Paxton. Four have sued, alleging,
"Paxton responded to the report immediately and with ferocity, as though he was trying consciously to show Texans exactly what retaliation against whistleblowers looks like."
After news of the investigation leaked, Paxton went with the Trump projection strategy of saying his accusers were actually the ones committing crimes, saying,
"The complaint filed against Attorney General Paxton was done to impede an ongoing investigation into criminal wrongdoing by public officials including employees of this office. Making false claims is a very serious matter and we plan to investigate this to the fullest extent of the law."
Oh, and did I mention that, even before all of this, Paxton was already under felony indictment for securities fraud and failing to register with state securities regulators?
If convicted of the securities crimes he has been charged with, Paxgton could face up to 99 years in prison. But no worries, guys. According to Paxton, the charges are just, apparently, somehow Barack Obama's fault?
This guy loves doing crimes so much, it's surprising he wasn't actually an official in the Trump administration. (Though he does like to cosplay as one.)
Begging for a pardon?
Ken Paxton has had a big week. In addition to being raided by the feds, he also took time to file what might actually be the worst Trump suit yet.
Whining about how states that Biden won had obviously been VERY UNCONSTITUTIONAL by making it easier for people to vote during the pandemic and therefore the Supreme Court needs to SAY TRUMP WON.
It's dumb. It's real dumb. It's even dumber than it sounds, and it already sounds really fucking dumb.

Oh, and this is totally unrelated, but do you know who loves really stupid conspiracy theories as long as they benefit him personally? Donald Trump.
And who also just so happens to be in the pardon spree phase of his presidency? Yup, you guessed it. Donald Trump.

But I'm sure it's totally all just a coincidence. An upstanding Republican official like Ken Paxton would never file an absolute horseshit lawsuit with zero chance of success in an effort to suck up to the grifter and narcissist who is also the only person who can get him out of federal criminal charges.
The feds busting a state agency, and particularly a state attorney general, is incredibly rare. It's likely that top officials in the DOJ approved of the raid before it was carried out.
Nonetheless, less than a day after having his office raided by the FBI, Paxton met with the president of the United States.
I hope Paxton finds a way to blame this one on Obama, too.

Fucking Republicans.
OPEN THREAD!
[KENS5 / Austin American-Statesman / AP / AP again / Texas Tribune]

Follow Jamie on Twitter. You know you want to!

Do your Amazon shopping through this link, because reasons.
Wonkette loves you and loves bringing you the news. Help us pay the writers, if you are able!
Jamie Lynn Crofts
Jamie Lynn Crofts is sick of your bullshit. When she's not wrangling cats, she's probably writing about nerdy legal stuff, rocking out at karaoke, or tweeting about god knows what. Jamie would kindly like to remind everyone that it's perfectly legal to tell Bob Murray to eat shit.