Kevin McCarthy Whiiiiiiiines That Gavin Newsom Won't Let Him Play Governor UNFAIR
coronavirus
March 20, 2020 04:05 PM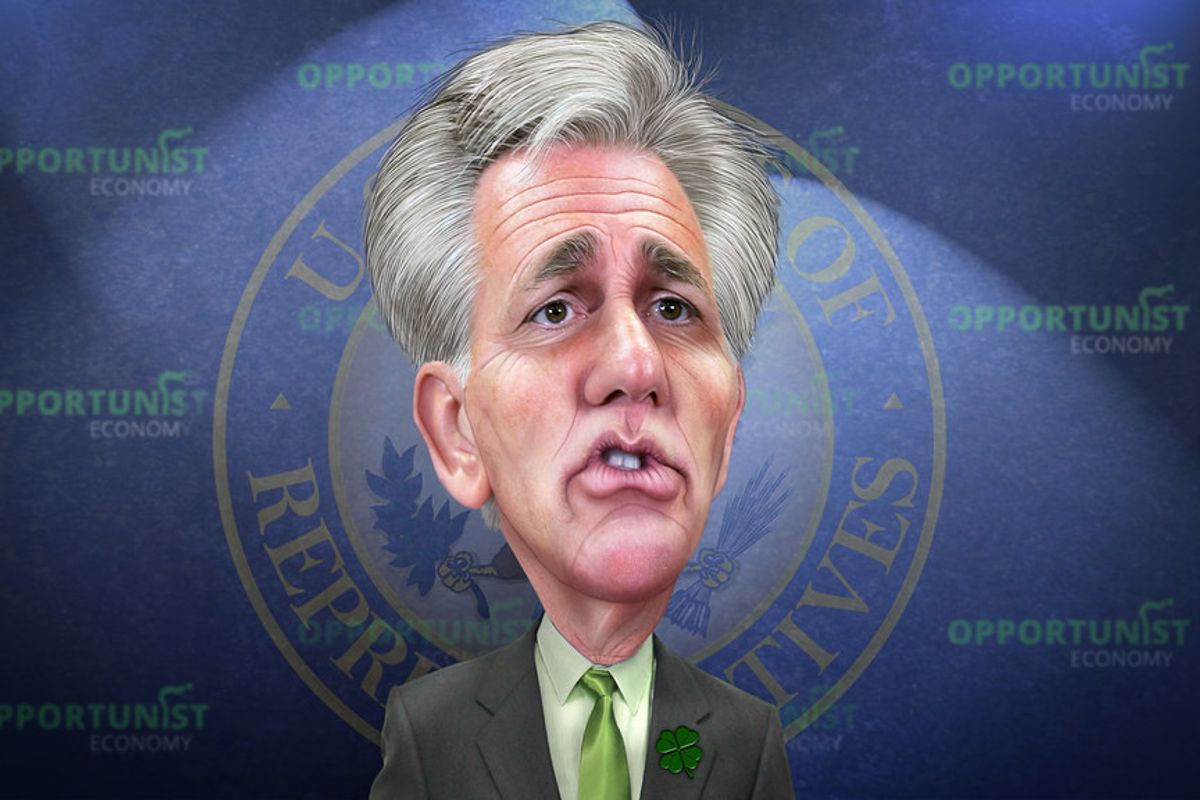 House Minority Leader Kevin McCarthy knows who the real victim of the coronavirus pandemic is, and it is ... Kevin McCarthy. No, no, the California congressman from Bakersfield hasn't tested positive for COVID-19. It's much, much worse than that! Poor McCarthy's honor was besmirched, he was cruelly robbed of his dignity, in short, he got dissed by Governor Gavin Newsom, who failed to even consult him before issuing a shelter-in-place order for the entire state of California yesterday.
I hope Governor Newsom consulted with a lot of experts before he decided to shut down 12% of the nation's populatio… https://t.co/xweThwFfyO

— Kevin McCarthy (@Kevin McCarthy) 1584672211.0
McCARTHY: California is 12 percent of the nation's population. There are essential things that are produced in California. When you think of the pharmaceutical industry and others based in San Francisco, when you think of the manufacturing that maybe even makes items that we need for masks and others.

I would have thought the governor would have called a number of us to consult and talk to us why he would make this decision. I know I never did get a call from him. But maybe he feels there was a need behind it.
We were given to understand that San Francisco is a filthy hellhole, littered with used needles, where taxpaying citizens feared to walk outside. Who knew they actually made useful shit there! Not Kevin McCarthy, who can't answer any questions about whether "masks and others" are being manufactured in California and will thus be unavailable with non-essential workers sent home. But he can certainly ask about it in a way that implies something nefarious is going down.
WHY DIDN'T GAVIN NEWSOM CALL UP KEVIN McCARTHY TO GET KEVIN'S QUESTIONS? NOW KEVIN HAS TO GO ASK THEM ON FOX, UNFAIR!
---
It's not clear why McCarthy, who holds no position in state or municipal government, believed the governor was obliged to seek his input before ordering the state's 40 million residents to stay home. Nor is it clear why he thinks Newsom would shutter a factory producing desperately needed personal protection equipment (PPE) during a public health crisis, since his order specifically exempts essential personnel. Nonetheless, the Minority Leader took time out of his busy schedule tweeting bigoted shit about China and devotional praise for Donald Trump to criticize Newsom's handling of the situation as California's total COVID-19 diagnoses crossed the 1,000-mark.
"We do think there was an ability to do this without shutting down the entire state," McCarthy assured Sean Hannity, without bothering to put forth any alternative plans. "I hope he consulted with a lot of experts before he just made this decision."
And McCarthy wasn't the only federal politician getting snippy about California's coronavirus measures. Devin Nunes is also royally pissed that Newsom didn't give him more time to pick up that watermelon White Claw his favorite cow Gem can't do without. Probably.
"Everything that I've seen is positive. The data that's coming is not showing that people are dying," Nunes told Fresno radio station KMJNOW today as the global death toll surpassed 11,000. He went on to lament the closure of restaurants for takeout, only made possible by the fake news media, saying, "If we had a real press, he would be getting railed."
Yes, that is exactly how it is. Governors are always unresponsive to the needs of business constituents, constantly trying to wreck their own states' economies to be all PC.
Spare a thought for poor Devin 'n' Kevin while you're sheltering in place at home, Wonkers. Because, if you think about it, aren't they the real victims here?
[Politico]
Follow Liz Dye on Twitter RIGHT HERE!
Please click here to support your Wonkette. And if you're ordering your quarantine goods on Amazon, this is the link to do it.
Liz Dye
Liz Dye lives in Baltimore with her wonderful husband and a houseful of teenagers. When she isn't being mad about a thing on the internet, she's hiding in plain sight in the carpool line. She's the one wearing yoga pants glaring at her phone.