Kirstjen Nielsen Puts The 'Evil Heartless Asshole' In 'Christmas'
Culture Wars
December 27, 2018 01:50 PM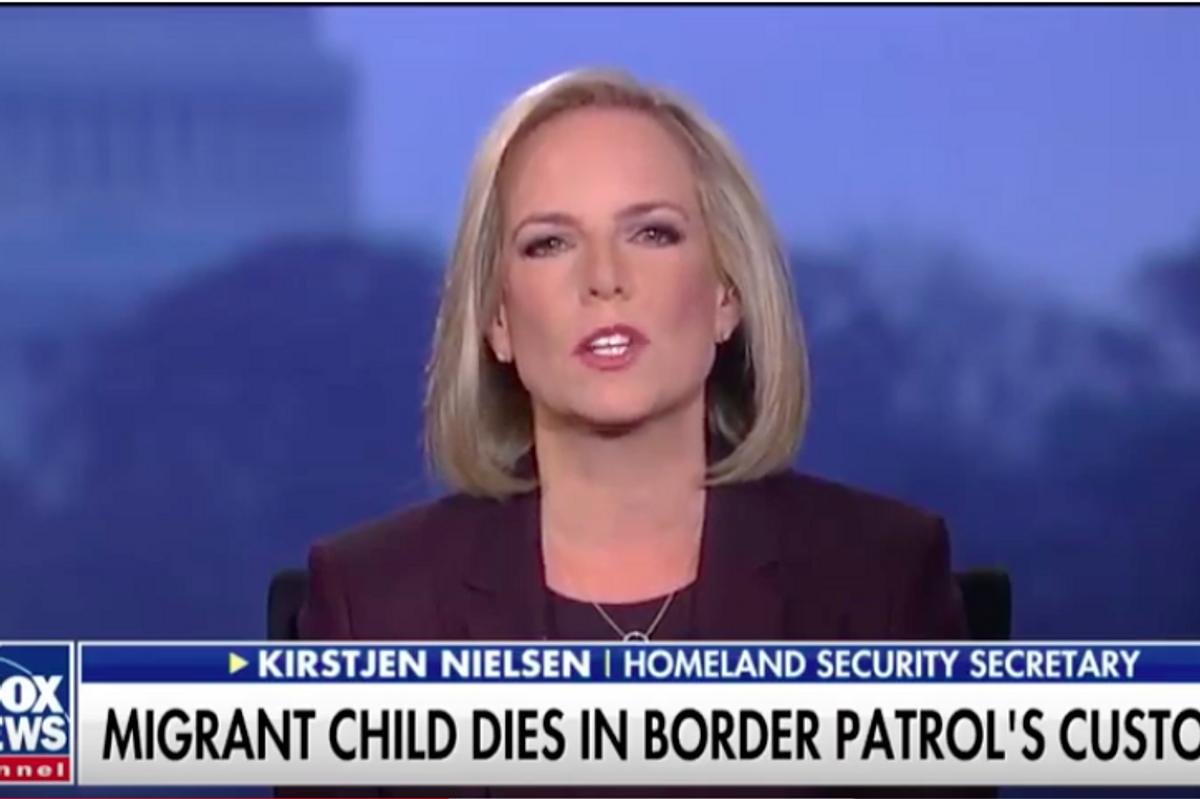 Last I checked, Kirstjen Nielsen was still secretary of Homeland Security. This is despite two children having died in Border Patrol custody this month. For anything other than the Evil Department of Dead Kids, these are terrible results. So, why does Nielsen still have a job? It's certainly not because of her ability to convincingly express the emotions we humans call "remorse" and "compassion."
Nielsen released a statement Wednesday about the Christmas Eve death of Felipe Gomez Alonzo, who goes unnamed in Nielsen's comments. She refers to him simply as the "8-year-old Guatemalan child" and to his death as a "passing" like he's someone's 90-year-old nana who'd lived a full life.
---
In the evening hours of December 24th, a child who had been apprehended with his father by the Border Patrol attempting to illegally enter the United States, died at an El Paso hospital after being taken for emergency treatment for the second time in less than 12 hours. This tragedy, the death of a child in government custody is deeply concerning and heartbreaking.
Nielsen tries to "Happy Holidays" her ass out of this mess by stating that Gomez died "in the evening hours of December 24." Did she think we'd forget this was Christmas Eve when little drummer boys play solos and Rudolph guides Santa's sleigh? She also accuses Gomez of trying to "illegally enter" the country as if he's a common criminal and not a minor child who isn't responsible for the choices his father makes. Nielsen states with all the conviction of her shriveled soul that Gomez's death was "deeply concerning" and, if she had one, "heartbreaking." Lady, no Doctor Who Christmas special this year is "deeply concerning." We're talking about a dead child, which by the way you were just talking about with Congress exactly a week ago.
Just last week, @SecNielsen told me she would ensure DHS would "take good care of those in [their] care." An 8-yea… https://t.co/S9XdmhbOGA

— Rep. Pramila Jayapal (@Rep. Pramila Jayapal) 1545842460.0
Nielsen was careful not to "promise" that no more children would die in government custody. Boy, would that have been embarrassing! Instead, she delivered this mealymouthed mumbo jumbo: "You have my commitment to ensure that all of our detention centers take good care of those in our care." I guess this means she doesn't plan on personally killing any kids.
During her testimony before Congress, Nielsen blamed the family of Jakelin Caal Maquin, 7, for her death because they apparently didn't read Rick Steves or Fodor's when planning their trip to the US.
NIELSEN: "To put this in perspective, this is exactly why we try to encourage migrants to go a port of entry. Unfortunately, they arrived in the middle of the night in the middle of nowhere."
It's true. If families arrive in the middle of nowhere, having crossed a desert, people might get charged for trying to give them water so their seven-year-old children DON'T die of dehydration.
Nielsen wasn't done blaming families for the death of their children. She had this to say in her statement about Gomez.
In recent months, we have seen a dramatic increase at the border of families and unaccompanied children crossing our border illegally. In the last two months alone, the Border Patrol has apprehended 139,817 illegal aliens on the Southwest Border as compared to 74,946 during the same time frame of FY 2018. This is an increase of 86%. In just two months into this fiscal year we have seen 68,510 family units and 13,981 unaccompanied children. This is a dramatic change from historical trends and has only become starker in December.
Why is she using the term "fiscal year"? Why is she so bad at this? Also, Trump has been president for two years and Nielsen's argument is that illegal immigration has only gotten worse? Who else can Nielsen blame for children dying on her watch? How about liberals?
Our system has been pushed to a breaking point by those who seek open borders. Smugglers, traffickers, and their own parents put these minors at risk by embarking on the dangerous and arduous journey north. This crisis is exacerbated by the increase in persons who are entering our custody suffering from severe respiratory illnesses or exhibit some other illness upon apprehension.
We get it. Everyone else sucks. What are you going to do about your dead kid problem? Because frankly a pattern is emerging.
.@SecNielsen told me she hadn't seen DEA data. Me: Do you think violence is spilling over into the US? Nielsen: Al… https://t.co/eBnmEK95de

— Jacob Soboroff (@Jacob Soboroff) 1543157910.0
After Jakelin's death, Nielsen appeared last week on "Fox & Friends," which is a receptive audience for her. They were totally understanding of Nielsen's complaints that illegal immigrants make her life really difficult and if they'd only just stop illegally immigrating, she wouldn't have to be bothered whenever one of them dies as a result of her department's negligence.

Nielsen has proposed some "extraordinary" protective measures in response to the "surge" of immigrant children in US custody.
At my direction, all children in Border Patrol custody have been given a thorough medical screening. Moving forward, all children will receive a more thorough hands on assessment at the earliest possible time post apprehension – whether or not the accompanying adult has asked for one.

I have also spoken with our partners in Mexico to ask that they begin to investigate the causes of these illnesses on their side of the border and to provide medical assistance in shelters as needed.
Dear Mexico: Please stop sending sick kids or cure pneumonia. Whichever's easier. I won't micromanage. Love, Kirstjen.
With that sort of visionary leadership, DHS remains on schedule for yet another horrible death in the coming weeks.
Follow Stephen Robinson on Twitter.
Yr Wonkette is supported ONLY by reader donations, and it's the end of the year! You know: only if you are able.
Stephen Robinson
Stephen Robinson is a writer and social kibbitzer based in Portland, Oregon. He writes make believe for Cafe Nordo, an immersive theatre space in Seattle. Once, he wrote a novel called "Mahogany Slade," which you should read or at least buy. He's also on the board of the Portland Playhouse theatre. His son describes him as a "play typer guy."