KKK Imperial Jerkoff Guilty Of Gun-Fuckery During Charlottesville Klanbake
Post-Racial America
May 10, 2018 03:20 PM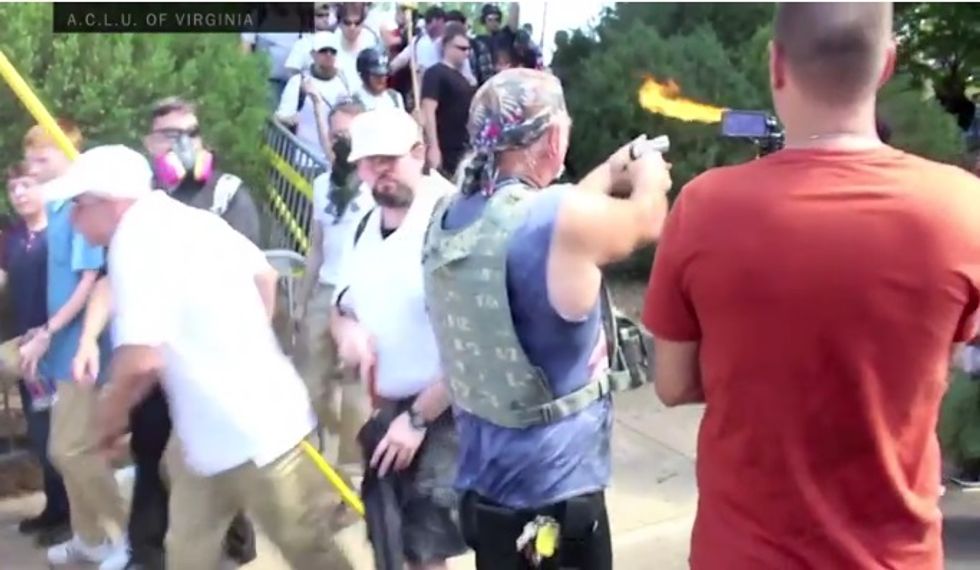 Imperial Wizard? Thankfully, he has the accuracy of Imperial troops...
---
Richard Preston Jr., one of the very fine people attending the Unite the Whites rally in Charlottesville, Virginia, last August, pleaded no contest Tuesday to firing a gun at a black counter-protester. The Washington Post explainers his legal strategy:
[Preston] had planned on going to trial on the gamble that he could possibly persuade a jury that he had acted in defense of himself or others — an argument he made at earlier stages of his case.

But on Tuesday, Preston abandoned that strategy and pleaded no contest to the charge of firing a weapon within 1,000 feet of a school property. After entering his plea, prosecutors laid out the case they would have presented at trial. Immediately afterward, Charlottesville Circuit Court Judge Richard E. Moore found Preston guilty.
Preston, who has told reporters he's the imperial wizard of the "Confederate White Knights of the Ku Klux Klan," based in Maryland, could go to prison for up to 10 years and be required to pay a fine of up to $100,000. His sentencing was scheduled for yesterday, but was delayed by Judge Moore until August so a pre-sentencing report could be prepared.
In a video taken by a bystander, Preston can be heard shouting "Hey, nigger!" and is seen pointing a gun at counter-protester Corey Long. He then racks the pistol and fires a shot at Long's feet.
On a different video entered into evidence, Preston could also be heard saying, "Go ahead, I'll shoot you. Go ahead."
Preston had maintained up until this week that he'd fired in self-defense because Long had been using a spray can and a lighter as an improvised flamethrower; Long, who is facing separate assault charges, says he was defending himself from a different white supremacist who was trying to spear him and an elderly man with a flagpole. With a Confederate flag on it, of course.
Preston's no-contest plea admitted there was enough evidence for the court could find him guilty, but avoided admitting guilt. Bummer: The judge found him guilty anyway after
Joseph D. Platania, the Charlottesville commonwealth's attorney, told the judge that a witness saw Preston point his gun toward the ground beside Long at a 45-degree angle and then heard a gunshot. The witness, Platania told the court, would have testified at trial that the flames from Long's aerosol can were not close to anyone.

Platania also said prosecutors did not believe anything about the incident would "justify the discharge of a firearm in self-defense."
Probably not a terribly convincing defense for a guy the video shows walking away from Long before then turning around and pointing the gun at him.
Preston's isn't the only conviction stemming from the white-people riot in Charlottesville; last week, two men were also convicted in an attack on DeAndre Harris, 20, a black counter-protester who was cornered by a group of whites in a parking garage.
A jury recommended 10 years in prison for Jacob Scott Goodwin, 23, a white nationalist from Arkansas, and six for Alex Michael Ramos, 34, a former militiaman tied to a group called the Georgia Security Force Three Percent. Moore is scheduled to set each man's sentence in August.
Two other men arrested for taking part in beating Harris have not yet been tried. Harris himself was found not guilty of assaulting the asshole with the Confederate flag, Harold Crews, chairman of North Carolina's chapter of the neo-Confederate League of the South.
It is unclear as of press time whether the Maryland version of the "Confederate White Knights of the Ku Klux Klan" will somehow survive being without its leader; the group briefly made news in 2013 when its plans to hold a KKK rally at the Gettysburg battlefield were ruined by the government shutdown. Only good thing Ted Cruz ever managed.
Follow Doktor Zoom on Twitter
Don't take for granted that the institutions you love will always be there, like justice, and Wonkette. Click to save at least one of them!