Knock Knock, Ivanka, FBI Calling! Wonkagenda For Fri., March 2, 2018
News
March 02, 2018 10:01 AM
Morning Wonketariat! Here's some of the things we may be talking about today, but first, a word from the Commander in Chief.
---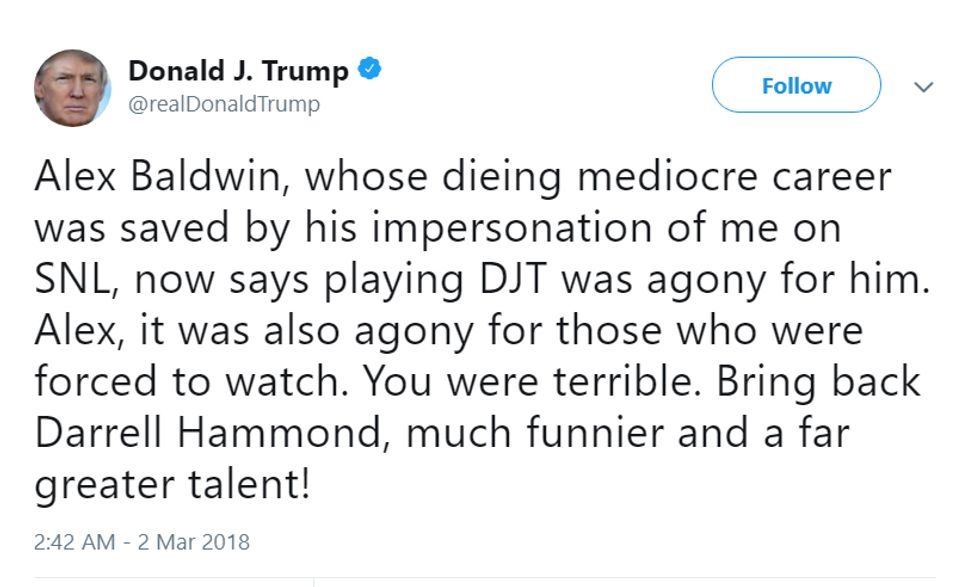 Robert Mueller wants to charge the Russians involved with the DNC B&E that turned the 2016 Democratic National Convention into a chaotic shitshow.
After going back and forth for most of the day, Trump announced ridiculous tariffs on imported steel and aluminum, and (predictably) markets immediately began to tank. Naturally, the prospect of a trade war has scared the shit out of Congress. 
The FBI is looking into Ivanka Trump's shady business dealings with Trump's failed Vancouver highrise to see if she's capable of getting a security clearance, or if she's somehow involved with Trump-Russia.
Jared Kushner asked Qatar for money and then when they said no supported a "diplomatic crisis" against them, is that bad do you think?
The DOJ is going to open up an investigation into former FBI deputy director Andrew McCabe to find out why authorized officials to brief the press about Her Goddamn Emails.
A new report from Maggie Haberman says that Trump is full of many sads and very angry about all the chaos he's created, including the possible ousting of Jared and Ivanka.
HR McMaster is getting ready to be "You're Fired" for constantly mouthing off to Trump. They want to replace him with a former Bushy, Stephen Biegun, who now works at Ford.
Gary Cohn is rumored to be fucking off after hearing Trump announce to the world that he's starting a trade war to make America unnecessarily broke. Sure, he stayed after Trump praised the "fine" neo-Nazis of Charlotte, but tariffs are a bridge too far.
A number of Trump's White House staff are trying to bail out, but nobody wants to hire anyone with "Trump White House experience" on their resume. Oh. How sad.
Betsy DeVos wants to get rid of all of the pesky civil rights rules adopted by the Obama administration and reinstate the wealthy white male privileges abolished by Title IX.
After being bitched out for lavishly spending a ton of money to renovate his office, Ben Carson says he's trying to return his $31,000 dinette set.
Roberta Jacobson, the US ambassador to Mexico, suddenly announced her retirement. Don't worry, crowne prince Jared will probably get her bigly job, build the wall and continue wiping his ass with NAFTA.
Journalist Kurt Eichenwald went on Twitter last night and released a spiked story that talks about Trump's potential addiction to amphetamine derivatives in the 1980s and 1990s. Weird, we wouldn't have pegged him for a pills guy, except we absolutely do.
Polls for the special election in Pennsylvania's 18th District show Conor Lamb dead even with the Trumper candidate, Rick Saccone, as rural voters run from Trump. Last night, new financial disclosures show the Lamb has outraised Saccone 5-1.
DHS has decided drop a case that could have seen the wife of a former Army Ranger deported after it realized it was VERY BAD PR.
Missouri Republican governor and ALLEGED blackmailing sex pervert Eric Greitens is (finally) being investigated by the state's attorney general for potential financial fuckery between Greitens's 2015 election campaign and his charity.
Nuns are trying to smash the patriarchy by detailing their lack of compensation in the Catholic Church.
As Italy gets ready to hold elections this Sunday, a lot of Not American political geeks are wondering whether or not Russia will actually need to tip the scales in favor of the fascist candidates. [John Oliver]
Vladimir Putin's claim that Russia has created a new nuclear toy is drawing skepticism from weapons experts and analysts. In a new interview with Megyn Kelly, Pooty tried to place the blame for his new Cold War on the US.
The Pentagon is fighting congressional nuts' attempts to create a "Space Corps," claiming that another military branch in space would be a wasteful, bureaucratic boondoggle.
Files from Russia's Internet Research Agency were leaked and sold through an auction site and show just how detailed Russian fuckery was, even going so far as to send agents to the US and phish for activists.
Equifax has announced an additional 2.4 million victims of its data breach last year, but Equifax says everything is cool because these people only had their drivers licenses compromised, not their Social Security numbers.
It's World Wildlife Day, a day designated by the United Nations General Assembly to draw attention to endangered species across the planet. This year's theme is big cats, and these pretty predators need our help!
And here's your morning Nice Time!
We're 100% ad-free and reader-supported, and just like the big kitties, we need your help!
Follow Dominic on Twitter and save the big kitties!
Dominic Gwinn
Dominic is a broke journalist in Chicago. You can find him in a dirty bar talking to weirdos, or in a gutter taking photos.