Kris Kobach, Other Grifty Creeps Bilking Bigots For Trump's WALL
White Nonsense
February 04, 2019 10:31 AM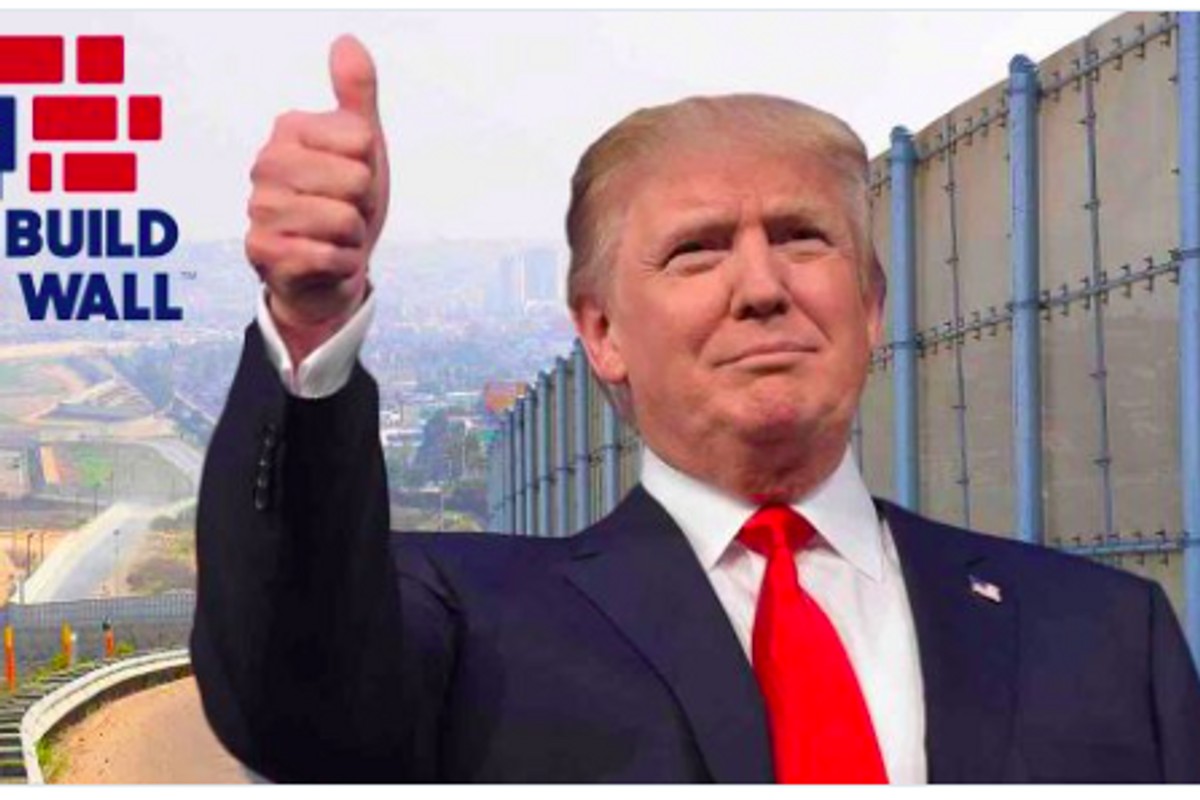 House Speaker Nancy Pelosi humiliated Donald Trump and denied him federal funds for his stupid WALL, even after he shut down the government and held federal employees hostage for weeks. Now, xenophobic bigots from the private sector have decided to construct WALL all by themselves.
It began as a humble GoFundMe scam in December before growing into an even shadier scam early this year. The campaign's organizer, Brian Kolfage, and some other idiots have launched the nonprofit corporation WeBuildtheWall Inc. The "Inc" supposedly makes it respectable, like when a child names her summer refreshment business "Sally's Lemonade Stand Inc."
WeBuildtheWall Inc., like a spilled can of garbage, has attracted such rightwing luminaries as former Kansas secretary of state Kris Kobach, Blackwater founder Erik Prince, and former Gap Band member "Sheriff" David Clarke. Kobach, who recently lost the Kansas governor's race to someone competent (a DEMOCRAT even!), might seem an odd choice to serve on the advisory board for this project. Kansas is a 12-hour drive from the US's southern border, and the state's most famous illegal immigrant is Superman, who most people like. But Kobach is a hardline immigration opponent and would've put baby Kal-El in an old Walmart detention center if he'd had the chance.
The $20 million that fools contributed to the GoFundMe effort had to be returned, but Kobach claims that 94 percent of those donors, being fools and all, agreed to transfer their money to this new effort, which has so far raised $12 million. Kobach also says this project has Trump's "blessing." Whether the project has the "blessing" of the many legal and environmental obstacles in its path is another matter entirely.
The WeBuildtheWall Inc. crew headed to Texas last week to tour the southern border and meet with landowners whose irrational bigotry they hope will let them erect pointless eyesores on their property. Breitbart hack Dustin Stockton, who once advised Kelli Ward's Senate campaign for a hot second, is the organization's vice president of strategy and marketing. He said he believes they could build something in "months, not years." Yeah, you can't even build a Trader Joe's in just "months" let alone WALL.
---
Stockton claims people have apparently become more racist and stupid over the past few years and are open to WALL construction. He doesn't specifically identify the people he's made up.
STOCKTON: We talked to several people who weren't interested in having a wall five or six years ago who have since changed their mind based on what they're seeing happening on their land.
"Nothing" is what they've seen happening. Illegal border crossings have steadily declined for the past two decades. Reality is not reflective of the spooky stories Fox News tells its racist audience before they go to bed.
Kobach also insists that landowners can't contribute quickly enough to Springtime for WALL.
KOBACH: We have landowners who are inviting us already. We'll be hopefully breaking ground within weeks, but I don't want to give the names yet. We haven't selected where we're going to start. It doesn't require the donation of a large amount of land. The landowner retains the land. It's not like we build the wall and take possession of the land.
Efren Olivares, a lawyer with the Texas Civil Rights Project and a reasonable person, is organizing landowners against WALL. He does offer some tepid good news for WeBuildtheWall Inc.'s efforts.
OLIVARES: If there is a landowner who wants a wall built on their property and they happen to have property near the border, I suppose they could convince the person to let them build on their property.
But he also has some bad, fact-based news:
OLIVARES:It's extremely silly for achieving any kind of objective.
Last March, Congress funded construction of 14 miles of new walls and fencing in the Rio Grande Valley for $313 million or about $22 million a mile. So, when Stockton talks about building something in "months," WeBuildtheWall Inc. currently has the funds to construct less than one mile of WALL. Even if they could afford two whole miles, WALL is a stupid way to secure the border.
Conservatives love to claim that the private sector can achieve things more quickly and cheaply than the government with its $50 hammers. However, the US government can seize land under eminent domain. It can speed construction by saying "fuck it" to environmental laws. Private industry can't do this. A private organization will never make significant progress in building or even supplementing construction of WALL.
Bigots are annoying but even we hate to see them being conned so shamelessly. Kobach is currently an unpaid adviser; he says he might take a "major administrative role" as the project grows. He's not building WALL. He's expanding his bank balance. Kansas Senator Pat Roberts is retiring, and Kobach is considering a 2020 run to replace him. This WALL project will keep him in the public eye before he also loses that Senate race.
Follow Stephen Robinson on Twitter.
Yr Wonkette is supported by reader donations. Please send us money to keep the writers paid and the servers humming. Thank you, we love you!
Stephen Robinson
Stephen Robinson is a writer and social kibbitzer based in Portland, Oregon. He writes make believe for Cafe Nordo, an immersive theatre space in Seattle. Once, he wrote a novel called "Mahogany Slade," which you should read or at least buy. He's also on the board of the Portland Playhouse theatre. His son describes him as a "play typer guy."