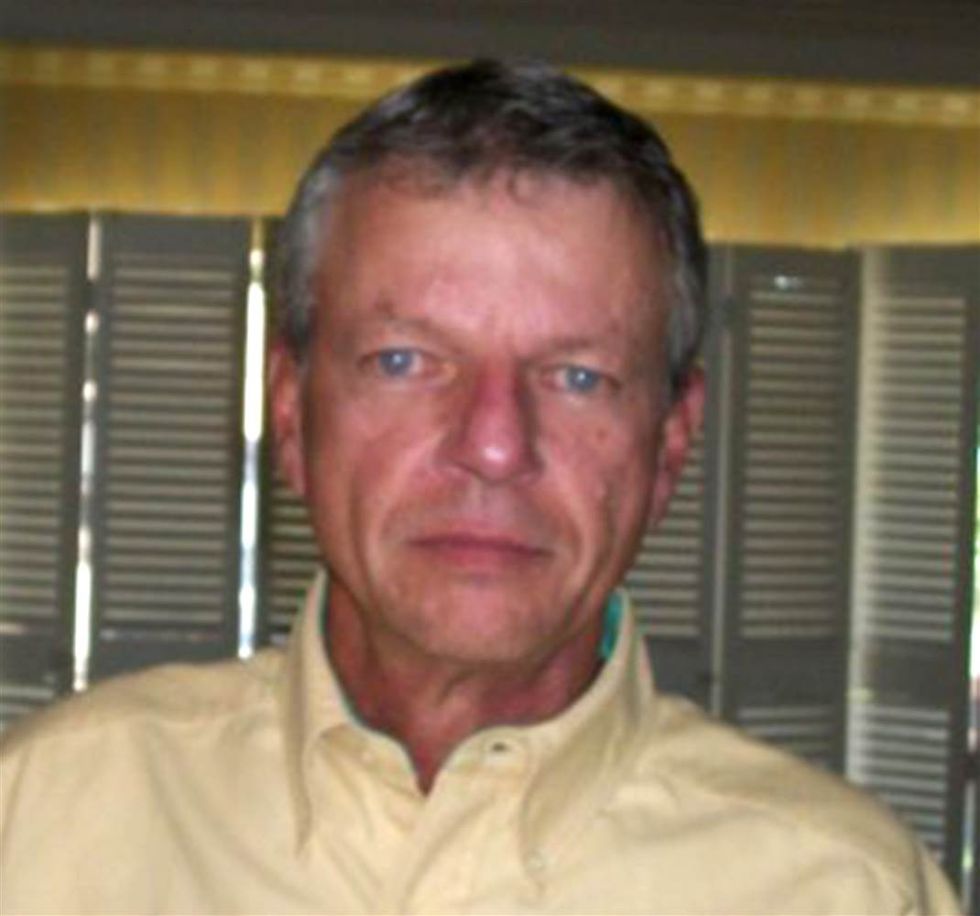 If the online footprint of the Lafayette shooter identified by police as John Russell Houser, who killed two and injured nine others during a Thursday night showing of Amy Schumer's Trainwreck before then killing himself, is any indication, Obama has really outdone himself in the false flag department this time. What did Houser hate? Pretty much everything that's good and decent. What did he love? The Tea Party (at least enough to have an account, according to the Southern Poverty Law Center, on the Tea Party Nation website), white supremacy, and also, too, Hitler. Let's have a look-see, starting with a Twitter account bearing Houser's name, and with only two tweets:
---

The Twitter career clearly didn't take off, but we see from those two tweets that he really hated them queers, and that he words about as good as a typical FreeRepublic commenter.
[contextly_sidebar id="3kGA3SpxWhL01r8iFpTT1Wt9DXMmWHfZ"]
Here's some stuff about how great Hitler was:
"Hitler is loved for the results of his pragmatism," Houser wrote last January on the website stateofmind13.com. "There is no question of his being the most successful that ever lived. At this time the US is no more than a financially failing filth farm. Soon the phrase 'ruling with an iron hand' will be palatable anew."
How about Timothy McVeigh, was he a super-great patriotic American? Houser thought so!
"It is a shame Tim McVeigh is not going to be with us to enjoy the hilarity of turning the tables with an IRON HAND," Houser wrote of the Oklahoma City bomber on the Golden Dawn website.
Here's a thing he appears to have posted on an online forum about how it's not just gays, but ALL sexual deviants who need to be exiled, and how "decent people" could fix all this, like Hitler did, guess he didn't like them Jews so much:

Want more crazy shit? Houser posted an article on his mostly inactive Facebook account about how ladies need to shut their lady mouths in the church, commenting, "The bible doesn't ask me to like what it says, only to obey it." What a freethinker he was! He also believed that welfare recipients should be sterilized and that David Duke was so much better than Martin Luther King, Jr. He loved David Duke so much, according to the SPLC, that "he registered to attend David Duke's EURO Conference in New Orleans, according to a spreadsheet of conference registrations obtained by Hatewatch." This is starting to sound like the Family Research Council's Washington Watch radio show.
[contextly_sidebar id="d9HIqGLLmmjh9yubA6HahZDX4MagDpj6"]
A radio host named Calvin Floyd told The Daily Beast that he used to bring Houser on his show "for entertainment" because "he was a Republican" who had "radical views," which surely made for a lot of LOLs on the Calvin Floyd radio program! Floyd also says he's not real shocked his former guest just killed people at a movie theater. However, as to the Republican thing, it's reported that he didn't vote because he thought it was a waste of time, so bad job on your GOTV efforts, GOP!
We could go on, and on, and on, and on, but fuck it, you get the idea.
Now, we're sure that we are not supposed to be talking about guns, because it is very sad and not the point when a person uses a gun to shoot innocent people (he could have just as easily used a slingshot!), and we definitely shouldn't talk about how Houser was a white supremacist, even though you know who ELSE was a white supremacist? Hitler. And also Dylann Roof.
[contextly_sidebar id="0O0j5SNAAwSAfyoPOH2czVjGpcRa3RsB"]
Because come on, the guy was a Lone Wolf, so Lone Wolf-y that he was a card-carrying member of the Lone Wolf White Supremacist Freedom Shooty Brigade Of Lone Wolves (the first rule of which is that you never, ever talk about Lone Wolf White Supremacist Freedom-Shooter Brigade Of Lone Wolves). And gosh, he even said on an internet forum in support of Golden Dawn, the Greek neo-Nazi party, that "I do not want to discourage the last hope for the best, but you must realize the power of the lone wolf, is the power that come forth in ALL situations." Just one lone wolf trying to give some nice #DadWords of encouragement to the other lone wolves, in case they were feeling down that day.
We probably should just talk about mental health and ignore all the other shit. To be sure, Houser had a documented history of mental health issues:
Court documents seeking the order said John Houser, "exhibited extreme erratic behavior and has made ominous as well as disturbing statements."

The documents said even though he lived in Phenix City, Alabama, he had come to Carroll County, Georgia, where they lived and "perpetrated various acts of family violence."

Houser "has a history of mental health issues, i.e., manic depression and/or bi-polar disorder" the filing said.

The filing says Houser's wife, Kellie Maddox Houser, "has become so worried about the defendant's volatile mental state that she has removed all guns and/or weapons from their marital residence."
Just remember, that's the only important part. Not guns, not radical ideologies that incite people to violence. He was a disturbed, lonely man, and it will always be Too Soon to talk about any other issues that led to this tragic event.
[SPLC / Houser's Facebook / AP via RawStory]
Evan Hurst
Evan Hurst is the managing editor of Wonkette, which means he is the boss of you, unless you are Rebecca, who is boss of him. His dog Lula is judging you right now.
Follow him on Twitter RIGHT HERE.