Laura Ingraham And Tucker Carlson Hold Each Other's Beers For 'Biggest Nazi' Contest
Post-Racial America
June 19, 2018 01:55 PM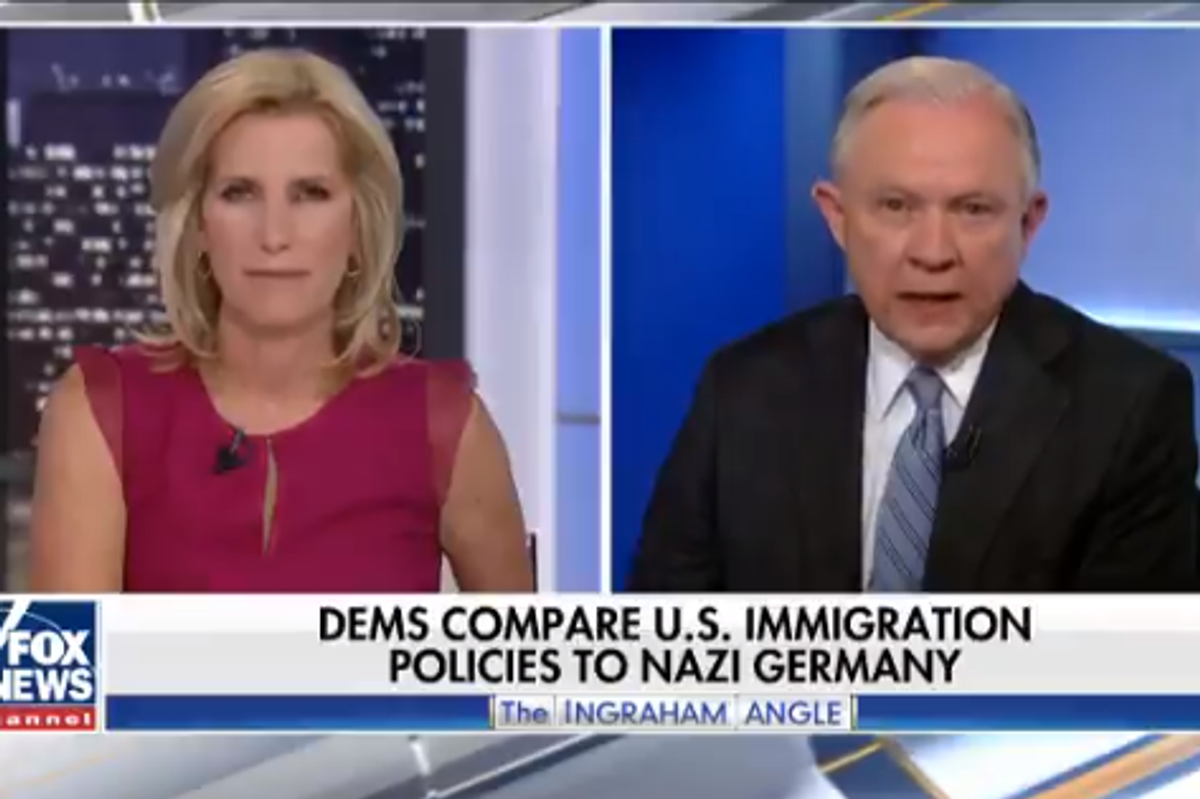 Fox News shithead Laura Ingraham, a woman who is rarely shy about attacking children when it serves her political purposes, tweeted this yesterday:
---
Why don't the do-gooders who complain about separating minors from migrant criminals volunteer to sponsor one of t… https://t.co/yTSg0Z6MVb

— Laura Ingraham (@Laura Ingraham) 1529334279.0
Yeah, why won't you get your hands dirty and DO SOMETHING, you DO GOODERS? Ingraham, a bigot, isn't actually trying to say, "Hey, my lovely fans, here is a way you can help!" She knows her viewers get the inside joke, which is, approximately, "EWWWWWWW BROWN HISPANICS IN YOUR HOUSE!"
This is funny (but not in the "ha ha!" way) because Laura Ingraham is the mother of an adopted little girl from Guatemala, but we guess in Ingraham's eyes, she has white savior-ed that little girl out of the brown heathen existence she was born into, and therefore doesn't have to feel human emotion toward other little girls who look like her daughter.
Speaking of, Ingraham was a real piece of shit on her show Monday night. And so was Attorney General Jeff Sessions, who came on the show to say he's not a Nazi because here's why. (PRO TIP: When you are having to explain the minutiae of why you are not exactly like the Nazis, you are not living your Be Best life. We are just saying.)
Let's look at some TV clips of Ingraham and Sessions, and then we'll look at a couple from Tucker "Is That A Tiki Torch In My Pants Or Is It My Boner SPOILER IT'S BOTH" Carlson and see who wins the Nazi contest!
WHO WANTS TO GO TO THE LAURA INGRAHAM 'SUMMER CAMP'? IT'S FOR BROWN KIDS!
Ingraham began her asshole tirade last night when she said the tent cities and warehouses America is using to house the crying babies Donald Trump just stole from their parents is basically just like "summer camp." You know, the kind of camp we all loved as kids, where we wondered if we'd ever see our parents again and we cried and cried and the counselors weren't allowed to hug us and then we finally fell asleep from exhaustion in our kennels. We also vividly remember how we were forcibly sent to "summer camp" so that our parents could be punished by orange-faced shit monsters for trying to seek asylum in supposedly free countries, after they took us on journeys of thousands of miles in order to protect us from murder gangs and cartels in our home countries.
This fucking woman right here:
Laura Ingraham describes the detention facilities where children are sent after being forcibly separated from their… https://t.co/ONqpdr0VGw

— Judd Legum (@Judd Legum) 1529374568.0
CAMP ANAWANNA, WE HOLD YOU IN OUR HEARTS! AND WHEN WE THINK ABOUT YOU, IT MAKES US WANNA ...
Seriously, doesn't this sound like "summer camp" to you?
After scoffing at how every living first lady has condemned the practice of ripping Hispanic children away from their parents, Ingraham made her adopted Guatemalan girl proud of mama by hosting the leprechaun mascot the KKK never knew it needed, Jeff Sessions, who just wants us to know he's not being a Nazi, because of ONE LITTLE THING he's doing differently from how Hitler did it:
Here's video of Sessions' remarks on the Nazi Germany comparison https://t.co/IuWPkFpGw4

— Brian Tashman (@Brian Tashman) 1529377297.0
In Nazi Germany, they were keeping the Jews from leaving the country!
See? Totally different! Except ...
Well first of all, there have been reports of parents being deported while their children are left behind in "summer camp," because of Trump administration incompetence, evil, or both. (It's been going on a while, actually.)
And also actually Hitler's reign was notable for its designation of Jews and Roma people as "alien people," kind of like the way DHS Secretary Kirstjen Nielsen referred to the children in America's concentration camps as "alien children," and how Trump calls immigrants "animals" who "infest" our country. (Oh, but he's only talking about his fever dreams about MS-13, according to Trump supporters! Go fuck yourselves.)
Also too, the Third Reich started out with big plans to, you know, force the "alien people" out of the country. It was later that they came to the Final Solution, which called for the extermination of all the Jews in Europe.
Zack Beauchamp reminds us of a little Holocaust history over at Vox:
In October 1938, before the Nazis had developed the plan for the Holocaust, the German government expelled roughly 17,000 Jews with Polish citizenship living in Germany. At this point, the Nazis hadn't yet figured out what they wanted to do to their Jewish population and were exploring mass expulsions as an option.

In some cases, this policy involved breaking up families. Gestapo officers would round up the men and expel them while leaving Jewish women and children in Germany. The intent was to force the women and children to "self-deport" back to Poland, to attempt to find their male family members, sparing the Nazis the expense and effort of formally deporting them.
And also:
If I'm remembering my Third Reich history correctly, I think the first use of the term "final solution" was in a me… https://t.co/Fz1wYqoctE

— Chris Hayes (@Chris Hayes) 1529378115.0
THIS IS ALL SOUNDING A LITTLE BIT TOO FAMILIAR.
Did Donald Trump lend that book of Hitler speeches he used to keep by his bed to Jeff Sessions or something? We are just curious.
Anyway, those are some real good entries for the Fox News Nazi contest!
LET'S SEE IF TUCKER CARLSON CAN REGAIN HIS NAZI TITLE, OR IF HE'S GONNA LET A GIRL BEAT HIM AT HIS OWN GAME!
.@TuckerCarlson: "This is one of those moments that tells you everything about our ruling class. They care far more… https://t.co/lhMMxK2BUP

— Fox News (@Fox News) 1529366997.0
Don't just rely on the quote Fox News provides in that tweet above, because Fucking Tucker had way more to say than that. In his dogwhistling white-hooded way, he was just saying the following:
You think any of these people REALLY care about family separation?
Yeah, actually, because we're not fucking monsters.
If they did, they'd be worried about the collapse of the AMERICAN family ...
Oh for fuck's sake.
In fact they welcome that collapse, because strong families are an impediment to their political power. And that's why they're always lecturing you about the evil of the patriarchy and the nuclear family.
Literally nobody thinks nuclear families are "evil." We understand that Tucker Carlson, a guy so scared of gay guys that he brags about beating them up in bathrooms, may have gotten confused when gay marriage advocates argued that the institution of marriage was so important that gays and lesbians should be included in it, thinking that means we wanted to literally DESTROY ALL NUCLEAR (WHITE CHRISTIAN) FAMILIES. We understand that because we understand that Tucker Carlson is an insecure small-dicked bigot.
Fucking Tucker continued with a bunch of #WhatAbout words about American kids separated from their parents because of incarceration, because if we know one thing about Fucking Tucker, it's that sentencing reform is what gets him hard in the morning. He brought it home by declaring that people offended by Trump's current campaign of government-sanctioned child abuse are, and we quote, "trying to change YOUR country forever. And they're succeeding, by the way!" When he says "YOUR country," we all know exactly who he's talking about, so GOOD NAZI SAVE, TUCKER CARLSON!
Shame he didn't take this opportunity to yet again expound on gypsies.
AND THE WINNER IS ...
Sorry, Tucker, we're gonna have to give this one to Ingraham. It's not that you're not still a real live white supremacist Nazi-sympathizing piece of shit. Ingraham just put in a whole lot more elbow grease this time, and booking Jeff Sessions was an inspired choice.
Plus, there's that whole thing about her saying those things with her mouth while LITERALLY HAVING AN ADOPTED GUATEMALAN DAUGHTER, which really gives her points in the HOLY SHIT WHAT A HEARTLESS FUCKING BASTARD department.
Better luck next time, Tucker!
Follow Evan Hurst on Twitter RIGHT NOW, DO IT RIGHT NOW!

Evan Hurst
Evan Hurst is the managing editor of Wonkette, which means he is the boss of you, unless you are Rebecca, who is boss of him. His dog Lula is judging you right now.
Follow him on Twitter RIGHT HERE.