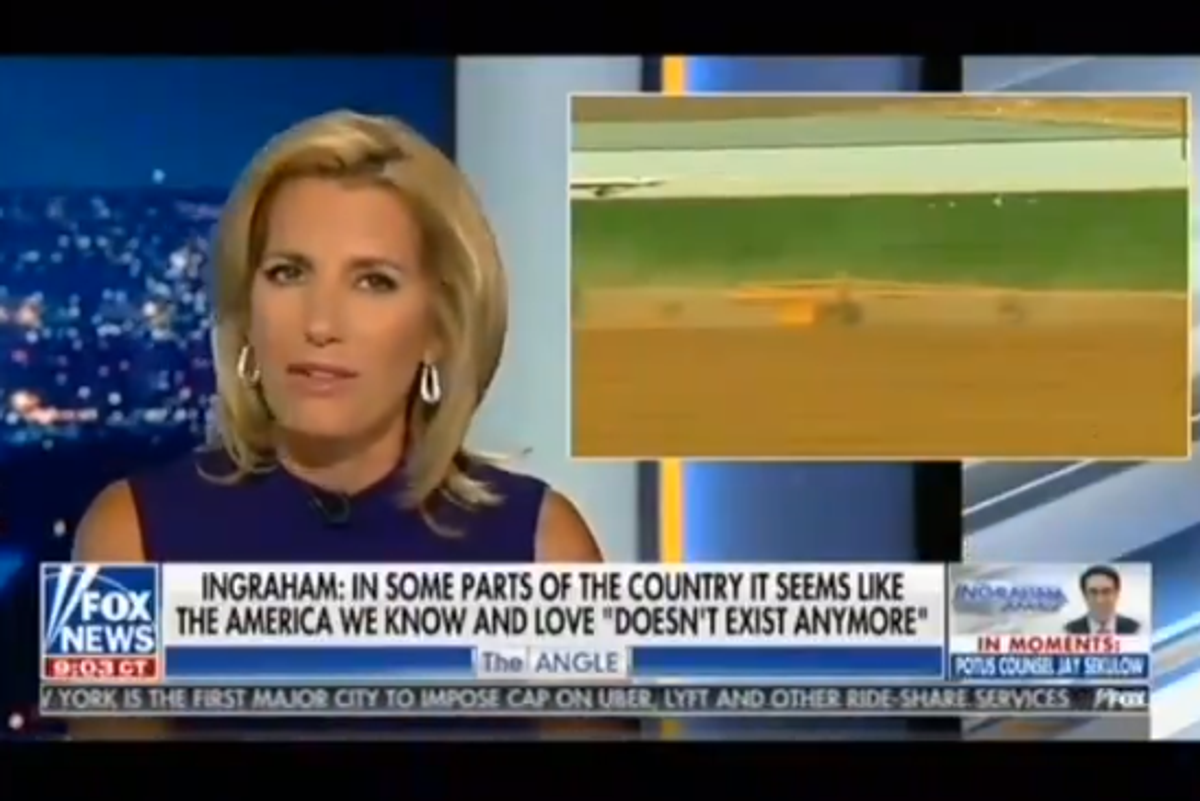 We want to be very clear about something at the outset. We don't know if Laura Ingraham, deep in the recesses of her heart, is an actual white supremacist. It's entirely possible she is just a soulless maggot on the inner rectum of humanity and has decided she's jealous that Tucker Carlson gets all the white supremacist street cred with Fox News viewers, and she wants to get in on that action. It could be that she's simply an operator who gets her audience, and she knows they are white supremacists terrified of black and brown people, who can't get erections unless people are hating on minorities.
Maybe she just feels she still has too many advertisers, and wants to drive away everybody who didn't leave when she started making fun of Parkland shooting survivors on Twitter.
Golly, we just don't know.
Let's watch Ingraham make words. Transcript after the jump:
---
Laura Ingraham: "The America we know and love doesn't exist anymore. Massive demographic changes have been foisted… https://t.co/1thRjRVmnE

— Andrew Lawrence (@Andrew Lawrence) 1533781559.0
INGRAHAM: Jews! Will not! Replace us!
OK just kidding, she didn't say that. She just said the same damn thing Tucker Carlson says every night about how America is being murdered by "demographic changes," because for whatever reason, mediocre white trash like Laura Ingraham and Tucker Carlson feel threatened when black and brown people are allowed to live in peace. (UNLESS she is just doing this for the money. It's possible she just goes home each night and marvels at all the horrible racist shit she said in exchange for Fox News money that day.)
Historian Kevin Kruse -- you know, the guy who beats the shit out of Dinesh D'Souza on Twitter for sport -- reflects on the historical parallels for Ingraham's rhetoric in a fantastic thread you should obviously read, noting that Laura Ingraham here sounds a lot like "the racist screeds of the 1910s and 1920s that paved the way for the rise of the Second Ku Klux Klan." Does he show his work? Of course he does. (Speaking of the Second Ku Klux Klan, remember that time Donald Trump's dad was arrested at a Klan rally in 1927? Just bringing that up because NO REASON.)
Again, we must emphasize that we don't actually know whether Laura Ingraham looks at her budget each month and wistfully says to herself, "If slavery was legal, I could afford some slaves," or whether she's just doing this because she's a piece of shit who'll say anything for ratings. Only Laura Ingraham knows that in her heart, if such a thing exists. Oh, and Jesus knows.
She is of course going to hell either way.
Hey, Laura Ingraham's advertisers! HOW'S IT HANGIN'! We are just asking because you all probably should pull 100% of your advertising, immediately.
We are just saying.
Follow Evan Hurst on Twitter RIGHT NOW, DO IT RIGHT NOW!
Help Wonkette LIVE FOREVER! Seriously, if you can, please hit the tip jar below and make a donation of MONEY. Or click this link to become a monthly subscriber!
Evan Hurst
Evan Hurst is the managing editor of Wonkette, which means he is the boss of you, unless you are Rebecca, who is boss of him. His dog Lula is judging you right now.
Follow him on Twitter RIGHT HERE.