Lauren Boebert Sucks But Does She Suck Like Someone Who Supports The Mob During A Coup?
Right Wing Extremism
January 12, 2021 12:15 PM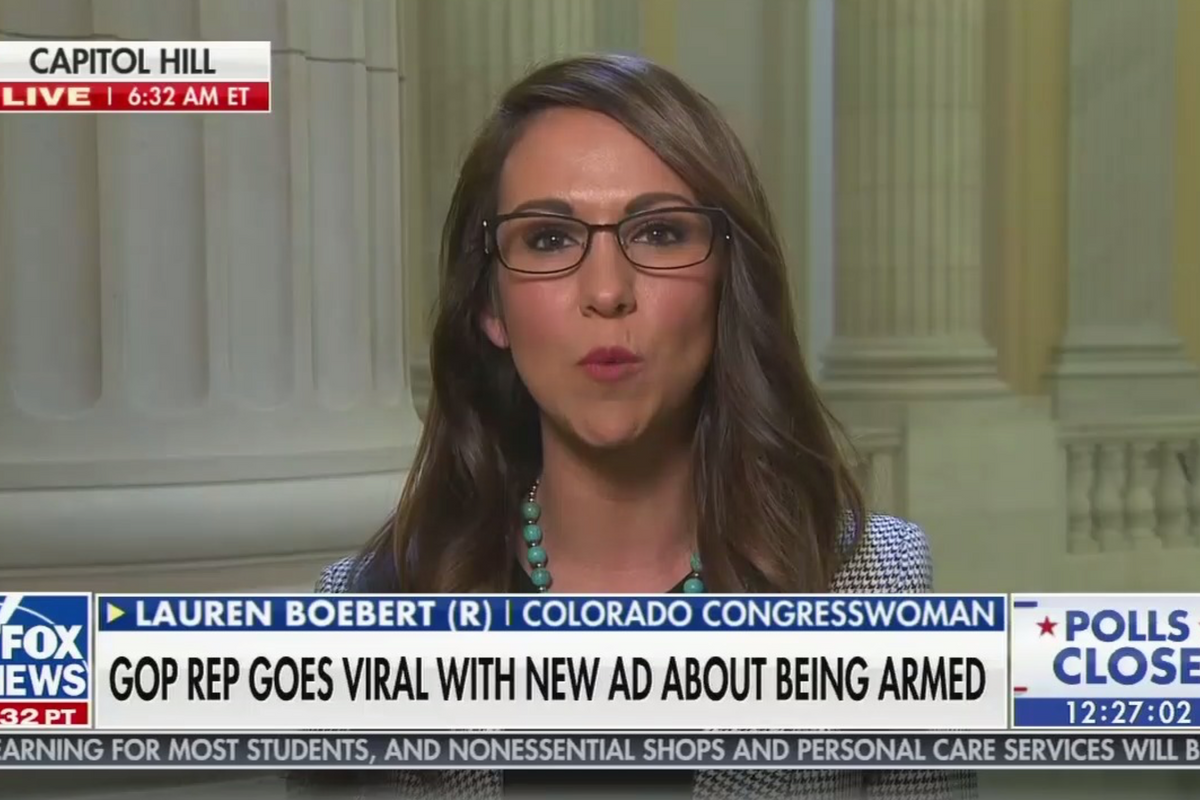 Did Rep. Lauren Boebert give up Nancy Pelosi to a violent mob during the January 6 Capitol siege? (Also, when did real life turn into an episode of "Scandal"?). Serious questions were raised about why the Colorado congresswoman would live tweet the House Speaker's movements when the Capitol was under attack.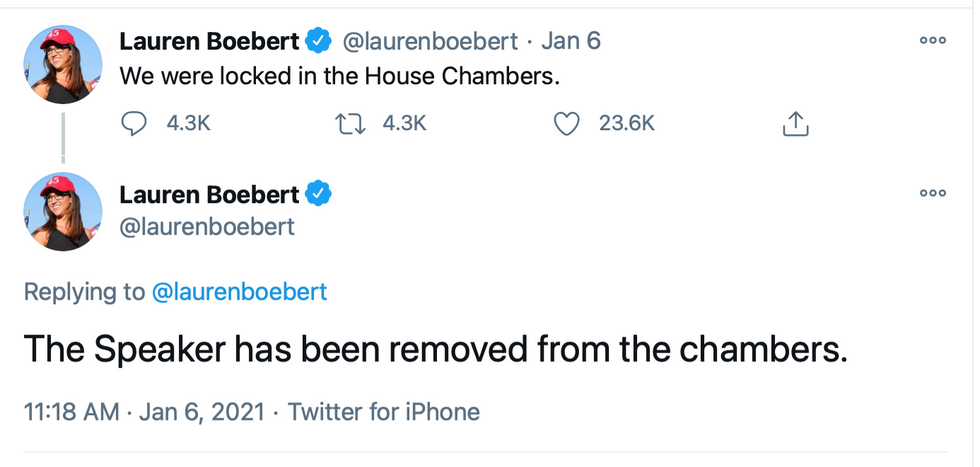 Twitter
That seemed ... unwise. Boebert might've wanted to keep her constituents in the loop but the MAGA mob also had cell phones and Twitter accounts. Hundreds or thousands of unhinged people had stormed the Capitol and she's acting like their personal GPS. When I saw this last week, I just shook my head and assumed she was dumb. That's a safe bet for Ms. Congressional Glock-Waver of 2021.
---
However, yesterday Senator Brian Schatz of Hawaii noted on Twitter that Congress members were "specifically instructed by those protecting us not to tell anyone, including our family, where exactly we were, for reasons that remain obvious."
@brianschatz @gtconway3dg So were we in the House. @laurenboebert was told by the Sergeant of Arms in the chamber t… https://t.co/6hzLrCOx3V

— Rep. Eric Swalwell (@Rep. Eric Swalwell) 1610425303.0
As a member of the QAnon Caucus, Boebert takes pride in her ignorance. She might've defied obvious instructions that were obvious because she wasn't going to let the government tell her what to do, even though she's now part of said government.

Rep. Eric Swalwell came right out and accused Boebert of being "more closely aligned with the terrorists than the patriots." She's been his colleague for a little over a week and he's already reading her for filth on Twitter. He even tagged her so her loved ones can see it. He's not afraid. Surviving an attempted coup from the sitting president can change a person.
(Schatz and Swalwell are two of the nicest guys in Congress, so this is just one example of how much Boebert sucks.)
Before the siege, Boebert had willingly aligned herself with the mob when she challenged the election results in Arizona, where she doesn't live and had no legal grounds to do so.
Madame Speaker, I have constituents outside this building right now and I promised to be their voice. It is my separate but equal obligation to weigh in on this election and object.
She sure did have constituents outside. They were beating cops with flagpoles. And "separate but equal obligation"? Oh, go take a flying fuck at a rolling doughnut, lady. Go take a flying fuck at the moon.
Also, while Boebert has bragged about bringing her Glock to Washington DC to defend herself from violent thugs, she didn't actually get her Annie Oakley on in defense of the woman who's second in line to the presidency.
@RepSwalwell @brianschatz @gtconway3dg @laurenboebert And this https://t.co/TDwP7MTLOe

— Asha Rangappa (@Asha Rangappa) 1610426621.0
Lawyer and CNN commentator Asha Rangappa noted that Boebert had tweeted on January 6 that "Today is 1776." This pushes the "she's real dumb" defense to its limit. She's directly linking the electoral vote certification to the American Revolution, which like most revolutions involving white people was violent. She might've grossly co-opted the language of the Civil Rights Movement, but she wasn't calling for civil disobedience. The American colonists didn't hold marches and sit-ins against the British. Shots were fired. Blood was shed.
Great power demands great responsibility. That don't just apply to Spider-Man but to our elected officials who don't have web shooters. Boebert isn't a conservative talk show host. She's a member of Congress and probably shouldn't call for the violent overthrow of the US government, which she compares to a tyrannical regime.
Pardon my spoilers here but American colonists won the Revolutionary War and went on to form a new nation that Trump would later ruin. Anyone who could count (and I'll graciously include Boebert) would've known that the baseless objections to Biden's victory weren't going to pass. Now, after Trump's failed coup, Republicans want to talk about "lowering the temperature," but the time to do so was during the two weeks after the Electoral College voted.
Trump supporters didn't gather on January 6 to peacefully protest Biden's election. They showed up to "stop the steal" and "save America." There was no legal way to achieve their aims, so violence was inevitable.
It's not clear to what extent the rioters were coordinating operationally with government officials, so we ought to… https://t.co/8v2R2WK6ZS

— Brian Schatz (@Brian Schatz) 1610425530.0
Young political geek SER, who watched "The West Wing" every week, takes no pleasure in the idea that Boebert might've aided and abetted terrorist activity. I'd rather she was just dumb. But tired, middle-aged SER agrees with Schatz that we need to carefully consider the possibility and determine if any elected officials helped insurrectionists during a coup attempt that killed five people.
Follow Stephen Robinson on Twitter.
Do your Amazon shopping through this link, because reasons.
Yr Wonkette is 100 percent ad free and supported entirely by reader donations. Please click the clickie, if you are able!
Stephen Robinson
Stephen Robinson is a writer and social kibbitzer based in Portland, Oregon. He writes make believe for Cafe Nordo, an immersive theatre space in Seattle. Once, he wrote a novel called "Mahogany Slade," which you should read or at least buy. He's also on the board of the Portland Playhouse theatre. His son describes him as a "play typer guy."