Requiem For A Goddamn HERO:  Ruth Bader Ginsburg, God Damn.
SCOTUS
December 31, 2020 07:55 PM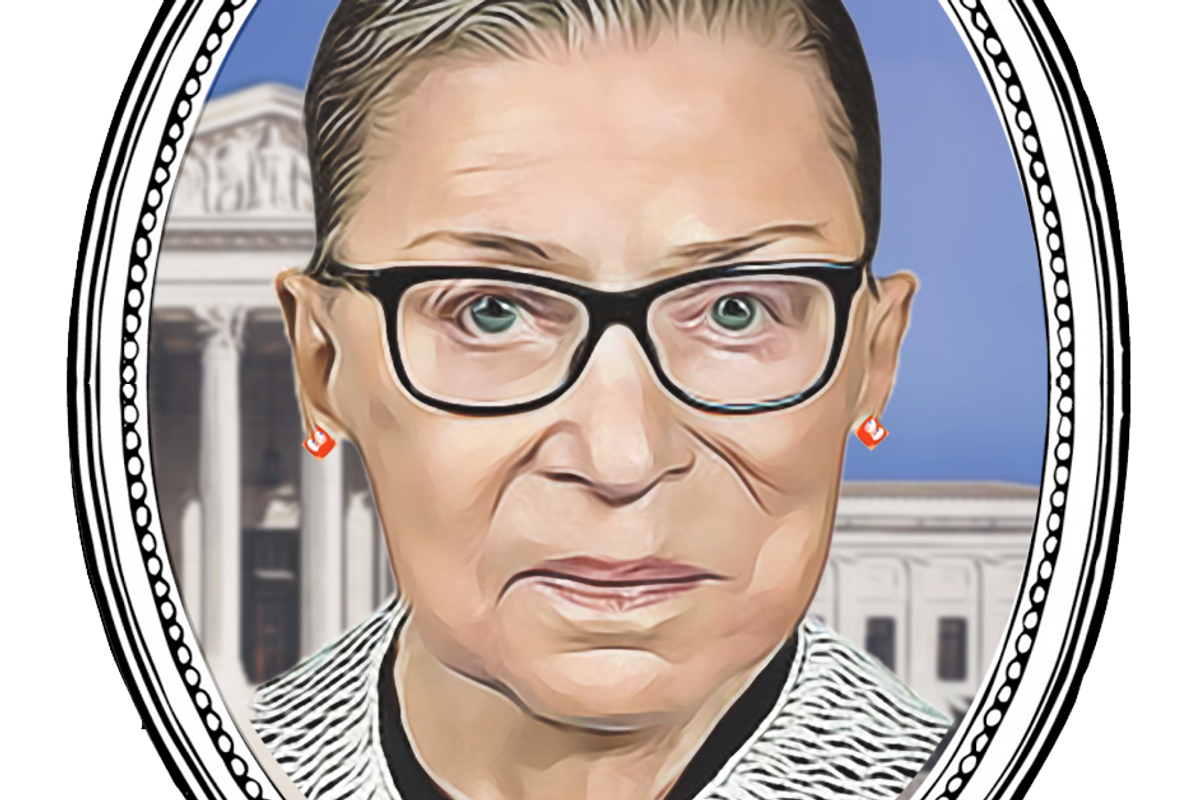 Ruth Bader Ginsburg was a fucking rockstar.
That's not something that is often said about octogenarian jurists. But RBG was special and unique in so many ways.
Over five decades, RBG redefined the American legal landscape. The second woman ever to sit on the Supreme Court, eventually becoming a pop culture (and a bit of fashion) icon in her 80s, she was so much more than a Supreme Court justice to so many of us.

I wish she had lived to see a Kamala Harris sworn in as Vice President (and that Joe Biden had been the one to appoint her replacement), but she gave all of us so much during her life. We owe it to Justice Ginsburg to celebrate her life and her accomplishments, rather than just wallowing in our sorrow that she's gone.
This was a year of heartbreaking losses; and, like John Lewis, the loss of an icon like Ruth Bader Ginsburg looms large for so many of us. We didn't just lose a Supreme Court justice; the world lost a giant. And we should mourn. But, while we're mourning, we should also continue the fight.
Like Ruth would have done.

---
Even at her confirmation hearings (she was confirmed by a vote of 96-3), she clearly and unambiguously
defended
abortion rights. A champion of the idea that women's rights are human rights, RBG never backed down from what she knew to be right. And my life, and the lives of millions of American women, would not be what they are today without her.
When Ruth Bader Ginsburg started practicing law, equal rights for women was a legal pipe dream. Hundreds of federal and untold numbers of state laws openly discriminated on the basis of sex.
RBG graduated from law school five years before the Civil Rights Act banned employment discrimination on the basis of sex. There were zero female judges on our federal appellate courts. When Harvard professor Albert Sachs recommended her for a clerkship with Supreme Court Justice Felix Frankfurter, Frankfurter said he wasn't ready to hire a woman and told Sachs to recommend a man. Nearly 50 years later, when the Supreme Court struck down the Virginia Military Institute's ban on female students in U.S. v. Virginia, she wrote the majority opinion.
As both a lawyer and a jurist, RBG championed an end to discrimination on the basis of sex. Laws that for centuries had been understood as simply the way things were done were turned on their heads.

For more than 100 years, the Fourteenth Amendment to the US Constitution was understood to prohibit discrimination on the basis of race, but not sex. But when RBG brought Reed v. Reed, her first sex discrimination case, to the Supreme Court in 1971, she won unanimously.

During the Reedlitigation, the government created a list of the hundreds of federal statutes that differentiated on the basis of sex, saying ruling for plaintiffs "cast a cloud of unconstitutionality" over all of them. As her husband, Marty, told NPR, those laws became "the statutes that my wife then litigated [...] to overturn over the next decade."
As Justice Ginsburg once said,

"The words of the 14th Amendment's equal protection clause — 'nor shall any state deny to any person the equal protection of the laws.' Well that word, 'any person,' covers women as well as men. And the Supreme Court woke up to that reality in 1971."
She never backed down. Ruth quickly went on to become the first female tenured professor at Columbia Law and one of the founders of the ACLU's Women's Rights Project. She got discriminatory law after discriminatory law struck down by the courts.
And that was all before she was appointed to the bench.
RBG was appointed to the DC Circuit, often considered the second-most important court in the country, by Jimmy Carter, who had made it a priority to appoint women and minorities to the federal courts.
When Bill Clinton nominated her to the Supreme Court in 1993, it was a surprise to many. She had not been number one on his list — and, amazingly, was considered too centrist for some liberals. But, by all accounts, the president was in love with her by the end of her interview, and she soon became the second woman to sit on our country's highest court.
Thankfully, RBG left us with two amazing women on the Court: Elena Kagan and Sonia Sotomayor. Sotomayor has already taken up Ginsburg's mantle in the last few years, penning her own fiery dissents and fighting the good fight for civil rights.

Ruth Bader Ginsburg never gave up. During her final year on the Court, she was a deciding vote in a number of 5-4 cases that would now probably go the other way, including: June Medical Services v. Russo, an important abortion rights case upholding a woman's right to choose; McGirt v. Oklahoma, ruling most of Oklahoma is an Indian reservation; Dep't of Homeland Security v. Regents of the University of California, striking down Trump's rescission of DACA; and South Bay United Pentecostal Church v. Newsom, upholding California's pandemic limits on attendance at worship services during Easter. She was in the majority in one, final sex discrimination case: Bostock v. Clayton County, Georgia, making discrimination based on sexual orientation and gender identity illegal nationwide.
And, of course, we got some final trademark dissents, like those in Little Sisters of the Poor v. Pennsylvania and Our Lady of Guadalupe v. Morrissey-Berru, where even liberal Justices Breyer and Kagan sided with the Court's conservatives to allow discrimination in the name of religion; Espinoza v. Montana, where the majority mandated state tax dollars be used to send children to religious private school; and Hernandez v. Mesa, where the Court said the mother of a Mexican child killed by Border Patrol couldn't sue over his death.
Losing RBG was awful. We lost a giant. But she lives on through us. Now that we're almost done with this HELL YEAR, it's a time to look forward. Ruth Bader Ginsburg did so much for us all — but we still have a lot of work ahead of us.
We owe it to her — and our daughters — to continue the fight for equality.

Happy New Year, one and all! 2020 is finally almost over.

And remember:

"Women's rights are an essential part of the overall human rights agenda, trained on the equal dignity and ability to live in freedom all people should enjoy."
— RBG

Here is our merch, where you can wear Ruth Bader Ginsburg on your face or on your bosom. More importantly, here is every opinion, concurrence, and dissent RBG ever wrote.

Wonkette is here with you through the years, bad and good. We love you.
Jamie Lynn Crofts
Jamie Lynn Crofts is sick of your bullshit. When she's not wrangling cats, she's probably writing about nerdy legal stuff, rocking out at karaoke, or tweeting about god knows what. Jamie would kindly like to remind everyone that it's perfectly legal to tell Bob Murray to eat shit.