LET'S IMPEACH THE MOTHERF*CKER! AGAIN! RIGHT HERE IN THIS LIVEBLOG!
Trump
January 13, 2021 08:58 AM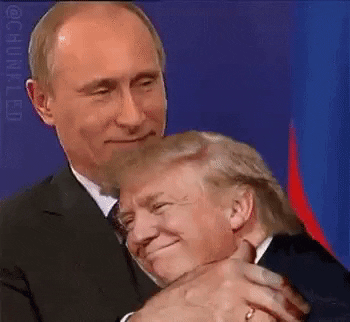 Oh boy, the news started moving fast last night!
GOP Rep. John Katko of New York was the first House Republican to say he'd vote for impeachment. Soon after, Liz Cheney, the number three Republican in the House, THWAPPED EVERYBODY ON THE BOTTOM, including House leadership, when she said she would also too like to impeach Donald Trump. Her statement, it was a doozy.
An excerpt:
Much more will become clear in coming days and weeks, but what we know now is enough. The President of the United States summoned his mob, assembled the mob, and lit the flame of this attack. Everything that followed was his doing. None of this would have happened without the President. [...] There has never been a greater betrayal by a President of the United States of his office and his oath to the Constitution.
But wait, did she really thwap House leadership on the bottom? More on that in a sec.
---
First of all, Rep. Adam Kinzinger (R-IL) also came out for impeachment, which we totally expected, but it was good to see his name quickly on the list. Then Rep. Fred Upton of Michigan. Then Jaime Herrera Beutler of Washington. Peter Meijer of Michigan seems like a strong maybe. How many will ultimately follow Liz Cheney and these others? Not just in the House, but also in the Senate?
Well, speaking of the Senate! The New York Times also reported last night that actually Mitch McConnell is fine with the idea of impeaching and removing Trump, because fuck that guy, he lost them the Senate with his "waaaaaah they stoled the election from me" caterwauling bullshit, and Mitch thinks this might be the best way to slice Trump out of the GOP like with a surgeon's scalpel. McConnell also seems like he is HOT about that whole "Trump sending thugs to murder Congress" thing last week, weird how that didn't play well.
Later on last night, Axios reported that McConnell is "leaning" toward voting to convict. Meanwhile, Jonathan Martin of the New York Timestweeted that BEFORE their story about McConnell being DTF with impeach 'n' remove, a Republican Senate aide thought there were 20 or so Senate Republicans open to impeach 'n' remove. BEFORE their story.
As we said, lots of news!
So now, regarding House leadership, and how House Minority Leader Kevin McCarthy feels about this. It's being reported that McCarthy, like McConnell, is not whipping the vote against impeachment. He's also thinking maybe he could get on board with not impeachment, but censure, even though Nancy Pelosi is like fuck that. Oh and also should he tell Trump to resign? Should he do that? Kevin McCarthy is just asking, because Kevin McCarthy does not know!
One major reason Republicans might be getting behind impeaching and removing Trump is that if they do, they can afterward take a simple majority vote in each house to bar Trump from ever holding federal office again, and that's something they pretty much all want. As many are correctly arguing, if McConnell votes to remove Trump, it's not because he's a hero, but because it is best for McConnell. Same goes for the rest of 'em. As Marcy Wheeler also correctly argues, if McConnell does this, Schumer and Pelosi need guarantees that there will be consequences for seditious insurgents like Josh Hawley, Ted Cruz, Paul Gosar, Mo Brooks and others.
All these people are such backstabbing shits, we love to watch.'
Other news we learned last night:
Democratic Rep. Mikie Sherrill of New Jersey did a webcast where she claimed that members of Congress had literally led people on a "reconnaissance mission" through the Capitol the day before. If true, those reps should be expelled and imprisoned for life. LOCK THEM THE FUCK UP, THAT'S RIGHT, MICHAEL FLYNN, LOCK THEM UP.
Mike Pence wrote to Nancy Pelosi that he will not be doing the 25th Amendment, even though Trump tried to have him killed. He didn't say how he really felt about impeachment though, shruggie. The House voted last night to call on Pence to take that step, but now they can just move forward with impeaching the motherfucker again.
Is there other new news we've missed? Surely! We'll try to get to it in updates, because this here is a LIVEBLOG, because this morning, we do the thing! We impeach the motherfucker again! And at this rate, after the House does that, we're not going to be surprised if McConnell takes Chuck Schumer up on his idea to invoke a special law that says the bipartisan leadership of the Senate can bring the body back together in emergency situations, just to get El Shitfuck out of the White House by the weekend. Don't hold us to that, because who ever fuckin' knows, but we won't be surprised.
Shall we watch and liveblog this American goddamn history together? We shall.
9:21: The House has been gaveled in, and we are off! First they have to do some procedural shit, though. We do have to say we are enjoying how Dems are very much on message with calling Trump's lie about the election his "Big Lie." That's important and puts it in context of all fascist movements.

While we're waiting for things to get really moving, have you read the New York Times on Mike Pence reaching his limit with Trump, even though that limit apparently does not involve 25th Amendment-ing Trump for the good of America? It is good!
One more thing: Lawrence O'Donnell noted last night on MSNBC that Donald Trump is now the subject of fully half of all impeachment hearings in the history of America. It's, like, synonymous with his name now.
9:58: Here's another one, while we wait for them to get going with the debate. Did you hear that the Joint Chiefs felt the need to write a letter yesterday saying absolutely that the election is over and Joe Biden will be president? It was remarkable because they felt like they needed to write that, and also for lines like this:

We witnessed actions inside the Capitol building that were inconsistent with the rule of law. The rights of freedom of speech and assembly do not give anyone the right to resort to violence, sedition and insurrection.
That's right, the JOINT CHIEFS are calling it "sedition and insurrection." That's where we are.
Debate should start shortly!
10:04: New GOP Rep. Nancy Mace has been very mean to Trump lately, and reportedly made fun of QAnon Rep. Marjorie Taylor Greene in a text thread between congresspeople recently, joking about "Literal QAnon lady trying to deny she's a QAnon lady." But she just said on the House floor she is against impeachment, because #reasons.
10:17: Speaking of Literal QAnon Lady! She is LIT today!
Democrats are trying to overturn the 2016 election AGAIN. I voted NO. https://t.co/Ua1diMkMgE

— Rep. Marjorie Taylor Greene (@Rep. Marjorie Taylor Greene) 1610510249.0
Meanwhile on the House floor, some GOP idiot is whining about Democrats "rushing to judgment" about the Capitol attack incited by the president, for which he is being impeached.
10:39: Now they are voting on the rules of the article of impeachment, which they have to do before they debate and vote on the actual article of impeachment, because that's how it goes, stop asking questions.

10:45: While they're voting, catch up on today's other Wonkette stories. Here's one about all these GOP idiots whining that metal detectors are the WOOOOOOOOORST and TYRANNNNNNNNY, because they want to be able to carry their guns at work. Here's one about Jim Jordan being a piece of shit yesterday.

By the way, the rule they're voting on includes that there will only be two hours of debate on the article of impeachment, so when we get going, it's possible we are not actually going to have the longest day in the history of ever.
10:53: Uh oh! When the Sedition Caucus has lost WALMART ...
11:03: Talking Points Memo has collected some wild shots of National Guard members just sleeping on the Capitol floor before all this impeachment business gets going. Because that's a thing we have to have in America now.
11:10: Louie Gohmert and other garbage Sedition Caucus Republicans are apparently still just ignoring the metal detectors, so that's awesome.

11:16: Well, looks like Matt Fuller from HuffPo is somebody you should be following, because he's livetweeting all the GOP reps ignoring the metal detectors. So far:

Rep. Bob Gibbs went around it.
Rep. Ross Fulcher tried to go in through a different door.
Rep. Chip Roy went around it.
Rep. Bob Latta went through it, set it off, and ignored the cops.
Rep. Garret Graves went around it.
Rep. Markwayne Mullin went around it.
Rep. Jeff Duncan went around it.
Fucking Louie Gohmert went around it, "shaking his head and waving off the police."
Rep. Virginia Foxx went through it, set it off, kept going, and said "Good morning, guys."
Rep. Paul Gosar went through it, set it off, and continued on.
Rep. Alex Mooney went through, was on the phone and apparently too busy to talk to the cops right now.
Rep. Bill Huizenga went through, set it off, kept going.
HOW MANY GUNS ARE THESE PEOPLE FUCKING CARRYING? And should the National Guard just go ahead and do something? Good GOD.
11:34: Uh oh Steve Doocy and Brian Kilmeade are fighting.

11:51:Here is Democratic Rep. Jason Crow talking about how there are lots of Republicans who actually do want to vote for impeachment, but, with tears in their eyes, say they can't because they're scared for their lives if they do.
And here is GOP Rep. Peter Meijer of Michigan writing about how at least one of his colleagues wanted to vote to certify the election, but was afraid they and their family would be murdered if they did.
More evidence that the correct word for what Trump and his minions are doing right now should be called terrorism.
Just a few minutes until the big debate starts.
11:55: Lindsey Graham now whining that today's impeachment "could invite further violence," which sounds to us like a (Taylor) Swift-ian "Look What You Made Me Do" justification for more violence. That's right, he said "invite," like the impeachment brought it on itself, and was asking for it. Maybe he should be expelled from the Senate today.

12:14: Did you hear all about the FBI press conference yesterday on the Capitol attack? It was pretty hair-raising! Liz wrote all about it for you.

Congress almost finished with procedural vote on the rules, which seems to be pretty party line. COME ON, CONGRESS.
12:31: AND HERE WE GO! There will be two hours of debate, an hour from Democrats and an hour from Republicans. Jerry Nadler is controlling the Democratic side, and fucking Jim Jordan is controlling the Republican side.

Meanwhile, the cultist seditionists are starting their Cheney backlash, because of how Liz Cheney won't do seditions for Dear Leader :(
Anyway, Nancy Pelosi is speaking. "Those insurrectionists were not patriots. [...] They were domestic terrorists." Notes that they were literally sent there by Donald fucking Trump. Lots of people will say that today, because of how that is what happened.
12:37: Jim Jordan begins his bullshit. "19 MINUTES! 19 MINUTES!" That is how he starts his bullshit. Because Democrats have been trying to impeach Trump since 19 MINUTES! after Trump's inauguration or something, jackoff emoji we don't care.

12:39: Jordan whining about Trump's accomplishments like "Covid vaccine" (LOL no) and "built the wall" (not that either). Bitches that everybody wants to "cancel" Donald Trump, "the Ayatollah can tweet, but the president can't," whine whine whine "Democrats say Antifa is a myth" (it is), whine whine whine whine.

12:41: Jordan whines more that the "cancel culture will come for us all," while Louie Gohmert nods in the background, and he should know, because his own brain cells canceled him years ago.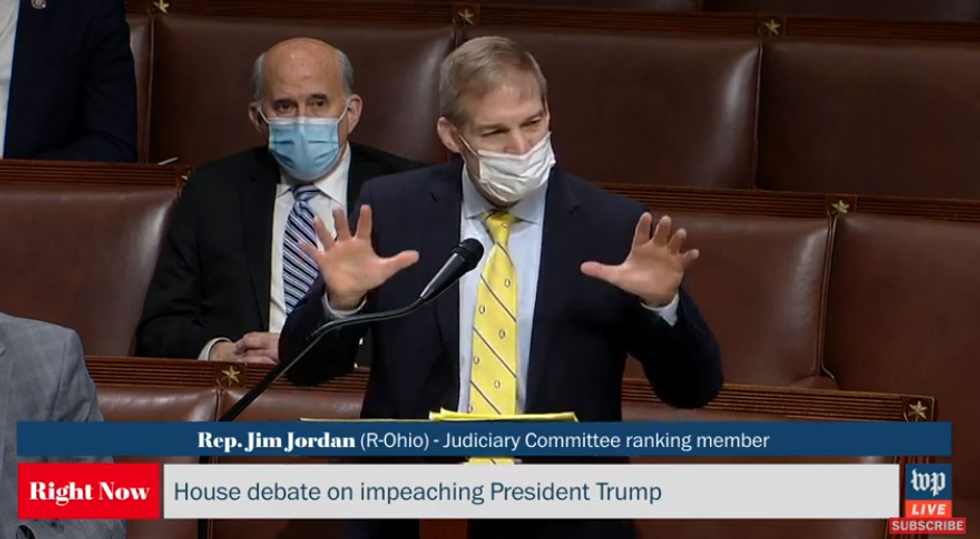 12:46: GOP Rep. Tom McClintock did not like Trump's January 6 speech either, but says Trump used the word "peacefully" once, there NO PEACH!
12:47: Lol fucking clown, McClintock says "if we had prosecuted BLM and Antifa rioters," maybe Trump supporter terrorists wouldn't have even done a domestic attack on the Capitol! (More of the Look What You Made Me Do defense. Jesus, these people act like textbook fucking abusers.)

12:50: Hahaha, McClintock says it is just TOO MEAN to impeach an "already defeated president" the week before he's out of there. It's funny because the only part of McClintock's speech Trump probably heard was "already defeated."

Anyway, Zoe Lofgren is like "this is my third impeachment, fuck around and find out, in summary and in conclusion, God Bless America."
And then it's Andy Biggs of Arizona, whose name keeps coming up in allegations that he literally helped plan the hate rally that led directly to the Capitol terrorist attack.
12:52: Biggs says if we impeach, Trump's movement will get even bigger, to which we respond, "Him and what Twitter account?"

12:53: Adam Schiff: DIDN'T I FUCKING TELL Y'ALL LIKE A YEAR AGO? Just kidding he did not say that. But we bet he thought it.

12:55: GOHHHHHHHHMERTTTTTTTTTT!

He is saying "quotes" about how Nancy Pelosi said some mean things one time, and Republicans didn't impeach Nancy Pelosi, and how can you think Republicans are trying to incite violence just because they are pushing Trump's fascist Big Lie about how he really won the election he lost in a landslide?
Gohmert is just yelping out cry words, it is not worth typing.
1:00: Darrell Issa being almost right, while also being wrong. Says what's such a danger about Trump in this last week of his presidency, since he's been the same guy his entire presidency? True! He HAS been absolute violence-inciting crime-garbage for four straight years!

We dont' think that was Issa's point.
1:01: Cedric Richmond literally ended his time with "WE TOLD YOU SO. RICHMOND OUT!"

Now it is Debbie Lesko's turn to whine. Reminder: All these Republicans voted to destroy American democracy on January 6 after the Capitol terrorist attack.
1:02: Lesko shouts that "IT'S IMPOSSIBLE FOR THE SENATE TO REMOVE HIM BEFORE HIS TERM EXPIRES!" Is it, Debbie Lesko? Is it?

(It is not.)
Hakeem Jeffries up.
1:05: Weird, Jim Jordan reserves time for Republicans. They've been taking turns. If Jordan keeps reserving the GOP's time, and he just did again ... is that all the GOP has? Devin Nunes doesn't even want to promenade a cow around the House floor in defense of his beloved Trump?

We'll see!
1:09: Oh never mind, Jordan lets that Republican dipshit Jeff Van Drew from New Jersey, the one who used to be a Democrat but then climbed up inside Trump's butt, who wears bad blue jackets that look stupid on him. Yap yap yap.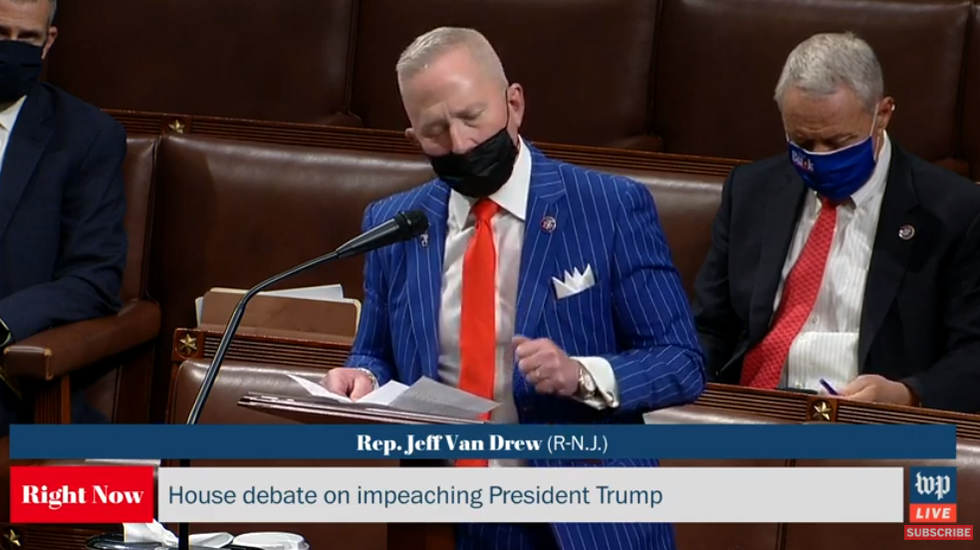 Meanwhile, Mitch McConnell officially will not reconvene the Senate early, so there's that.

Annnnnnnnd Jim Jordan reserves again.
Jim Clyburn up.
1:15: Oh my fucking God.
Ken Buck says Americans need to understand WHY Trump terrorists did a terrorist attack. It was because Obama spied on Trump and the FBI did a witch hunt and some Democrats didn't even go to Trump's inauguration.

Robert DeNiro said he wanted to PUNCH TRUMP!
Kathy Griffin made a MEAN TRUMP ART!
NO COLLUSION! NO COLLUSION! YOU ARE THE COLLUSION!
Sarah Huckabee Sanders did not get the chicken she ordered!
And that is why terrorist attacks on the Capitol happened.
1:20: Oh good, now Matt Gaetz is here to say Trump only gets impeached when he's RIGHT!

Like when Trump lies and says he won elections he lost. And when Trump and the GOP spread Russian propaganda about HUNTERBIDENHUNTERBIDENHTUNAJ;RTKDSKJFADKSJBJIGDNEGNGHAZI!!11!1!
That is when Trump gets impeached.
In other words, Gaetz looks like shit as usual, and his sport coat fits like shit and his tie is ugly.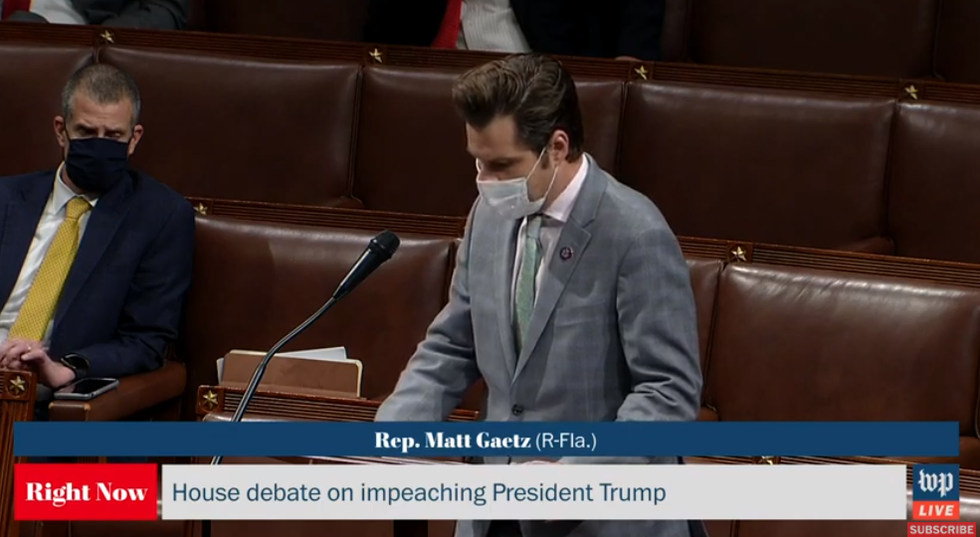 1:23: Gaetz just got louder and louder screaming made-up racist lies about this summer's protests, and Democrats screamed at his face and now he's done.

1:25: Eric Swalwell says he's sorry Republicans are wanting to impeach Trump but living in fear but GET A DICK AND IMPEACH HIM.

He said it nicer than that.
1:28: Here comes Kevin McCarthy to DESPERATELY try to split this baby.

Says last week's attack was v. bad. "Neither peaceful nor Democratic."
Says straight up that there is "absolutely no evidence" that Antifa did last week's attacks, hint hint Matt Gaetz you lying moron.
1:30: McCarthy says not cool to impeach so fast without an investigation. Says it will "divide this nation" further.

Lame, let's watch Ken Buck talk about how this all happened because Sarah Huckabee Sanders is still waiting for her chicken.
1:34: We think Kevin McCarthy is saying we can't impeach because the Sedition Caucus doesn't WANT to impeach, and how can we have "unity" if they don't want to impeach?

In related news, wife-beaters everywhere would like to point out that they don't personally want to stop beating their wives, so for the sake of "unity," how can they possibly stop beating their wives?
(That's the analogy, right?)
1:36: McCarthy affirms that Joe Biden won the election. We think this is his attempt at a "statesman"-type speech. It is not very good.

1:39: Democratic Rep. Diana Degette reminds everyone that we are talking about a terrorist attack on this building that we are all in, incited by the president. Also that this is the second time we've had to impeach the motherfucker.

Here comes batshit Lauren Boebert, with her gun, we guess. "Glory to God!" she begins. "I call bullcrap!" she also says.
1:42: Maxine Waters notes that Trump literally watched the Capitol attack on TV and enjoyed it.
GOP Rep. Dan Newhouse rises "with a heavy heart" to announce that he is a YES on impeachment.
1:47: Republicans really leaning hard on quoting Abraham Lincoln's "Better Angels," because apparently the better angels of our nature would have us let the fascist order terrorist attacks on the Capitol.

1:51: Some fucking GOP dipshit from Florida says we are divided ACTUALLY because of the #Resist movement, and not because some of us support fascism, but the great majority of us do not. Like we said, some fucking GOP dipshit.

1:54: New Rep. Cori Bush says if we refuse to impeach the "white supremacist in chief" for inciting a "white supremacist insurrection" it hurts communities like her St. Louis district the most. Get lots of whiny boos from Republicans. We like Cori Bush!

Hahahahaha and now here is new Rep. Ronny Jackson, former White House doctor, probably to talk about how Donald Trump has zero percent body fat and a penis made of the finest gold.
OK he didn't say that, his thing was way stupider and less funny.
1:58: LOL some dipshit from Wisconsin, Tom Tiffany, whining about unity and begging Joe Biden for unity, and saying Democrats are COLLUDING with Silicon Valley to "digitally disappear" Republicans. How sad for him.

Here comes Steve Cohen from Memphis, to be mean, because Steve is like that. He is wearing a Memphis Grizzlies mask, which is awesome.
2:04: Monumentally stupid GOP Rep. Scott Perry seems to be arguing that because there was some serious planning that went into last week's attack, then Trump COULDN'T have just incited it last Wednesday morning. Doesn't seem to occur to him that Trump has been pushing his Big Lie about winning the election SINCE NOVEMBER 3 YOU FUCKING ASSHOLE.

2:08: Actual veteran Democratic Rep. Jason Crow saying he knows a bunch of his GOP colleagues are scared to impeach but is like, um, not asking you to storm the beaches of Normandy, you dicks, asking you to take a damn vote for America.

2:09: Rep. Veronica Escobar looks right at Republican side when she says that "those who aided and abetted the attack" should be prosecuted.

2:13: Oh good, another GOP whiner, Greg Steube. NO RUSSIA, NO RUSSIA, YOU ARE THE RUSSIA!

Lies and says no collusion was ever found between Trump campaign people and Russia. The GOP-led Senate Intellignence Committee's report disagrees.
2:18: Fun fact: the troops sleeping on the floor of the Capitol are quartered there for the first time since the Civil War.

2:19: Democratic Rep. Hank Johnson makes an inadvertent funny, by showing too much grace, and saying that if all the people in Congress today had been in Congress when John Lewis crossed the Edmund Pettus bridge, he trusts they all would have been on the right side of history and supported Civil Rights.

LOLOLOLOLOLOLOL.
Then Madison Cawthorn talked and we don't care.
2:23: Dumb dipshit Glenn Grothman of Wisconsin just does not know how y'all can possibly think Trump wanted this to happen, and wants to focus on the "peaceful protesters" who DIDN'T attack the Capitol. They were just there because they are scared of going back to the days when Trump was not there to protect them from HUNDREDS OF THOUSANDS of people doing caravans across the border, and also cancel culture!
2:27: UH OH, MARJORIE TAYLOR GREENE!

Says Trump has held all these rallies and they didn't even burn down any cities. Says Democrats like rallies where they burn down cities. (ACTUALLY it was outside agitators, including many of the same people who did the Capitol attack, who made the summer protests more violent. But sure, QAnon lady, go off.)
2:32: This is all great, but sure do wish some Democrats were actually addressing the president's Twitter-less, unmoored mental state and WHY it's necessary to do this NOW. Because fuckwit still has the nuclear codes.

2:35: Some new dipshit GOP rep from Utah says voting to impeach Trump for ordering a terrorist attack on America would be just as bad as stripping a state's electoral votes! Uh huh.

Do you need a hat that says "IMPEACH"? Yes. Buy one.
2:38: FINALLY, Gwen Moore from Wisconsin, SAYING IT!

If Trump stays in office for seven more days, he could declassify state secrets, he could pardon the terrorists, he could do literally anything. Her time ran out, but Nadler should give her some more.
Whinyass dipshit GOP Rep. Jodey Arrington seems to want us to believe the terrorists acted on their own without any incitement, LOL OK.
2:40: Rep. Marie Newman of Illinois, telling Republicans sure, let's unite! Let's fight the pandemic, and you could start by wearing a damn mask. Let's give $2,000 stimulus to everybody! And let's hold the terrorists and their leader accountable! HASHTAG UNITY, HOORAY!

2:44: Rep. Mark Pocan of Wisconsin notes that the Capitol hasn't been breached since the War of 1812. That's another clock Trump set back.

2:45: Texas GOP Rep. Chip Roy agrees that what Trump did was very bad but he just can't impeach because Dems wrote the article of impeachment ALL WRONG, therefore fascism is fine, we guess.

2:48: Lyingass Texas Rep. Pat Fallon lying and saying Black Lives Matter BURNED CITIES ALL SUMMER and Dems didn't care. Which cities did Black Lives Matter burn ALL THE WAY DOWN? Pat Fallon does not know, he is lying.

2:49: LOL Rep. Mike Quigley says seems like Trump's idea of "peaceful transfer of power" is "minimal casualties."

2:51: IF I CAN SEE YOUR HAIRY NOSE HOLES YOU ARE NOT DOING "MASK" CORRECTLY, GOP IDIOT.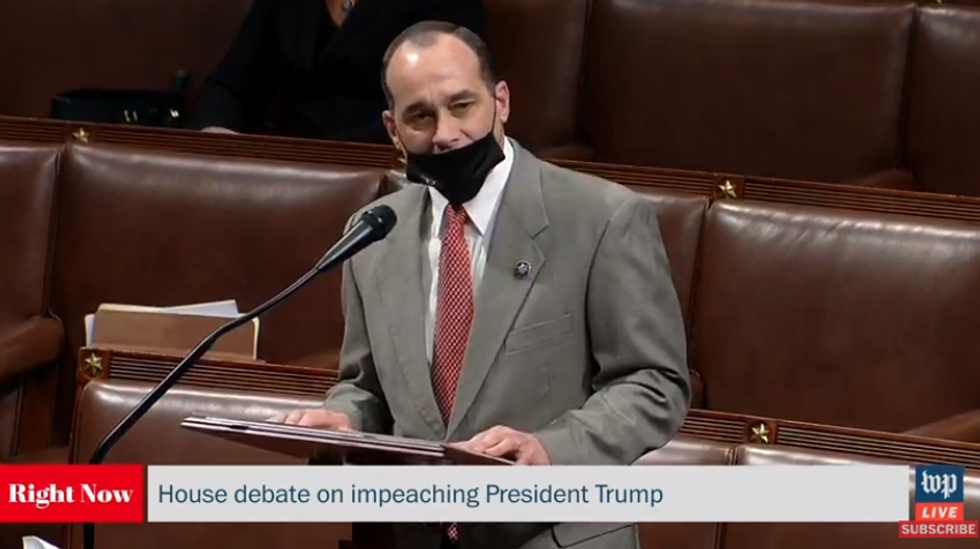 2:53: "Two hours of debate" in the House takes one million years, feels like.

2:57: Florida Man GOP Rep. Brian Mast asks if ANY of the Capitol terrorists have actually said they did their terrorism for Trump, and then just went silent for the rest of his time, like he was doing a dramatic thing and making a point. It was not a good point, because everybody knows literally EVERY TERRORIST who attacked the Capitol did it in service of their Fuhrer.

Jesus.
3:05: California GOP idiot Doug LaMalfa says we just hate Trump for putting "America first" and not forcing us to adhere to the "religion of climate change" and for being so very "pro-life" and then we fell asleep because these yap-talkers have fewer than 10 minutes left on each side and we're getting closer to IMPEACH THE MOTHERFUCKER AGAIN.

LaMalfa is correct that we hate Trump, though. Despise him. Are taking intense pleasure in watching Trump's presidency end in utter humiliation and shame.
3:08: Wow, new Tennessee GOP Rep. Diana Harshbarger's accent is so thick it's like she's a non-speaking extra on "Hee Haw" because the producers were like "Dunno, she sounds li'l bit TOO redneck, don't you think?"

3:15: LOL, Jim Himes says to GOP-ers to consider their legacies, noting that Trump is going directly into the trash-heap of history with Joe McCarthy and Andrew Johnson and all turds that get flushed down the toilet, so if you go with him today, that's where you're going too.'

3:18: Oh good, Lee Zeldin for two and a half whole fuckin' minutes. One of the unsung worst hacks in the entire history of the Congress.

We'd note, though, that EVERY Democrat seems to want to speak, and Jerry Nadler's giving as many as he can 30 seconds to speak. Meanwhile, Jim Jordan is just reserving and reserving and reserving and giving most members a full minute, sometimes more, this time two and a half.
Lotta Republicans don't wanna talk right now, sounds like.
3:20: Zeldin also thinks we are so stupid that we think this attack happened ONLY because of what Trump said that morning, and not because of the Big Lie he had been fascistly spreading for months. Fuck off.

3:23: Texas Democratic Rep. Lizzie Fletcher raises to SUPPORT the impeachment and to OPPOSE the "gaslighting masquerading as debate" that Republicans are barfing up.

3:26: GOP Rep. Kelly Armstrong attempts some kind of unity speech, openly admitting that he's voting against impeachment because it will give him "credibility with his base," and accuses Democrats of doing the same. OK, champ.

3:28: Seth Moulton notes that there are more troops in DC defending against Trump and his mob than there are in Afghanistan. He is just FUCKING saying.

3:32: Steve Scalise closes for the GOP, telling us why attacks are bad but we shouldn't hold accountable the fascists who incite them.

3:36: Steny Hoyer closes for the Democrats by quoting Liz Cheney, we guess because Republicans didn't want her to talk on their side.

3:41: Hoyer: Trump has constructed a "glass house of lies, fearmongering AND SEDITION." He's unable to be reformed, he's unable to be tempered, he is hot garbage. And then Hoyer stops to say the House is not in order, because apparently the GOP is openly making jerkoff motions something, who knows.

3:44: Hoyer says Trump's tweets show he's not committed to democracy, PFFFFFFFT, like Trump has Twitter or something.

3:49: Hoyer repeatedly quoting and invoking Liz Cheney, and Mitch McConnell, noting their courage, and noting that he knows Republicans are scared of retribution from Trump. (Remember that some of them are literally supposedly crying because they're scared it will get them killed if they vote to impeach.) Hoyer notes that Trump demands total loyalty, yet gives none in return.

It's a powerful speech, if any of the modern GOP still has a soul. (LOL)
3:52: Hoyer concludes by saying we're not doing this for politics, because we don't need it. "Georgia showed that." Then he concludes by reciting lyrics to "America The Beautiful," and then changing them for Donald Trump, to make them about how he loves himself more than his country, etc.
And now they vote!
4:24: We are up to 10 Republican votes for impeachment. Meijer ended up being a yes. Not sure who else yet. On one hand, GOOD. On the other hand, we live in a country where only 10 elected Republicans in the House think it's not OK when a fascist president orders an attack on America.
4:27: These are your 10 Republicans who voted for impeachment, which has now happened. Trump is DOUBLE-impeached.
Liz Cheney
Anthony Gonzalez of Ohio
John Katko of New York
Adam Kinzinger of Illinois
Peter Meijer of Michigan
Tom Rice of South Carolina
Fred Upton of Michigan
Jaime Herrera Beutler of Washington
Dan Newhouse of Washington
Anthony Valadao of California
Four more Republicans left to vote, but these might be the 10.
4:37: And it is done and announced! Trump is impeached motherfucker AGAIN, and 10 Republicans voted for it. It appears four Republicans didn't vote at all. Will be interesting to find out who that was, if that's a final number.

And at this moment, Wonkette votes for YOU to click below and give us donations if you love us liveblogging things for you. Remember, Wonkette is 100 percent supported by readers, so without your donations, we ain't got no money.
Thank you we love you, good liveblog, goodbye!
Follow Evan Hurst on Twitter RIGHT HERE, DO IT RIGHT HERE!

GIVE IT WONKETTE. We mean money. Thank you.
Evan Hurst
Evan Hurst is the managing editor of Wonkette, which means he is the boss of you, unless you are Rebecca, who is boss of him. His dog Lula is judging you right now.
Follow him on Twitter RIGHT HERE.