Let's Meet The Sexy Montana Navy SEAL Stud Who Will Obviously Be Next House Speaker!
News
October 19, 2015 03:00 PM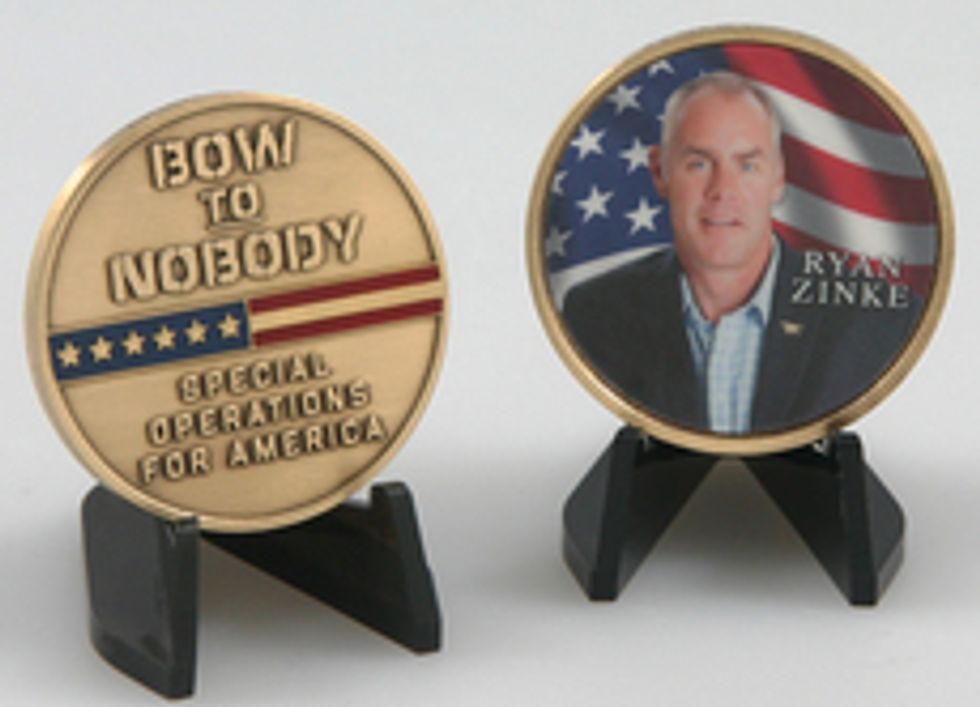 You know you want one of these lovely commemorative coins
---
When I first met Wonkette in person, at the 2012 Republican National Convention, she was drunkenly helping me post an exclusive about an unhinged Obama-bashing ad (focused laser-like on Obama's destructive surrender-bowing tendencies), which I had just obtained from the very cordial former Navy SEAL who ran the Super PAC behind it.
[contextly_sidebar id="sMKPt16K6J9hHgWgRpZfAqq0XMHJqo5d"]
Wonkette later moved to Montana for purposes of breeding, whereupon that state immediately elected that same former SEAL, Ryan Zinke, to Congress.
I have no idea whether she is aware of this connection – did I mention she was drinking? For all I know, that was the guy she bred with. (Editor's fact check: It was not.)
Zinke, according to news reports, is now considering running for the open position of speaker of the House of Representatives.
This might seem ludicrous, given his vast experience of roughly 10 months in Congress. But that's only if you think Zinke is interested in anything but raising money for a bunch of alleged direct-mail scamsters.
If he's mostly interested in direct-mail scamming, however, floating his name for speaker makes more sense. You can imagine the URGENT APPEAL for helping this patriot step up to fill the great leadership void in Washington.
Zinke makes such appeals through a PAC he set up immediately after his election: Supporting Electing American Leaders (SEAL) PAC.
It is ostensibly working to elect more military members to Congress. And, in fact, as shown in its third quarter report filed Thursday, SEAL PAC has contributed a total of $5,500 this year to Dan Bacon, running for Congress in Nebraska; Brian Mast, trying to win Allen West's former seat in Florida; and Congressman Joe Heck, running for Senate in Nevada. It has also given $10,000 to the National Republican Congressional Committee.
That's a pittance of the roughly $400,000 the PAC has spent, however, raised mostly from relatively small-money donors all over the country. Another $23,000 or so has gone to two friends-of-Mitt consulting firms in Massachusetts, Shawmut Group and SwiftKurrent.
But most of it – a little over a quarter-million dollars – has been paid to three companies that all have the same Washington address.
The address happens to be the one used by Base Connect, once known as BMW Direct, which has been repeatedly accused of being "a big shell game" by exactly the kind of dickish lamestream media types who hang around with Wonkette in bars:
Barely any effort is made to pretend otherwise. Several of Base Connect's clients, like Freedom's Defense Fund and Black Republican PAC, exist only as a theoretical construct — just words on the piece of mail. A Base Connect executive, who serves as those organizations' treasurer, has a standard memo he submits to the FEC, to explain the lack of administrative costs for groups reporting multi-million-dollar operations: "Currently, the committee has neither paid staff nor an office headquarters." That fact is not at all clear in the materials sent to persuade movement conservatives to fund the groups — the mailings give the impression that there is some actual organization behind the name, doing battle against the apocalyptic horrors of Obama and the Democrats.
This is nothing new for future Speaker Zinke. His previous Super PAC – the one behind that unhinged ad in 2012 – never actually spent money airing that ad. In fact, it spent just $7,000 on independent expenditures that year.
The Super PAC went on to raise and spend more than $3 million in the 2014 cycle – the vast majority going to various Base Connect companies, a company run by Zinke's former chief of staff, and a company run by Zinke himself.
To the extent it helped any cause at all, the Missoula Independent reported, the Super PAC helped promote Zinke's 2014 bid to be Wonkette's new congressman. Oh, and Zinke's actual congressional campaign account was more of the same. And don't fret, Zinke's new PAC is paying consulting fees to the former chief of staff as well.
All of which must make Wonkette proud of her new congresscritter, and, from what I just read earlier in this post, the rumored father of her child. I can only hope some of the money is being funneled to baby Wonkette.
Follow David S. Bernstein on Twitter.