Let's Toast Our Winners, Gloat Over GOP Losers Because We're Petty That Way
Elections
November 07, 2018 12:36 PM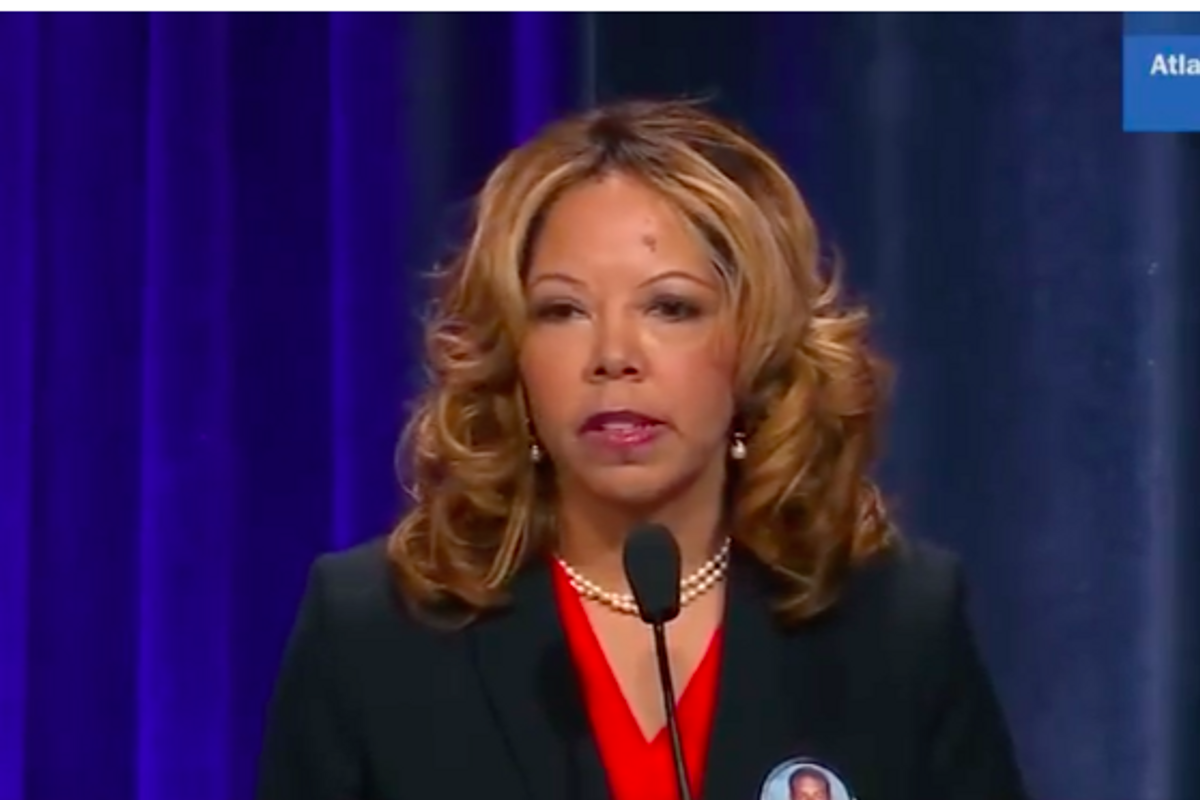 Election night upsets are what justify getting only five hours sleep because you stayed up watching returns. What happened in Florida, Georgia, and Texas -- while upsetting -- aren't genuine upsets. They are both disappointing and something the "man, this country bites" part of you expected to happen all along. So, let's focus on the fun upsets, where creeps are sent packing and good folks prevail.
Lucy McBath, Georgia's Sixth District
This is the district Tom Price vacated to screw over the nation during a short-lived and shameful tenure as secretary of Health and Human Services. McBath is an electoral Batman -- inspired to run for office after her 17-year-old son, Jordan Davis, was murdered by a gun-toting white asshole in 2012. Davis couldn't vote for his mom but the 15 percent of black folks in the suburban Atlanta district sure as hell did. She will probably defeat the anti-gay by even Anita Bryant standards Karen Handel. I say "probably" because there's likely a recount and the assorted underhanded Georgia shadiness to plow through first, but McBath's kicked breast cancer's ass twice so I think she's got this. For Jordan.
I have the lead - but this race is far from over. We are locked into a recount in a battle for #GA06. I NEED your… https://t.co/F3iWpvAJVZ

— Lucy McBath (@Lucy McBath) 1541602848.0
Oh, and I'm officially greenlighting a "Lucy McBath" movie, and I expect a Best Actress nomination -- not Best Supporting, Best Actress -- for the lead (Zoe Saldana or Kerry Washington), not Emma Stone or Mandy Moore or whoever they cast to play Handel.

---
Elaine Luria, Virginia's Second District
Luria, a retired US Navy Commander, defeated Republican incumbent Scott Taylor, who was favored to hold the seat. Taylor wasn't that terrible as Republicans go, but that's very much "McDonald's isn't so bad when you're hungover" faint praise. He voted with Trump 98 percent of the time. Luria won't. End paragraph.
I've watched the following clip of Luria serving Taylor his raggedy ass for lunch multiple times already and need to move on if I'm ever going to finish this post.
Lizzie Fletcher, Texas's Seventh District
Lizzie took an ax to Republican incumbent John Culberson, who had held the Houston-area seat for 18 years. Culberson voted to repeal the Affordable Care Act and for the Republican tax scam. Not shocking for a Republican but Culberson might've briefly considered that Hillary Clinton narrowly beat Trump in his district. An emerging pattern from election night is that Democrats performed better in Romney-Clinton districts than they did in Obama-Trump ones.
Houston native Fletcher is an attorney and political newcomer. Her victory speech is awesome. We welcome her to the House that Pelosi built.
And while we're in Texas.
Colin Allred, Texas's 32nd District
FiveThirtyEight gave attorney and former NFL player Allred a 3 in 8 chance of unseating Pete Sessions. The Republican incumbent was chairman of the House Rules Committee and has served in Congress since 1997. Sessions recently suggested we listen to "both sides" of domestic violence disputes. Good riddance.
See? There was some good news from Texas last night, even if Senator Frank Burns was re-elected. Nancy Pelosi, who is a boss, helped put a lot of money into this race and it paid off.
Joe Cunningham, South Carolina's First District
My father texted me a photo of his "I voted" sticker yesterday. He's 70 and from South Carolina, so I don't think he got a sticker on those first few visits to the polling station. All my relatives from back home proudly cast ballots for candidates who did not win. That's just how it rolls in South Carolina general elections. We only expect to celebrate during primaries. Yet, sometimes there's a late night miracle.
BREAKING: Democrat Joe Cunningham's win in South Carolina's 1st District flips Rep. Sanford's open seat blue… https://t.co/4UC5SaCjze

— Roll Call (@Roll Call) 1541575063.0
OK, two things: Holy Crap! And who the hell is this guy? Joe Cunningham flipped a district Trump carried by 11 points in 2016. Republicans have held this seat since 1981, basically for as long as there's been Millennials. You'll recall that Trump supported primary challenger Katie Arrington over incumbent Mark Sanford, the former South Carolina governor who dared upset Trump's fragile ego with the occasional milquetoast criticism. Trump rightly assumed Arrington would prove a reliable stooge in Congress. The one flaw in his plan was that she had to, you know, win. In fairness to the orange meanie, FiveThirtyEight's forecast for Cunningham's chances was basically a 1 in 10, "laugh-in-your-face, you'll see DC on vacation" long shot.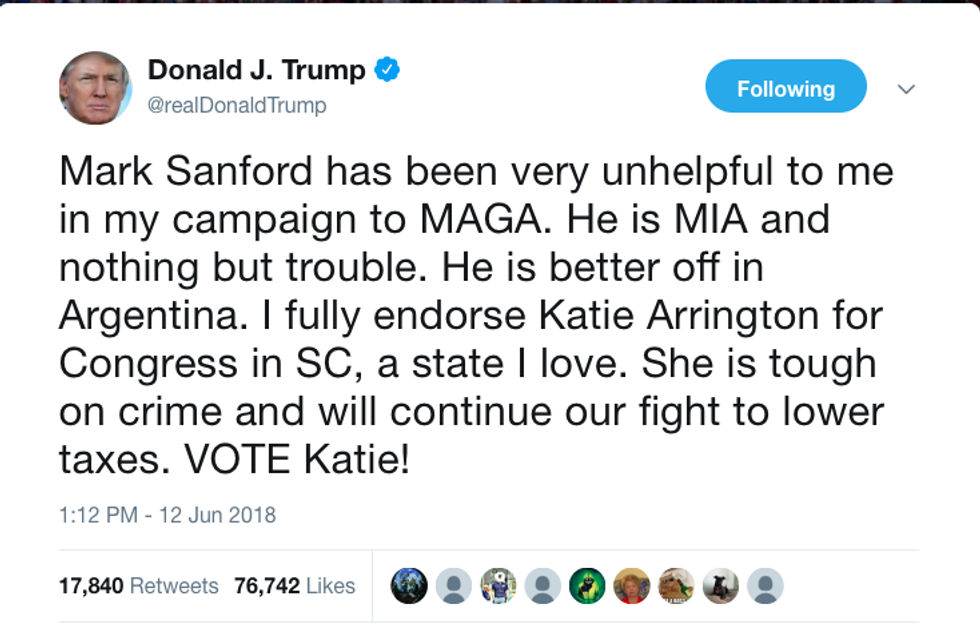 Screenshot in case the original tweet "vanishes"Twitter
Funny thing here is that Sanford backed most of Trump's crazy schemes and mad dreams, from screwing the poor to depriving women of their right to choose. Meanwhile, Cunningham thinks health care is a "right" and that private citizens shouldn't own assault weapons. Not a bad trade up.
Follow Stephen Robinson on Twitter.
Yr Wonkette is supported ONLY by reader donations! Please give us all your spare Beto money.
Stephen Robinson
Stephen Robinson is a writer and social kibbitzer based in Portland, Oregon. He writes make believe for Cafe Nordo, an immersive theatre space in Seattle. Once, he wrote a novel called "Mahogany Slade," which you should read or at least buy. He's also on the board of the Portland Playhouse theatre. His son describes him as a "play typer guy."