Like Every Person In America Did This January, 'Stop Smiling' Visits DC
News
January 30, 2009 05:31 PM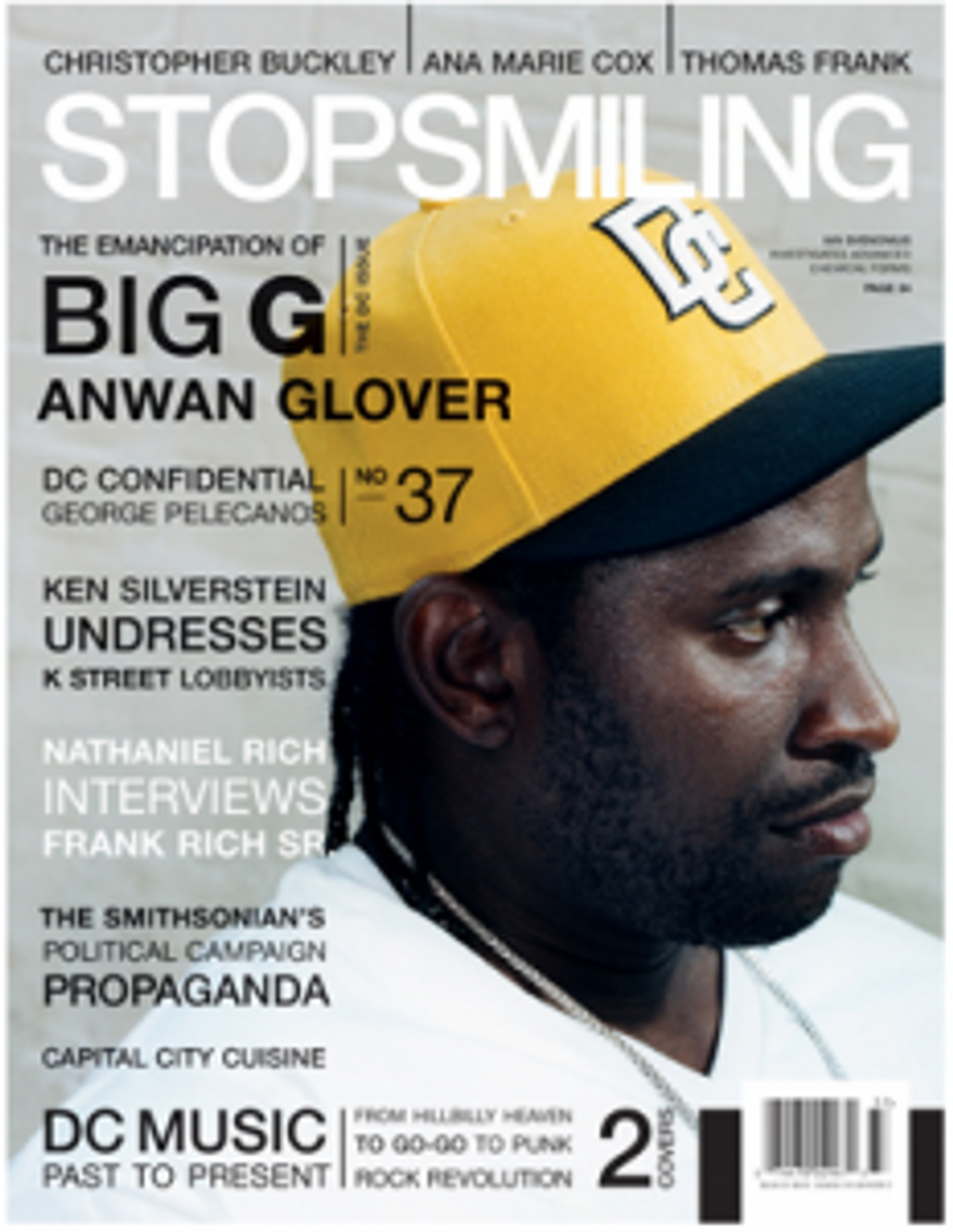 Hey welcome to this thing that's going to start happening on Thursdays! It's a special Friday edition of "Thursdays Are For Magazines," in which Wonkette will be reading a different political or DC magazine each week and reviewing its contents, in fun capsule-list form.
---
Let's start with Stop Smiling's DC issue, which features cover star Slim Charles from your favorite show The Wire. His actual name is Anwan Glover and he is from DC and has a radio show here and everything but we'll get to him in a second. First, Stop Smiling itself. It's a Chicago-based arts magazine of indeterminate publishing schedule that received a bit of attention a few years ago when Slate's weird libertarian Jack Shafer proclaimed, boldly and without prompting, that it was his "favorite magazine." Anyway, fast forward a few years, which brings us to today, to January something 2009, when Wonkette will be telling you what's worth reading in issue 37.
"Visual Response: Bernard Maisner": A handwriting expert concludes the following: Reagan's use of a ballpoint pen might as well be his fascist coming-out party, John Hancock's Olde Excele Spreadsheet was very naturalistic, and Lincoln's penmanship resembles that of a Hawaiian-born half-black man.
"Chemical Brother: Interview with Joe Reese": Stop Smiling tracked down this barber who has been working in DC for literally the past half-century. He provides a run-down of advances in the hair grooming industry over fifty years (of which there are apparently many) and is able to connect shifts in trends to the shifting political climate.
"10 Questions for Ana Marie Cox": Yes, your original Wonkette editor is featured as a famous DC person, hooray! She once went to some horrible Washington Post party that made her realize everyone in DC is sort of social-climby, but still thinks you can make real true best friends here. Par example: TPM's Josh Marshall, whom she cites as evidence that you don't have to "have a big organization behind you to be a journalist."
"Frank Rich Sr. Still Gives a Damn" and "Dashiell Hammett's Grave in Arlington National Cemetery": Paris Review writer Nathaniel Rich -- who's said 9 million times that he doesn't like having to talk about his famous family in interviews (remember that for another two seconds) -- has two articles in this issue. One in which he talks to his own grandfather about their family history which is obviously kind of navel-gazey and passably interesting because while happy families are all alike, every unhappy family is unhappy in its own way, etc.  Then this last thing, the Dashiell Hammett thing, is very cool. Hammett is buried in a traditional soldier's grave in Arlington National Cemetery, and there's a picture of the grave next to Rich's brief run-down of his life.
"The Emancipation of Big G": Anwan Glover, who's photographed in front of Ben's Chili Bowl, talks to the magazine about the death of his brother (who was shot and killed in DC in 2007), the Backyard Band, and growing up in a pretty shitty neighborhood in the city. There's of course Wire gossip too, specifically the part about where David Simon is analogized to a "lion and his cubs." Special bonus regional rivalry appeal: Glover complains that New York is too expensive.


(Revelatory sidenote re: two pieces not really worth reading about famous DC institutions the New York-based celebrity sweatshop the Huffington Post and the Arlington-based crypto-Republican Politico: it's officially THE Politico, a startling fact of which your Wonkette intern was not previously aware.)