Lindsey Graham Says Guy Who Paid Trump $1 Million For Ambassadorship Is DEEEEEEP STAAAAAAAATE!!1!1!
Impeachment
November 07, 2019 02:20 PM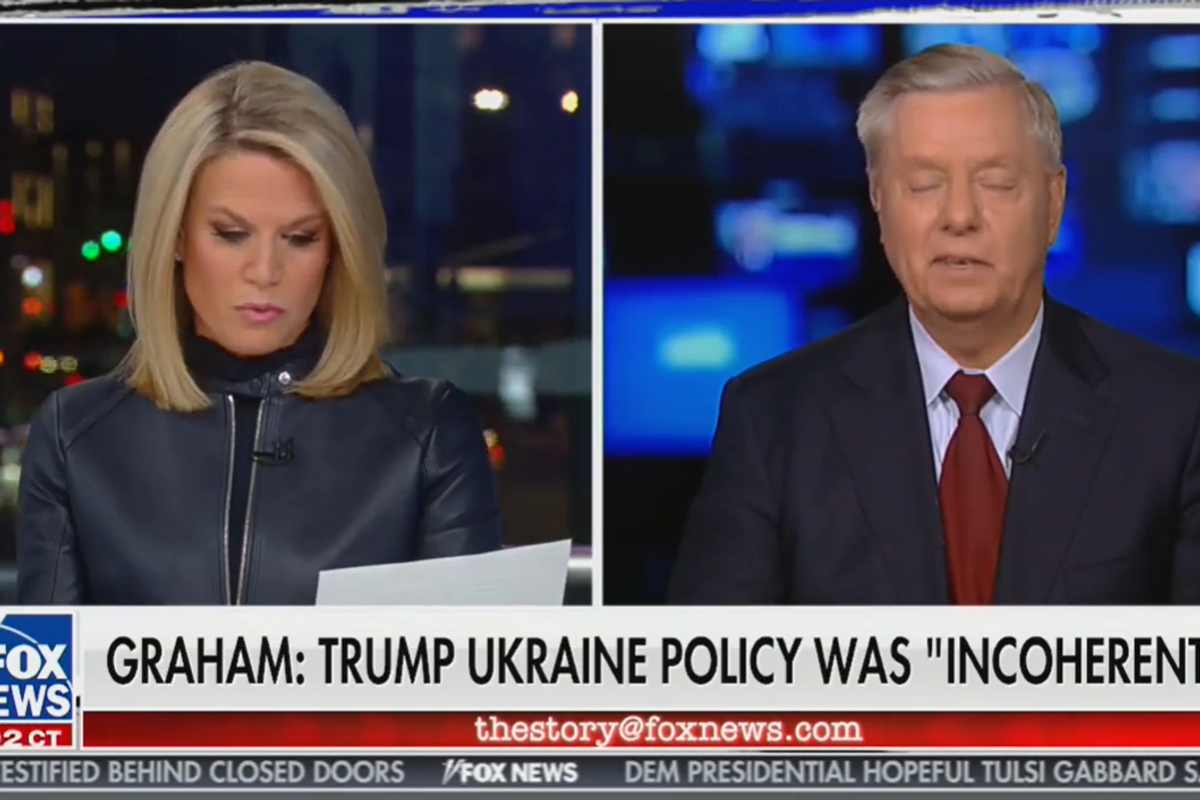 We mentioned this week that Trump-licking golf caddy Lindsey Graham is running into some trouble defending his Big Daddy, to the point that he's NOT READING THESE FUCKIN' TRANSCRIPTS, YOU CAN'T MAKE HIM, YOU'RE NOT HIS REAL DAD, HE HATES YOU AND HE WISHES YOU WERE DEAD AND THIS WHOLE SCHOOL IS STUPID! Or something like that.

Graham's trouble continues.
Because, you see, EU Ambassador and fellow Trump-licker Gordon Sondland "amended" his congressional testimony again, this time to clear up that he has now remembered that yes there was a Ukraine quid pro quo and yes it's all coming back to him now that he personally delivered that quid pro quo to Ukrainian official Andriy Yermak in Warsaw. Look, we all forget crimes we committed in Warsaw from time to time. Who among us, yadda yadda.
Lindsey Graham has an answer for that, and it is that actually Gordon Sondland is DEEP STATE!!11!!!!! He explained this on the Fox News to Martha MacCallum:
---
JFC, @LindseyGrahamSC is now pushing conspiracy crap in which Gordon Sondland — a major @realDonaldTrump donor — ch… https://t.co/p4wNZMUHe2

— Andrew Feinberg (@Andrew Feinberg) 1573088370.0
Not one person has talked to President Trump about whether or not he wanted a quid pro quo. [Acting ambassador to Ukraine Bill] Taylor is saying he assumed there was a quid pro quo based on what Sunderland [sic because Lindsey Graham is a moron] told him, the EU ambassador. He said previously there was not, now his memory has been refreshed. [...]

Why did Sunderland [sic] change his testimony? Was there a connection between Sunderland [sic] and Democratic operatives on the committee? Did he talk to Schiff? Did he talk to Schiff's staffers?
DID ADAM SCHIFF PUT GORDON SUNDERLAND [sic] IN A HEADLOCK AND GIVE HIM A REAL BIG NOOGIE? DID ADAM SCHIFF GET GORDON SUNDERLAND [sic] DRUNK AND TAKE NAKEY PICTURES OF HIM AND THREATEN TO PUT THEM ON HIS MYSPACE?
DID HILLARY CLINTON FRONT GORDON SUNDERLAND [sic] A MILLION DOLLA BILLS Y'ALL, SO SHE COULD CARRY OUT HER SICK PLAN TO LOSE THE ELECTION AND THEN GET TRUMP IMPEACHED, WHICH SOMEHOW INCLUDED TRICKING GORDON SUNDERLAND [sic] INTO BUYING AN AMBASSADORSHIP AND HAND-DELIVERING A QUID PRO QUO EXTORTION BRIBE TO UKRAINE?
OOH! OOH! MAYBE GORDON SUNDERLAND [sic] DID PIZZAGATE!
I've been a lawyer for a very long time. When somebody changes their testimony, they suddenly recall something they didn't know before, it makes me incredibly SUSPICIOUS! Why did Sunderland [sic] change his mind? What prompted him to change his mind about maybe there was a quid pro quo when I said there wasn't?
Let's help the lawyer Lindsey Graham out with the Occam's Razor explanation, because apparently advanced age and floppy jowls don't equate to the kind of lifelong legal experience that would save Graham from being the fucking moron he obviously is: SONDLAND LIED. The depositions were behind closed doors for a reason, so witnesses couldn't coordinate their testimonies, and Sondland went in there and LIED. And when he realized he had opened himself up to legal jeopardy, he realized OH SHIT, I better go "recall" some things and "amend" my testimony!
Can we talk about Gordon Sondland for a minute, and by extension how dumbfuckingstupid Lindsey Graham's little Deep State theory is?
Gordon Sondland is a hotel douche from Portland who, along with his wife Katy Durant, loves Ayn Rand so much that they named one of her companies "Atlas Investments" and one of their buildings "The Big Goin' Galt Shithole" "The Galt." He was a bit uncomfortable with President Hotel Douche during the campaign when Trump decided to piss all over the Khans, a Gold Star family, but somewhere after that had a change of heart to the point that he bought his ambassadorship to the EU -- a real job -- for the price of a million-dollar donation to the Trump inaugural and also a lot of begging. This dude is on the team.

Of course, he's not so on the team that he actually wants to go to prison for President Hotel Douche, and maybe Lindsey Graham does and is just praying to Republican Jesus he and Trump can get adjoining cells, and maybe that is the primary difference between Lindsey Graham and Gordon Sondland.
Politico's Playbook reported on Wednesday that some House Republicans are aware that the sudden return of Gordon Sondland's memory is bad for them, since he was totally supposed to be their star witness for NO QUID PRO QUO! NO QUID PRO QUO! YOU ARE THE QUID PRO QUO! Therefore, they're going to have to throw Sondland in the woodchipper like a Palin turkey, we guess:
Lawmakers we spoke with called him a lackey, a chest-thumper and a rube.
In other words, they're calling him a typical Trump supporter.
Oh well, if it's this bad for them this week, can't wait until next week!
Follow Evan Hurst on Twitter RIGHT HERE, DO IT RIGHT HERE!
Wonkette is fully funded by readers like YOU. If you love Wonkette, SUPPORT WONKETTE FINANCIALLY.
Evan Hurst
Evan Hurst is the managing editor of Wonkette, which means he is the boss of you, unless you are Rebecca, who is boss of him. His dog Lula is judging you right now.
Follow him on Twitter RIGHT HERE.