LIVEBLOG: January 6 Select Committee Is Here To Chew Bubblegum And Kick Ass. And They Are All Out Of Gum.
Crime
December 19, 2022 01:00 PM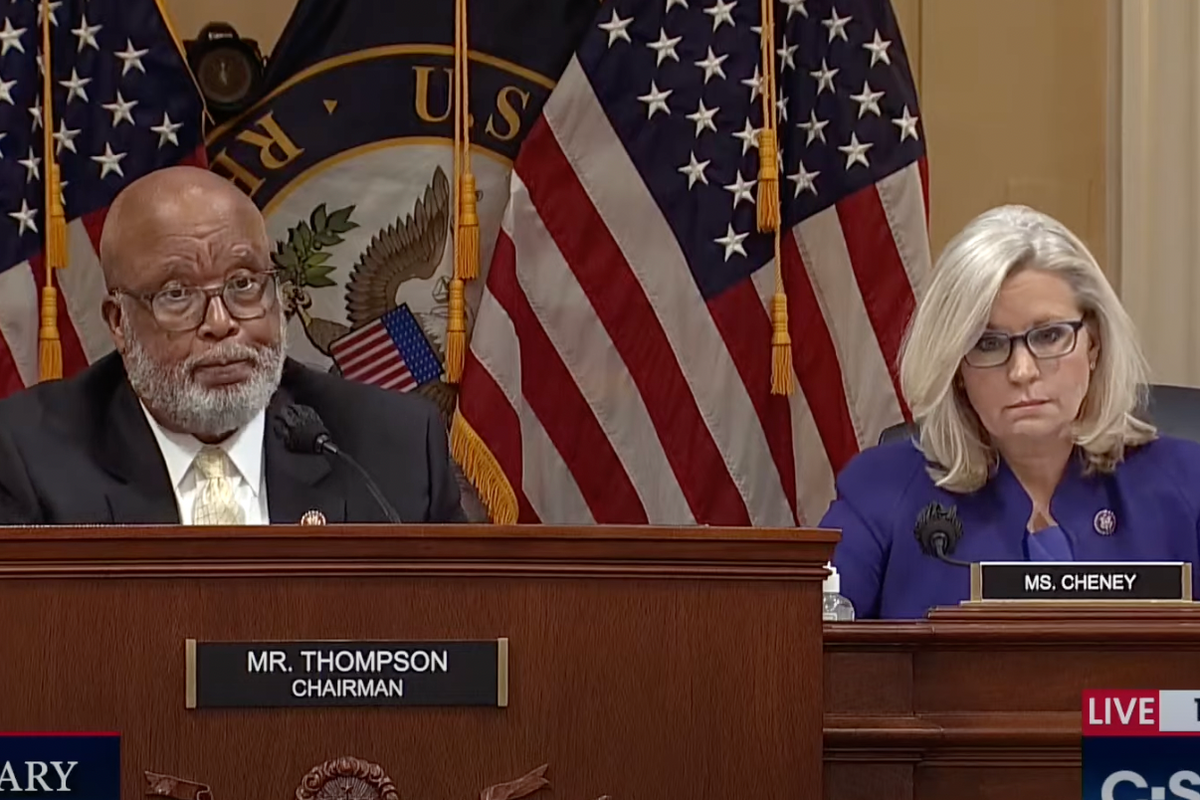 It's the January 6 Select Committee's final public hearing. They're about to read Donald Trump for filth, along with his band of traitorous goons. And of course, Your Wonkette will be watching right along with you.
LFG!
12/19/22 Business Meetingwww.youtube.com
1:08 Here we go! Chair Bennie Thompson is here with Vice Chair Liz Cheney, and they looked PISSED.

"To cast a vote in the United States is an act of faith and hope," he begins. "That faith in our system is the foundation of American democracy ... Donald Trump broke that faith."
1:12 Thompson promises to make public "the bulk of our non-sensitive evidence."

"This committee is nearing the end of its work, but as a country we remain in strange and violent waters."
Thompson says that the most important thing they can do to ensure that this doesn't happen again is "accountability which can only be found in the criminal justice system."
AYE, MERRICK, THINK HE'S TALKING TO YOU!
1:16 Thompson commends Vice Chair Cheney, who made an enormous sacrifice, before handing the gavel over to her.

Cheney invokes George Washington, a symbol of America's ironclad tradition of an orderly transition of power.
"Every president in history has defended this orderly transfer power. Except one."
That guy spent hours watching a violent riot at the Capitol on television.
1:22 "This was an utter moral failure and a complete dereliction of duty" Cheney says somberly. "No man who would do that can ever be in power again."
Cheney thanks the Capitol Police, as the camera pans to those in the audience, as the committee throws to a highlight reel of the violence and testimony from the prior hearings.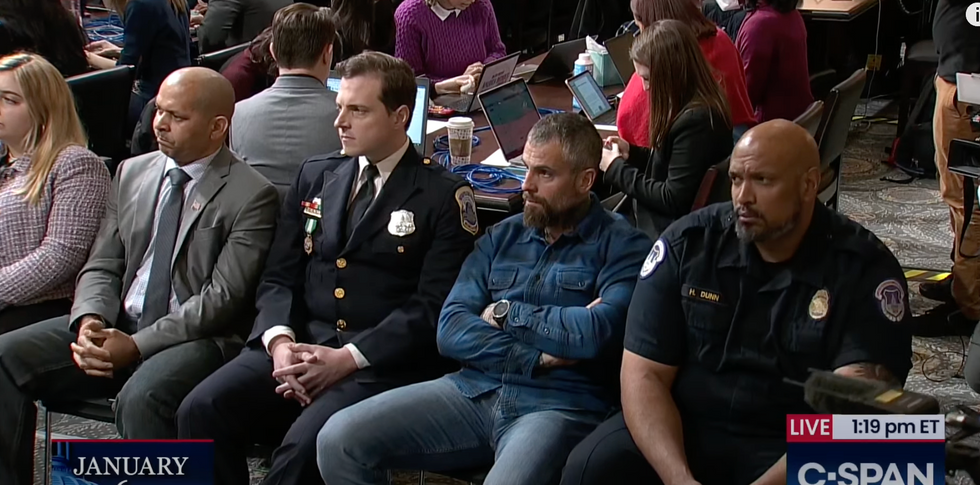 1:30 We've all seen this before, but man what a horrifying spectacle this has been. I'm sure the Committee will tweet out this video, will drop it in here when they do.

1:33 Just a side note: we're seeing a lot of footage of White House lawyers like Pat Cipollone and Eric Herschmann giving very guarded testimony, protecting their version of executive privilege. Judge Beryl Howell has ordered them to testify without reservation to the grand jury investigating January 6, overruling claims of privilege.

The tape ends with video of Trump saying he doesn't want to say the election is over in the outtakes from videos that day.
1:39 Rep. Zoe Lofgren is up describing Trump's false declaration of victory on election night and calling to stop count the votes, something he long planned to do, then his efforts to disseminate false allegations of fraud.

Lofgren describes offers by Trump's allies to give cushy jobs to potential witnesses and pay their legal fees — offers that evaporated when those witnesses wouldn't play ball.
1:44 Lofgren describes the ample evidence presented to Trump that he had lost the election, that there was no substantial fraud to effect the outcome of the election.

"Donald Trump knew and corruptly repeated election fraud lies, which incited his supporters to violence on January 6."
Now Rep. Adam Schiff is up to detail the state pressure campaign, evidence for the potential obstruction of congress and conspiracy to defraud the US charges. Schiff points to the call to Georgia Secretary of State Brad Raffensperger and testimony from Arizona legislator Rusty Bowers that Rudy Giuliani was all over him like white on rice to reverse Biden's win.
When Trump and his minions realized they couldn't win in the courts, they ginned up the fake electors and induced them to submit the fraudulent certificates. And when civil servants like Ruby Freeman paid the price — facing death threats and harassment.
"I've lost my name, and I've lost my reputation," Freeman says on video.
1:50 Rep. Adam Kinzinger is up for an opening statement, in which he discusses the attempted coup at the Department of Justice. The plan was to have the DOJ announce investigations of election fraud in the swing states as a pretext for swing state legislatures to reconvene and claw back the electoral votes for Biden and give them to Trump.
Bill Barr wouldn't do it, Jeff Rosen wouldn't do it. But Jeff Clark was hot to trot!

1:54 Rep. Pete Aguilar is up. Time to talk about that corrupt sumbitch John Eastman and the fake electors scheme to pressure Mike Pence to unilaterally refuse to count electoral votes — something which every rational lawyer had told him was completely illegal.

Half the White House heard Trump scream at Pence on the morning of the 6th and call him a "wimp" and a "pussy." And the whole world heard him blame Pence for his electoral loss in his speech to the armed mob on January 6, then saw the tweet egging the mob on against the vice president when the mob was already inside the Capitol.
1:59 Rep. Stephanie Murphy is reviewing Trump's efforts to summon the mob, particularly the December 18 "Be there, will be wild" tweet. His staff urged him to tell his supporters to protest peacefully, but the president wasn't about that. Indeed, Trump always intended to lead the mob in the march on the Capitol.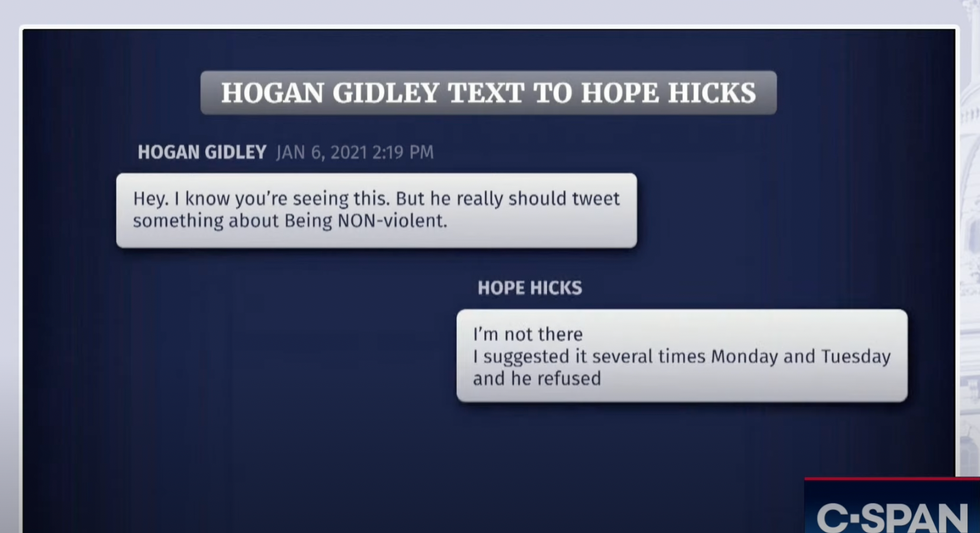 2:05 Rep. Elaine Luria, who recently lost her bid for re-election in Virginia, is up now to describe Trump spending hours watching the violence unfold on television from the Oval Office. He never summoned the National Guard or the Secret Service. Instead he talked on the phone with Rudy Giuliani, even as his allies barraged Mark Meadows with texts urging him to get the president to call off the mob.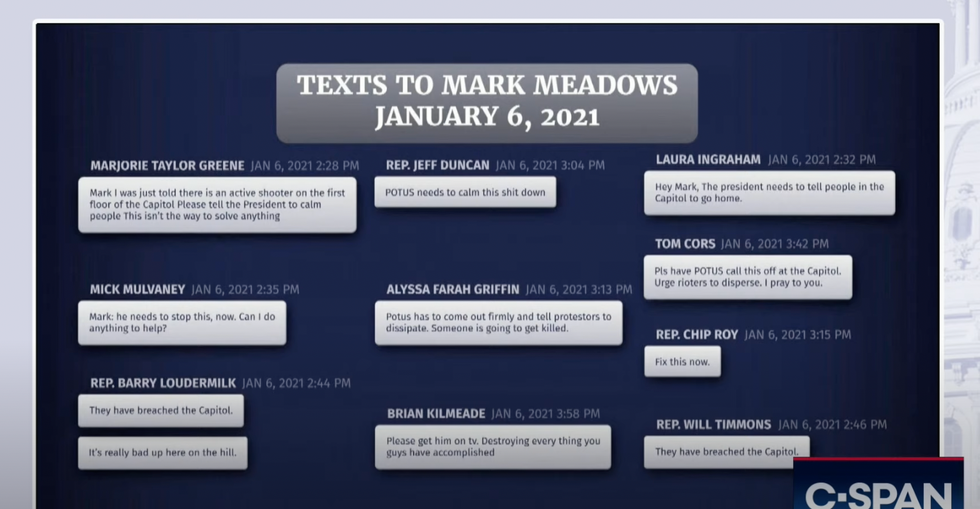 "In sum, President Trump lit the flame, he poured gas on the fire, and he sat by for hours watching that fire burn. That was his extreme dereliction of duty."
2:13 Rep. Jamie Raskin, a constitutional scholar, will now discuss the criminal referrals to the Justice Department.

He announces that they're referring Trump and Eastman for violating: 18 USC § 1512(c)'s ban on obstruction of official proceeding; 18 USC § 371, conspiracy to defraud the United States; 18 USC § 1001, false statements; and 18 USC §2383, which penalizes those who foment insurrection and give aid or comfort to those who do so shall be imprisoned and banned from holding office.
Raskin says that Trump had a duty to ensure that the laws of this country be faithfully executed, and "nothing could be a greater betrayal of this duty than to assist and aid in an insurrection."
Raskin says there will be other referrals as well.
2:16 Rep. Luria moves to favorably report out the motion for criminal referrals. The motion passes unanimously.

And the committee is adjourned.
Click the widget to keep your Wonkette ad-free and feisty. And if you're ordering from Amazon, use this link, because reasons.
Liz Dye
Liz Dye lives in Baltimore with her wonderful husband and a houseful of teenagers. When she isn't being mad about a thing on the internet, she's hiding in plain sight in the carpool line. She's the one wearing yoga pants glaring at her phone.