Liveblogging Part CLXXVI: The Fox News Depressfest
News
November 04, 2008 10:01 PM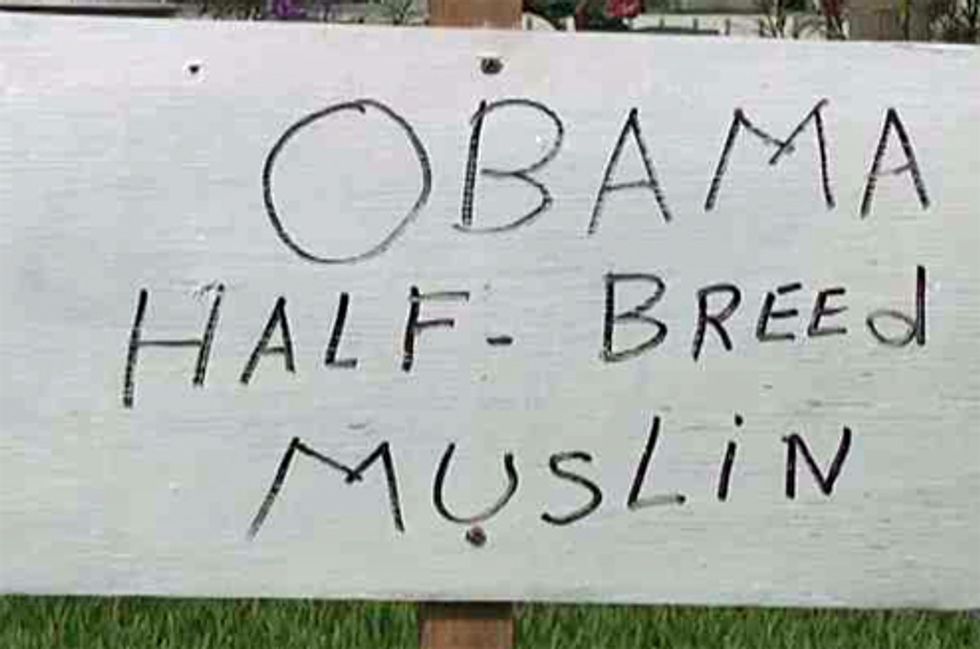 It could happen in this next half-hour. "It" being, hmm, a big hedge fund collapses? Oh no, that wouldn't be real news. "It," of course, meaning conclusive evidence that you dumb college liberals have succeeded in getting some Muslim ACORN guy into the White House. "Nice." When (IF!) this becomes official, there's only one channel we want to watch: Fox News. We expect sobbing racial tirades.
---
10:01 -- Someone called Iowa for Obama along the way. McCain wins Utah and Texas, two red-ass fuckin' states. Cornyn retains his Texas Senate seat (sorry sweet Rick Noriega!). Oh and Roger Wicker beats Ron Musgrove to retain his Mississippi Senate seat. It was never really *that* competitive, but of course Fox News is calling it the historic victory of the century.
10:02 -- We are projecting that Chris Wallace is a homosexual for Brit Hume. Brit finds this uncouth.
10:03 -- Carl Cameron hears from the McCain camp that they are... what is this now... worried! In fact they think they cannot ever win at all.
10:05 -- Chris Wallace has now called Mark Udall and Bob Schaffer, Senate competitors in Colorado, "very nice-looking men." Someone throw a cock at this guy so he can do his job?
10:07 -- Behind Brit Hume we see, who else, Bill Kristol, wiping his glasses. He does not even wear glasses. Everything about Bill Kristol is the opposite of what it is.
10:09 -- Fox News is just boring now. It's just Chris Wallace jerking off to Coloradans, Brit Hume appearing flustered in as classy a manner as possible, Karl Rove dancing like a faggot, and Bill Kristol cleaning himself. Let's go back to MSNBC, they always call the states early and that makes us feel special.
10:12 -- Chuck Todd says Orange County, of Florida, holds secrets that determine the fate of the Universe and the truth about God. It is leaning Obama.
10:13 -- Gary County in Indiana will give lots of votes to Obama when it is counted. Fairfax County in Virginia still has many votes to throw in Obama's column. Mecklenburg (sp?) County in North Carolina also looks good for McCain. Oh we meant Obama, not McCain.
10:15 -- Q: Why can't dumb robot vote machines count fast enough? ISN'T THAT WHY WE HAVE ROBOTS AFTER ALL.
10:16 -- Chris Matthews, oh man, you can tell he is having trouble keeping it in -- there is a LOT of sexy political electricity running up his legs. Of course the New MSNBC has been forced to discipline itself (see: David Gregory is hosting) and will; wait until everyone across the country finishes voting before shouting about A TURNING POINT IN AMERICA. But Chris Matthews will be sobbing and shouting about the cute little Chinese kids in Rangoon, and how Obama has saved their lives, within the hour.
10:20 -- OH HELL, let's go back to reliable old CNN. It seems the reaction on the Internet to their retarded little hologram ploy earlier this evening was so hostile that they will never dare use that $150 billion piece of technology again. Capitalism!
10:22 -- Perhaps there was a panel of swing voters in Columbus, Ohio, giving their live reactions to the space hologram as it was being shown. Men and women both would've STRONGLY denounced the hologram when it started getting negative on Obama.
10:24 -- Mississippi called for McCain. PHEW. We were starting to worry that good old fashioned American racism was losing all of its strongholds. There'll always be Mississippi.
10:26 -- Do you notice how this liveblog is terrible and we're just babbling about whatever we're babbling about? This is because NO ONE ON EARTH will call Florida or Virginia or Colorado. Just fucking guess or whatever, HEHNGNN? We want to have sexytime celebration funs.
10:28 -- Intern Juli reports something she heard on the teevee, that John McCain is locked in solitary confinement in the "Barry Goldwater Suite" at the Biltmore hotel in Phoenix. If he believes in Karma, and he does, then John McCain has not surrounded himself with much of a "victorious" vibe in this suite selection.
10:32 -- Ken has started a new liveblog! Harass him! Here!