Liveblogging Part III of the Season Finale of Arlen Specter
News
May 18, 2010 09:05 PM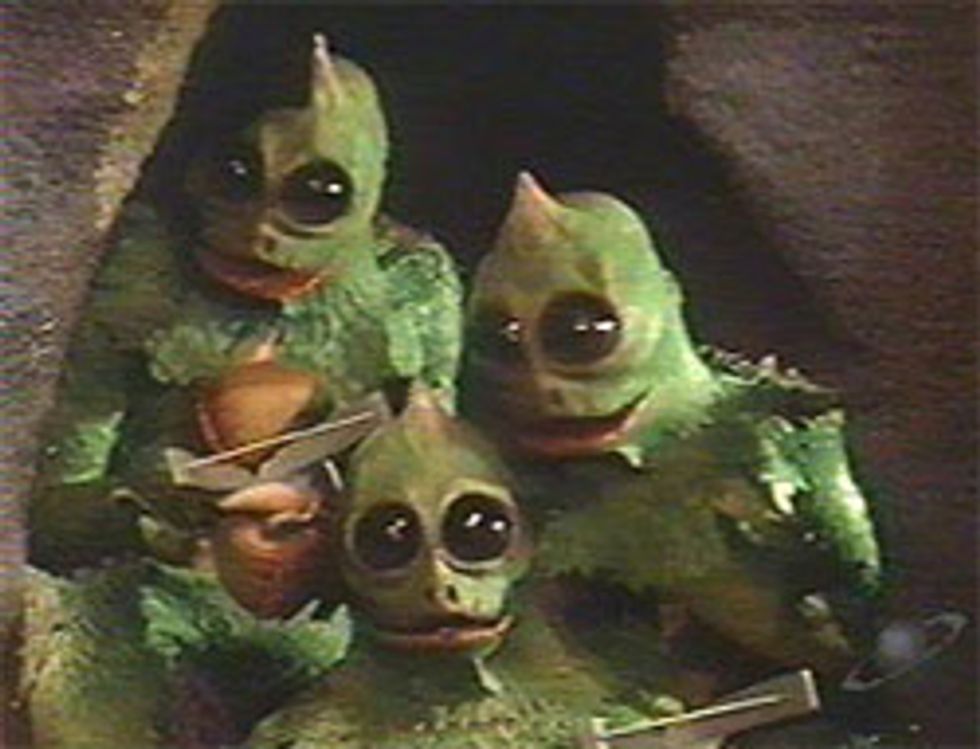 Well, this will go down in Liveblogging History as "the night we shouldn't have bothered," but what the hell, let's wrap it up. This liveblog will continue until ALL THE VOTES ARE COUNTED, or when we go to bed, whichever comes first. Meanwhile: Is Lost Island all a hologram? Only Jim Newell knows for sure. He loves this show! Your editor has never seen it, but read a blog or whatever the other day suggesting that the hit show ofLOST is actually a ripoff of Philip K. Dick's alternate-world sci-fi literature and also the old computer game, Myst, which does rhyme with LOST. Anyway, Rand Paul won with 59% of the hillbilly GOP vote, someone named "Gritz" or whatever seems to be winning something in Pennsylvania, and nobody will say the Truth about Arlen Specter because he's so gosh-darned old nobody wants to bum out his feelings.
---
9:00 PM -- It's nine o'clock and the entire nation is tuning into its nightly church program for religion on the teevee, My Soul Is Lost, and your associate editor Jim Newell is gone for the night, got his Wii hooked up with the Bluetooth to his Flat-Screen, and ... oh well for fuck's sake no more election news on CNN, it's LARRY KING and his mom, MICK JAGGER, in a "rare interview," just like on every fucking channel of XM/Sirius radio for the past week or two.
9:00 PM -- Actually, Larry King is Charlie Watts' great grandma.
9:00 PM -- Larry King's CNN show has been on for 25 years, it's an anniversary. Mick says, "Wow."
9:01 PM -- Did you hear control-freak Mick Jagger took out all references to Gram Parsons in the whitewash documentary DVD in the Exile On Main Street bullshit re-issue?
9:02 PM -- And other than the pretty decent "Plundered My Soul" (even with the cringe-y new Jagger vocals; 100-year-old men shouldn't be putting new vocal tracks on 38-year-old instrumentals from the Exile sessions), there is no reason for this re-issue. It doesn't need "re-mastering." Heard some of it the other day and it sounds all clean and shitty. Is that how Exile is supposed to sound? Ask Arlen Specter.
9:03 PM -- Maybe we'll watch LOST, too. Awful Larry King: "When you get on stage, like Frank Sinatra did, what keeps you going?"
9:04 PM -- "What really keeps me going," Jagger says, and then manages to stop himself from saying, "Hundreds of millions of dollars and more models to bang so I can get divorced again and shame my children."
9:04 PM -- ARLEN SPECTER IS VINDICATED, HE HAS 58% ... with 5% reporting. HE CANNOT BE KILLED IN A DUTCH OVEN FULL OF CANCER, so just go to hell, Sleestaks. GO BACK TO LOST ISLAND.
9:05 PM -- 7% of the vote, still 58%-2%.
9:06 PM -- MSNBC needs to fix the broken chron graphic, no? Does Sestak really have 2% of the vote?
9:06 PM -- So how is this Lost show, anyway? Your editor's old friend Tony Pierce is always jabbering about this Lost show, for about a decade now, and he loves everything terrible so your editor just figured, eh, must be crap.
9:07 PM -- Ugh never mind we are at the West Coast office and Lost is not on, because it's only 6:08 PM here, and, uh, we don't have a Tivo or whatever, however that works. And it's daytime, it's still daytime here. There is still time to go for a hike with the dog.
9:09 PM -- Newell's last liveblog is here, and "still open," he claims, as if it's a polling place or something, and not just a blog form on a web tab in Firefox.
9:11 PM -- Did Chuck Todd suddenly lose his hair? He had a full head of hair (maybe?) last time we watched Chuck Todd ... probably 2008?
9:12 PM -- PAT TOOMEY is the Republican senator candidate of Pennsylvania, Wonkette can call this race now (because AP did).
9:12 PM -- The "Critz" won in Pennsylvania, 59%. Is this a bellwether, for the Democrats? No, bellwethers only happen when a) Democrats lose something.
9:14 PM -- At least Rachel Maddow is excited about the election night. Hooray for Rachel, for not being a DOWNER like the rest of the entire cable-news industry.
9:15 PM -- "Next on Larry King Live: Mick Jagger's candid admission that he has used drugs." Jesus christ what is this, 1968? With the teevee news all about "Did you serve in 'Nam" and the Rolling Stones' shocking dope use 45 years ago, we must agree with the premise of The Man In the High Castle: The Nazis won World War II, and Imperial Japan has occupied San Francisco, but we ... just ... might ... catch ... a ... glimpse .... of the terrible Embarcadero Freeway running right along the waterfront by the Ferry Building, if we blink just right in the bright foggy light. And then an earthquake knocked down the Embarcadero Freeway, for real, in 1991 -- a decade after Philip K. Dick's death.
9:21 PM -- And, let's see, somebody is either ahead of behind in the polling, in the various states.
9:24 PM -- Rachel Maddow announces that the death toll for U.S. troops in Afghanistan has now passed 1,000. And the great wheel of bullshit continues to turn.
9:40 PM -- But what's the Party Music at Arlen Specter's sexy-senior dance party? Our friend Daniel McQuade is at Specter HQ, and here's a review of the actual victory DJ set list.
10:33 PM -- FINALLY, after we leave for 40 minutes, some exciting news: Sestak is the wiener! Specter is not the new Democrat hot-shot of Pennsylvania. But, good try, Arlen. (Not really.)
11:16 PM -- Should we post other things in here, even though we have posted this stuff elsewhere? Sure.
11:16 PM -- BLANCHE LINCOLN MUST SUFFER HUMILIATING RUNOFF: With 43% of the precincts reporting, it seems Senator Blanche Lincoln will continue having difficulty voting, as she will have to do a run-off against Lieutenant Governor Bill Halter, because right now it's Lincoln 44%-Halter 42%. But she is expected to win the runoff, and maybe win her seat back. This is bad for _________. [Reuters]