Liveblogging the Apotheosis Of St. Michele Bachmann Of Minnesota (and Other Midterm Primaries)
News
August 10, 2010 08:09 PM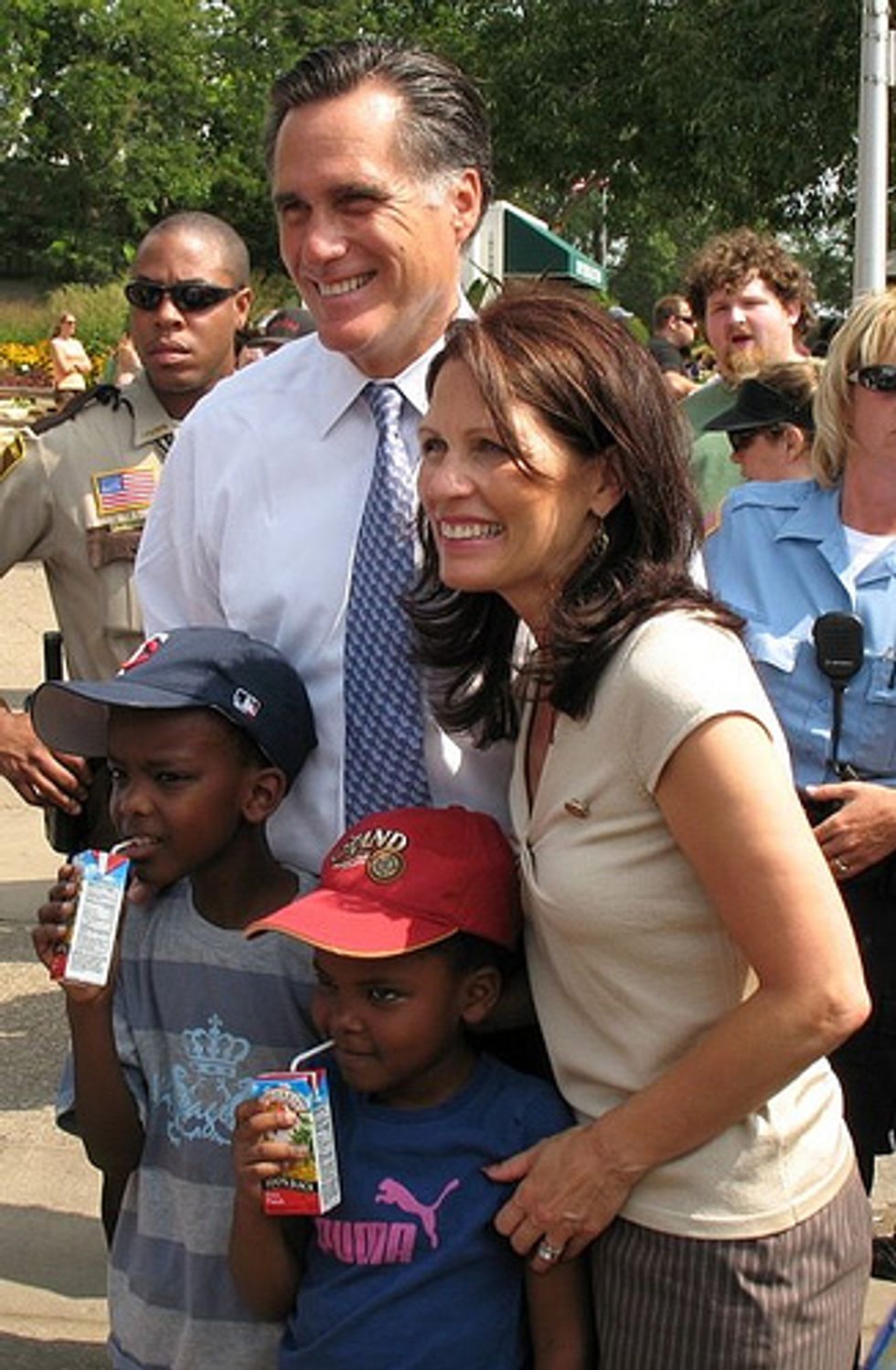 There are important elections. And then there are MICHELE BACHMANN elections. Tonight we journey to Minnesota, Connecticut, Colorado, and Georgia: "Gee, I cut onto a mooing nostril accordance" is your prescient anagram of these states. What does itmean? We will soon find out. Polls have just closed in Connecticut, an hour after Georgia. Minnesota and Colorado will chop off the hands of people who have not voted at 9 PM (Eastern). And your Wonkette has a laptop filled with Internet to provide you the very latest in random items from candidates' websites they uploaded months ago. LET'S LIVEBLOG, JESUS FANS.
---
8:08 PM — Polls closed in Connecticut 8 minutes ago. Eight minutes later, we can confirm that state is still ugly to drive through.
8:12 PM — Georgia already had primaries, but tonight they have run-offs. Is this because they want double the Wonkette liveblogging, or was this originally a way to keep the blacks down? Probably the latter.
8:16 PM — With 15% reporting, a supposed dude, Nathan Deal, is leading a supposed lady, Karen Handel, by a narrow margin, 51.7%-48.3%, in the Republican gubernatorial run-off. These candidates are probably both white, so we shall give the early advantage to Deal, because men generally run faster than women, and this is a running contest.
8:19 PM — Wonkette-endorsed Jody Hice is LOSING his GA-7 run-off to Rob Woodall right now, 58%-42% with 40% in. But he already took his oath of office!
8:28 PM — About 3% of Connect-I-Cut is reporting, and Linda McMahon is winning her rasslin' primary right now with 48% of the vote, with two other candidates splitting the rest. Rich Joe-Lieberman-jowl victim Ned Lamont is losing his Democratic primary for governor to "Dan Malloy" by about 13 points right now. The Connecticut for Lieberman primary appears to be uncontested, because we can't find any results. We can find results for the Democratic Senate primary, though. Nobody is contesting Richard Blumenthal, just like the Vietnam War never contested Richard Blumenthal.
8:41 PM — The Deal-Handel race in Georgia is the big race so far, at least according to Dave Weigel on Twitter, though perhaps he just wants to impress us with his knowledge of Georgia county names. Deal is endorsed by Newt Gingrich and Mike Huckabee, whereas Sarah Palin and Mitt Romney endorsed Handel. This is being called a "proxy" race for the 2012 GOP nomination president. So Gingrich-Huckabee will DEFINITELY be your ticket that's sworn in in January 2013. It does seem strange that Palin would endorse the same candidate as an ELITIST Mormon like Romney, by the way, but it's likely he endorsed Handel because Handel is a better opera composer.
8:48 PM — Here is the Nathan Deal teevee ad that will MAKE LIBRULS MAD. He doesn't care how much money it will take for Georgia law enforcement to deport the Mexicans. They will round them up and drive them to the Georgia-Mexico border and the problem will be solved! Now watch him put his hands on these small children who are fishing by themselves unwatched by their parents.
8:54 PM — Here is another ad from former Rep. Nathan Deal, this time with a woman with an adorable drawl spewing implied hate. According to these flying quotes, Handel, who is a former state Secretary of State, once suggested that she supported domestic parter benefits for people who are not straight! And she supported the gays being able to ADOPT Georgia's parent-less suicidal foster kids. Ewwwwwwwwww! Gross! Thankfully, Nathan Deal is here to let us know that he opposes abortion and illegal immigration. "I'm a man," he says. PHEW!
9:00 PM — Oh, these images from Nathan Deal's Facebook account are fun. Hooray traditional gender roles! Men carry purses, and women carry guns. WAIT, NO, GOSH, HEDONISM! WE MIXED THOSE UP! You know what else men do that women don't? Hold the governorship of Georgia. Congratulations on Nathan Deal still leading this race!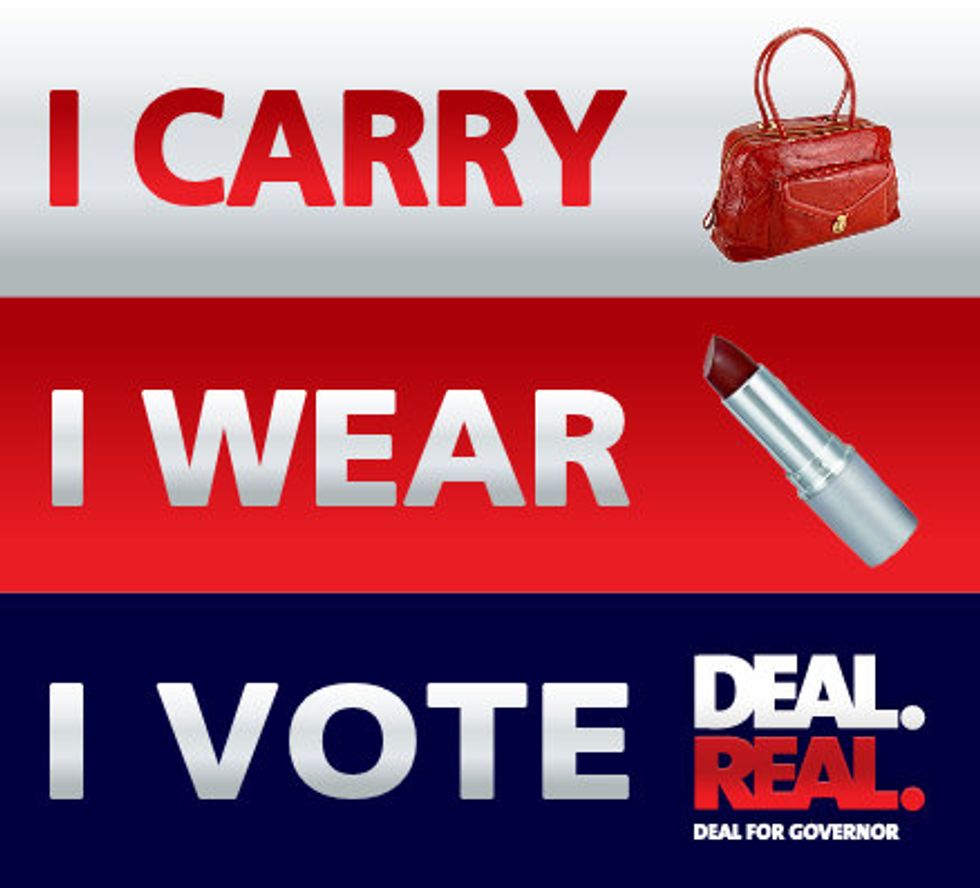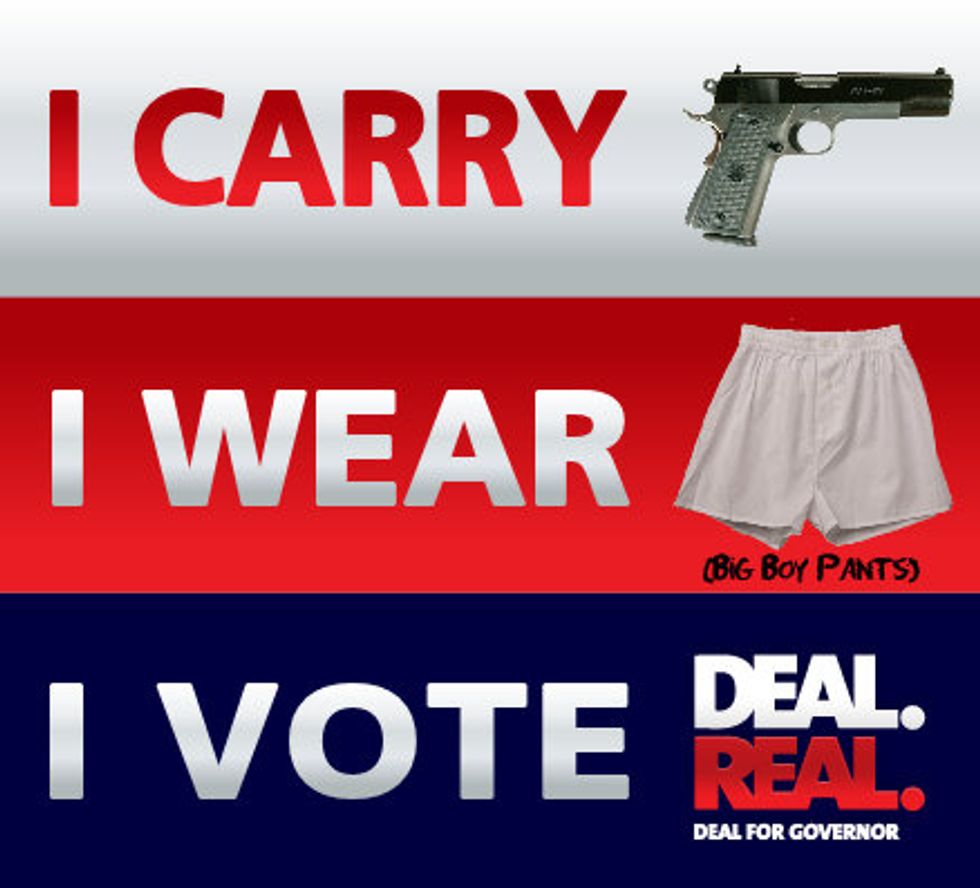 9:03 PM — Polls are closed in Colorado and Minnesota. The marketing people for Juno e-mailed us to let us know that the stripper "poll" in Minnesota is closed for screenwriter Diablo Cody and also Juno is still available on DVD and Blu-Ray.
9:06 PM — "There are many ways to promote a campaign. Some folks believe Nathan will mow down the competition. Thanks Larry Hyde of Cartersville for showing your support." Yes, thanks bro!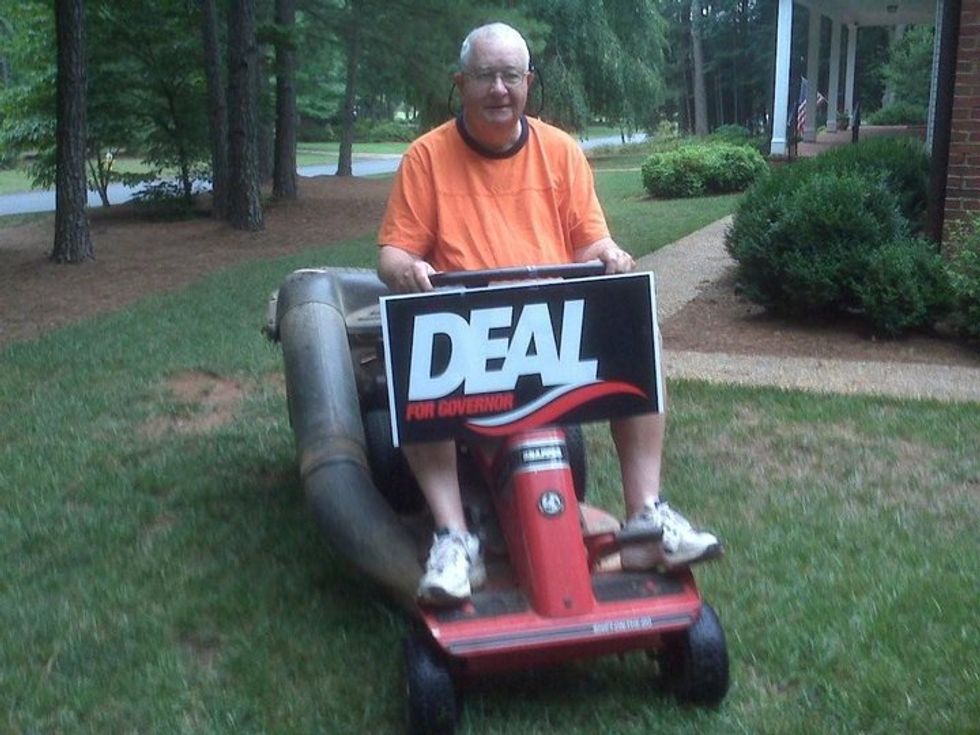 9:11 PM — Oh God, the MN-6 GOP primary has already been called for Michele Bachmann, just because she's uncontested. But we will still hold out hope for a close race. And still hold out hope for Bachmann pageviewz. (It's 9:11 right now. COINCIDENCE?)
9:13 PM — Here is a lovely photo of a "can-do conservative." (Is that plane a time machine? Is that Future Trig here to endorse the man his mother wouldn't?) Deal's supporters sure look like the peachy cream of the Georgia crop.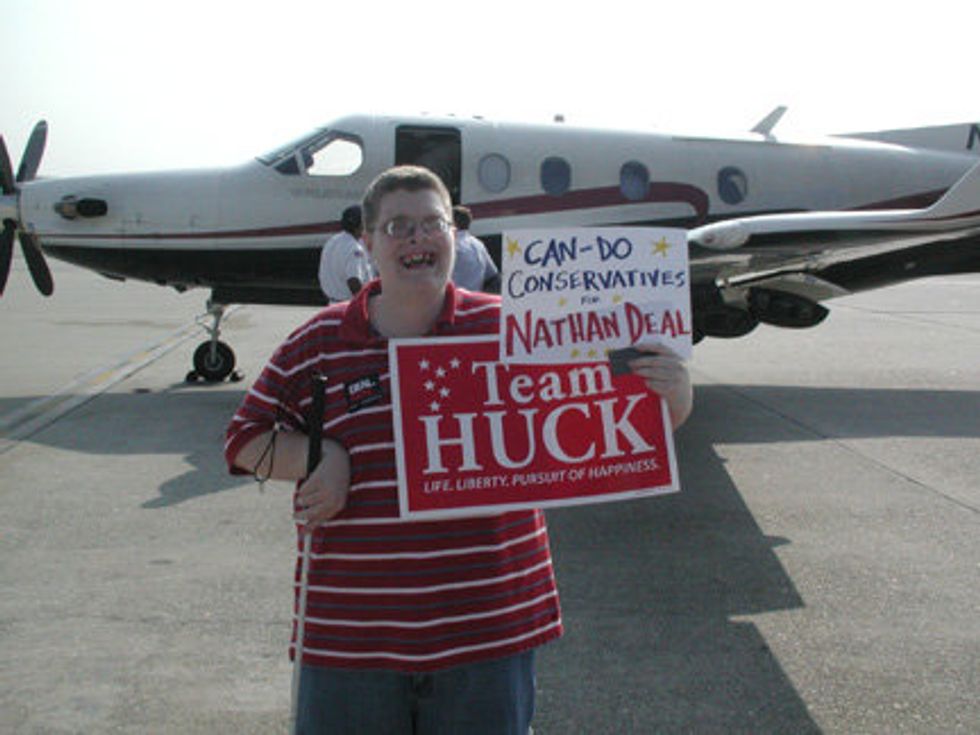 9:17 PM — We should just stop posting Deal Facebook photos right now because HERE IS A PICTURE OF A DEAL SUPPORTER STIRRING A KIDDIE POOL FULL OF GRITS. With 79% reporting, Deal up 2 points, and, most importantly, this kiddie pool full of grits, we officially call this race for Nathan Deal.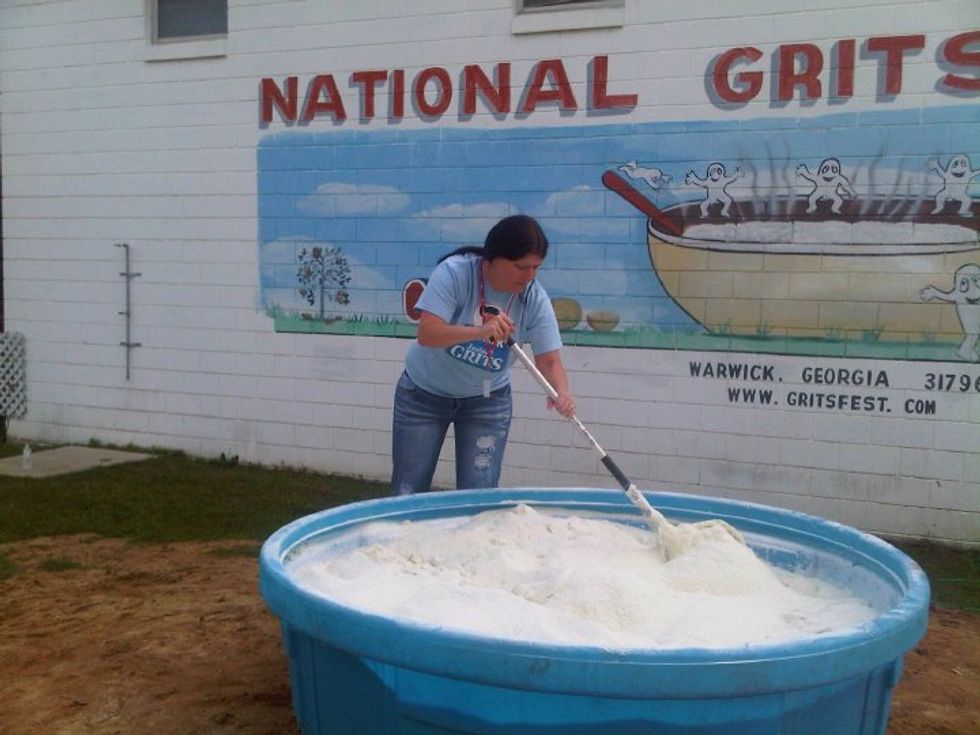 9:20 PM — Weigel says Lamont is "going down in flames" in Connecticut right now. Stop, Ned! Don't self-immolate! That won't help you win!
9:28 PM — Woah, these Colorado results come in quick! All the big races here are rather close. Sen. Michael Bennet is leading Andrew Romanoff in the Democratic race 54%-46% with 57% in. Teabagger Ken Buck is leading Jane Norton for GOP Sen 51.1%-48.9. Bike-plot-exposer Dan Maes is leading plagiarist Scott McInnis 52.1%-47.9% for GOP gov.
9:44 PM — Get out of here! There is a new post.