Liveblogging the Apotheosis of St. Michele Bachmann of Minnesota (and Other Midterm Primaries), Part III
News
August 10, 2010 11:17 PM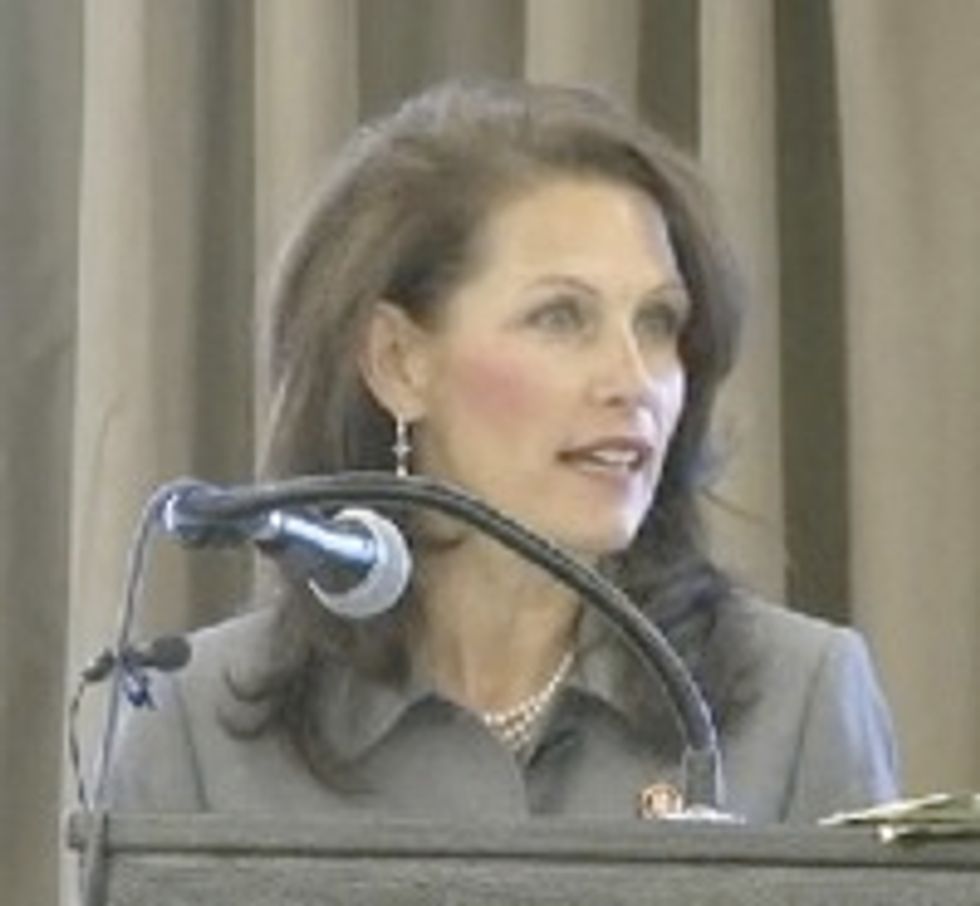 Coming to you live from Thugtown USA—i.e. "Obama's backyard," or Chicagotown, where there are no races or post-racial relations at the polls to watch today. So let's watch everybody else's races!
---
At this moment we are still awaiting the results of the Georgia gubernatorial primary runoff starring Republicans Nathan "the Real Deal" Deal and Karen "Love Handels" Handel. Some election competitions in Colorado are still up in the air, too. And maybe some other races are still undecided? Let's go look for some more RESULTS.
11:19 PM — Democratic Colorado Sen. Michael Bennet WON his primary race. In case you didn't know. Tonight he will make love to his wife, after they have some champagne and sugary candy.
11:23 PM — Just checked Bennet's Wikipedia to make sure he's hetero. He is! His wife is named Susan.
11:27 PM — In Minnesota, the Congressional District Two Democratic primary race between Shelley Madoff Madore and Dan Powers is still up in the air. Shelley Madore runs a thing called the 35 Cent Tour that calls out Republican incumbent John Kline for his "'no pork' ideology," which apparently is bullshit.
11:32 PM — Michele Bachmann seems to still be winning her "uncontested" Republican primary, but there might be a last-minute upset.
11:35 PM — Out in mountain-y, square Colorado, the House District Three Republican primary race is still rewarding us with suspense and mystery, as Scott Tipton and Bob McConnell await their fates. Tipton has a plan for fixing America! You can read it here; it's not even that long. It might be useless in about an hour, though.
11:42 PM — Here are some of Scott Tipton's supporters, posing with their stuffed elephant doll/life coach. Hey, didn't Michelle Obama wear a fannypack like that once? Better destroy it fast, there could be muslins inside: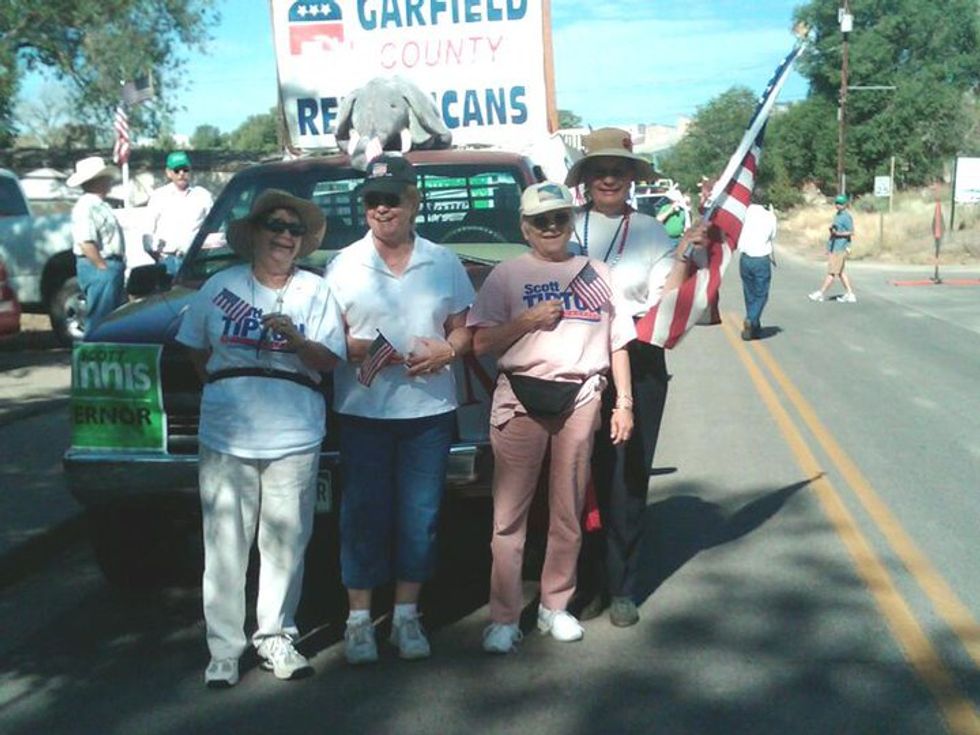 11:44 PM — Ken Buck WON! This is because the Bible said, "all Kens are winners." As part of his victory package Buck gets to run for Senate some more, and also receives a holiday vacation for two to sunny Acapulco so he can hate Mexicans to their faces.
11:49 PM — As cool as Scott Tipton looks in his jeans, Bob McConnell looks even cooler in his working-man's hat. He's already bringing back Williamsburg fashion circa 2005, to communicate with the Millennials better: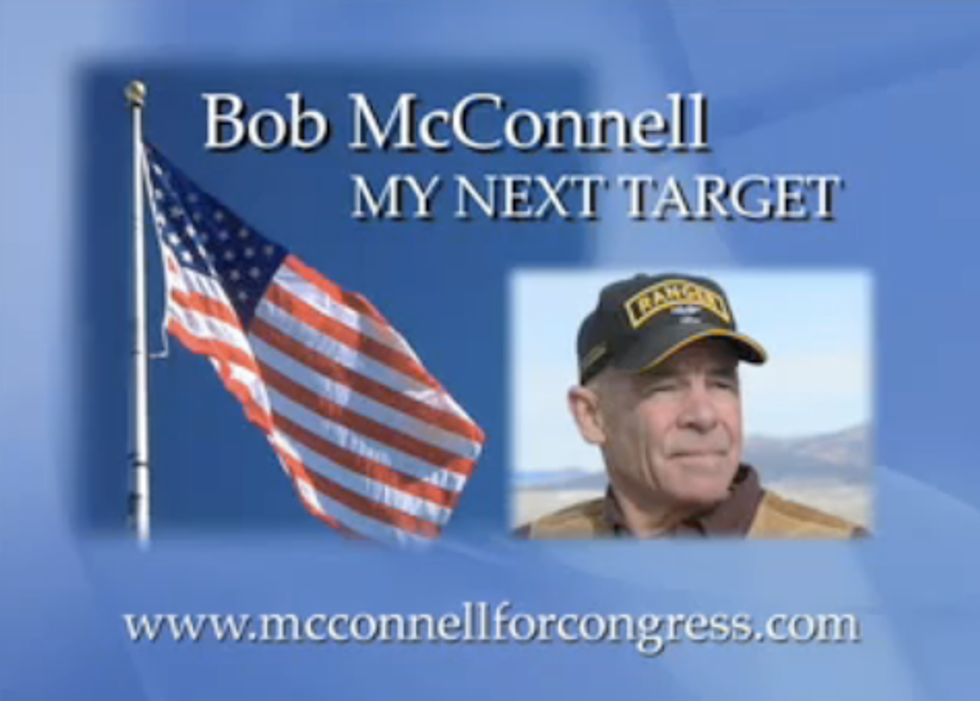 11:54 PM — Have you watched Bob McConnell shoot his gun at Osama bin Laden yet? "I love firearms," he says:
11:56 PM — McConnell just wants us all to understand what he does, with the guns. Um, no thanks!
11:59 PM — Why won't Michele Bachmann just CONCEDE???
Midnight — The Colorado Republican gubernatorial winner is still uncalled, with Dan Maes enjoying a slight lead over Scott McInnis. Will Maes ride the UN-purchased Illuminati 10-speed to victoire?
12:07 AM — Michael Bennet just passed the bowl—of M&M's!—to his wife.
12:10 AM — Ken Buck just led some of his Teabagger supporters in a rousing version of "We Shall Overcome" for the eighth time this evening. They are savoring tonight's victory, but thinking about the long road to November.
12:13 AM — Shelley Matador Madore won the House District Two Democratic primary! Give that gal a goddamned victory lollipop. Or popsicle, because REMEMBER, it's cold in Minnesota.
12:15 AM — Right now Shelley Madore is jumping around like the adolescent Replacement Tommy Stinson does in this video—and probably also singing along to this song while munching on her "goddamned PopsiclePop":