Liveblogging The Democratic Debate Or HGTV Or Whatever's On Tonight, We Don't Know
News
June 27, 2019 07:38 PM
Great, it's night two of this, just great, hope all these candidates are happy with themselves, JUST GREAT.
All we know is that there are about a hundred "Tim Ryans" in the race and at least one "Tulsi Gabbard" who need to GTFO, because we are not in the mood for any more two-night extravaganzas from hell.
That said, YAY, WE ARE SO EXCITED FOR TONIGHT'S DEMOCRATIC DEBATE, IT IS DEFINITELY THE THING WE WANT TO BE WATCHING RIGHT NOW, AYUP!
Tonight is the big showdown between all the people who matter who aren't Elizabeth Warren. That means Kamala and Joe and Bernie and Pete and Marianne Williamson, AKA "The Frontrunners." Also some other people, we guess.
If you missed our recap of last night, that is here, and also here is our liveblog of last night. It was great, just great, bless all their hearts.
Here is an episode of "Love It Or List It," if you're not feeling it, but want to stay here anyway:
Love It or List It - Betting the Horse Farm www.youtube.com
And here is the debate:

LIVE: Democratic Presidential Debate - June 27 | NBC News www.youtube.com
Welcome to Wonkette, where you have CHOICES in TV viewing.
Now let's liveblog! (The debate. Not "Love It Or List It." Probably.)
---
8:55
Chris Matthews says he wants to see a FIGHT tonight. And he is right, we would like Kamala Harris to break faces two minutes before it starts, that would be cool.
8:59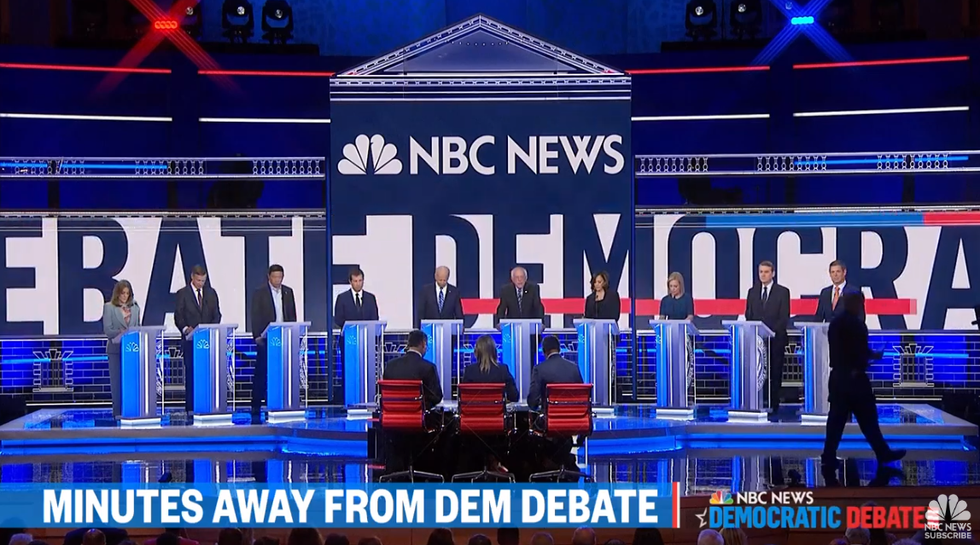 As you can see, here are the candidates, including Andrew Yang, who could not be bothered to wear a tie this evening. Was he raised in Devin Nunes's COW BARN, by BUSINESS CASUAL COWS?
9:02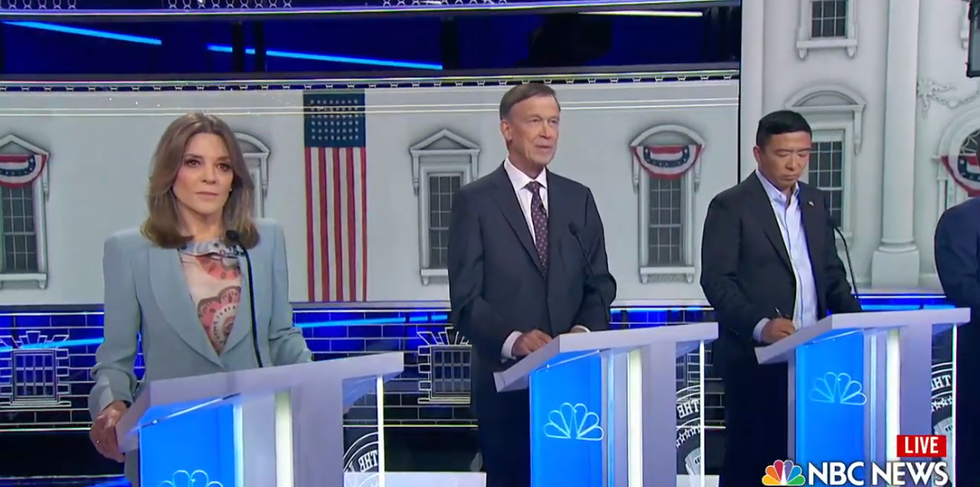 First question goes to Bernie Sanders, who looks like he got a haircut! The people above, though, are not Bernie Sanders. Those are three people who are hereby invited to delete their account.
Also Bernie Sanders said "Medicare For All," so drink! And "free college!" And "tax on Wall Street"! Drink two more times, uh oh, you are drunk.
9:05
SAVANNAH GUTHRIE: So Joe Biden, u think Bernie's revolution thing is bullshit? Explain your answer with your fists.
9:07
Also, Michael Bennet has already tried to be Interrupting Cow MOOOOOOOOO, because he did not like a thing Bernie said. Savannah G. not having it.
Kamala Harris with a great answer about how Republicans never get asked how they're going to pay for shit, and how to help working families, AND IT IS GOING VERY FAST AGAIN, JUST LIKE LAST NIGHT, and now John Hickenlooper has been asked to talk shit about Bernie, please, because he thinks "socialism" is a bad cuss.
9:09
Bernie, can a socialist win?
BERNIE: I AM ONE MILLION POINTS AHEAD OF THE FRAUD LIAR TURD ROCKET IN ALL THE POLLS.
Fair enough.
And now here is Kirsten Gillibrand to say why Bernie and Don Dickenlooper are both wrong.
9:10
Michael Bennet, will YOU talk shit about Bernie? (Damn, these moderators really are trying to start a fight.)
He is politely disagreeing with Bernie's Medicare For All and advocating for keeping private insurance and letting people into Medicare also too. "Vermont REJECTED Medicare for All," he said. AND ALMOST THERE WAS A FIGHT.
And again Kirsten Gillibrand came in to tell the boys to shut it.
HOLY SHIT, DID PETE BUTTIGIEG JUST INTRODUCE HIMSELF BY TALKING SPANISH? Oh that's right, he knows all languages, ancient and modern.
9:15
BUTTIGIEG: Chasten and I have one million dollars of student loan debt.
SWALWELL: Me too! Can I talk yet? Oh it is not my turn? DRAT.
And now "Andrew Yang" is talking without a tie on about giving all people $1,000 per month, which is one of his things. (His other one is Foreskin Awareness Month.)
9:17
SWALWELL: One time I met a very young presidential candidate who says it is time to pass the torch to a new generation. That man is now 400 years old and his name is Joe Biden AKA Methuselah over here. Should he drop that fuckin' torch now that he is old balls? Y/N
BUTTIGIEG: I AM THE YOUNGEST!
BERNIE: CAN'T TAKE ON "FOSSIL FUELS" IF YOU ARE NOT A FOSSIL!
GILLIBRAND: Could everyone shut up?
HARRIS: "America does not want to witness a food fight, they want to know how we're going to put food on their table!"
EXACT QUOTE.
And now Kamala owns the room.
9:21
Only Bernie and Kamala raise their hands on "abolishing" their own private healthcare to get to Medicare For All. Then Kirsten Gillibrand decides to try to explain for everybody how a Medicare buy-in period and transition works.
9:25
Kamala Harris: "America does not want to witness a food fight, they want to know how we're going to put food on the… https://t.co/2EiPNV758H

— Variety (@Variety) 1561685047.0
Here is your KAMALA MOMENT.
9:28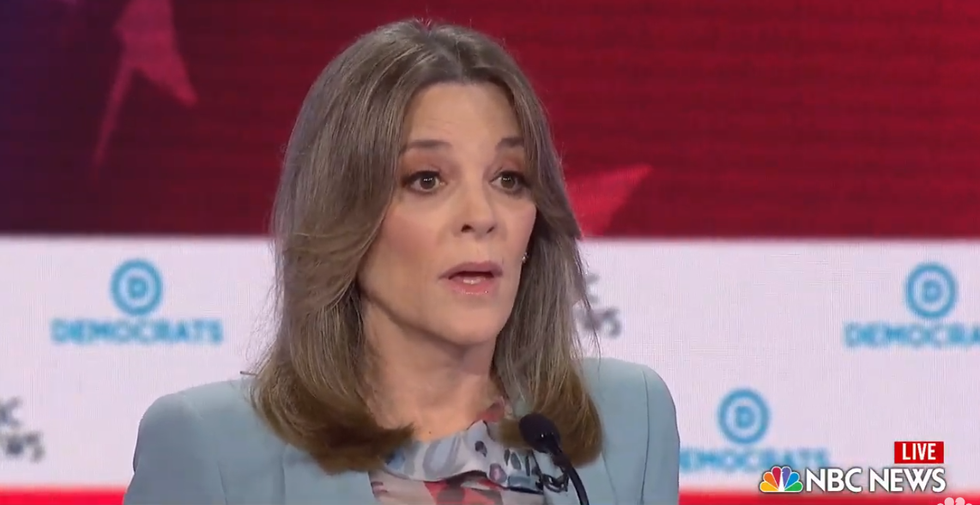 Oh hello Marianne Williamson, would you like bring vaccines to this Medicare For All party? Oh, you SPECIFICALLY WOULD NOT BECAUSE YOU HATE THEM?
OK.
9:30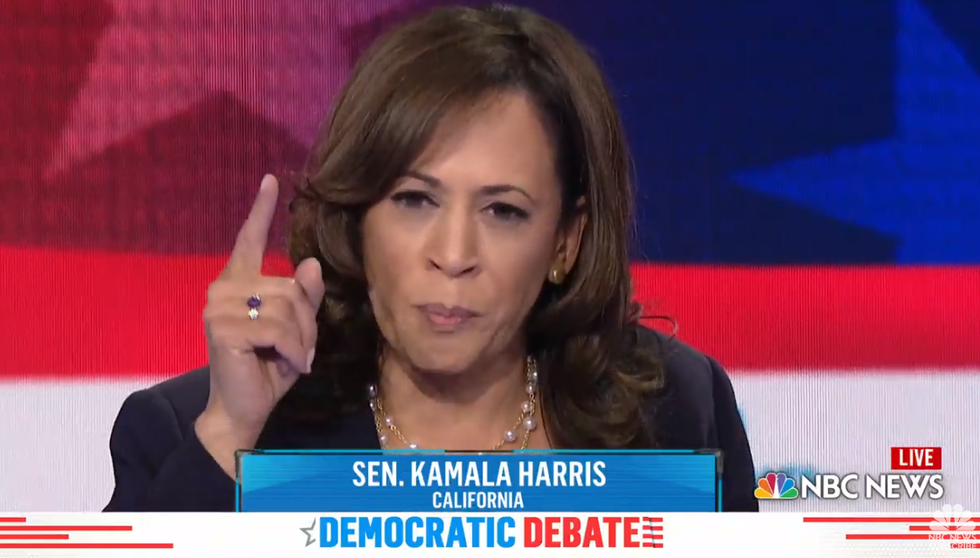 Damn Kamala Harris came here to win this. She just broke through Bernie and Michael Bennet bickering at each other to tell an anecdotal story about healthcare and the boys ACTUALLY SHUT UP.
9:32
Q: Would your healthcare plan cover undocumented immigrants? ALL HANDS GO UP.
But you know, the parties are the same yadda yadda blah blah blah, you betcha.
9:37
Q. Kamala Harris, what will you do about Trump's concentration camps on your first day and also for all the people seeking asylum?
A. Restart DACA, protect immigrants who are veterans, get the kids out of the FUCKING cages, close the camps, and says "the microphone this president holds in HER hand will be used in a way that reflects the values of this country."
HER HAND.
9:39
Q. John Dickendongler, same question.
A. Shittier answer, should smile more.
If you would like some Kamala t-shirts Wonkette has those.
9:41
Marianne Williamson is very mad that nobody is talking about American foreign policy that has led to current conditions in Central America and ... she has ... a point?
Anyway, what she probably means is that American foreign policy has really messed up everybody's aura chakras woo
9:43
Same question that made Castro and Beto fight last night. Would you keep illegal border crossings criminal, or make them just civil violations? All hands go up for "civil" ... except Michael Bennet and Joe Biden, who would like to qualify his answer with some PASSIONATE 'SPLAINING!
Also Pete Buttigieg said something about how gross it is that Republicans act like their border shit is all Christian, got big applause, we mostly missed it because "typing."
9:47
BERNIE: "Rescind every damn thing" Trump has done on immigration, TO START WITH.
Also, says let's deal with what America has done to make Central America Not Great Again, ARE YOU HAPPY, MARIANNE WILLIAMSON?
9:48
From Wonkette Robyn, 'splaining what Pete said that we missed:
"Buttigieg was basically saying that Republicans have no room to brag about their xtian values if they think god would smile upon locking kids up and taking them away from their families."
HE'S NOT WRONG.
Anyway, Kamala Harris just brought up how she used to be the attorney general of California because KAMALASACOPPP!!!11!!!1!GHAZI!
And she did it to make a really good point about not deporting people, because she wants rape victims and other victims of actual violent crime to REPORT those crimes, and not be afraid to do so out of fear of deportation.
SHE'S NOT WRONG.
9:51
Of course, Kamala's specific phrasing was that she wants rape victims to be able to "walk into the street" to report their crimes, so now Fox News will cut and paste that so they can say "WHY DOES KAMALA HARRIS WANT RAPE VICTIMS TO BE IN THE MIDDLE OF THE STREET?????"
Anyway, they are talking about trade right now. Both Michael Bennet and Andrew Yang began their answers by saying actually Russia is the greatest threat, but sure, let's talk about 'GINA.
9:58 HALFTIME SHOW!
OK, the first hour is over, and our science verdict is that Kamala Harris is running away with the debate and not coming back, will probably get even better once she has a smarter moderator like Rachel Maddow asking questions.
Meanwhile, all the men are shrill. All of them. Should smile more.
Except Buttigieg. He's fine, he's like a wise gay baby owl professor, teaching things.
10:00
Maddow starts directly into Pete Buttigieg on the awful police shooting that happened in his city of South Bend, Indiana.
Q. Why aren't there more black police officers in your city?
A. Because I haven't been able to get it done.
That's honest!
He's speaking very heartfelt-like about what his city is going through, and about systemic racism in policing, etc.
And now Ron Chickencooper wants to ... go after Pete? Um OK. He says he fixed everything in his state, and it's perfect, so why isn't Pete's city perfect? HUH?
And ... Eric Swalwell would like to go after Pete now? Jesus, these guys jockeying for 5th place!
10:03
KAMALA, cutting in, points out that she is the only woman of color on this stage, WOULD LIKE TO COMMENT ON RACE, PLEASE.
And now she is confronting Biden over his segregationist pals. We're gonna need this video, because she says it was "hurtful" to hear him talking so nice about senators who "built their careers" on segregation. And he worked with them to oppose busing, she says.
And he looks genuinely SHAMED.
Wow wow wow wow wow.
10:05
Oh cool, Biden just called Kamala Harris a Liar About His Record-er.
We thought the fight was going to be Biden v. Bernie. Apparently not!
10:07
"There are moments in history when STATES FAIL." That's what Kamala Harris said after Biden tried to blame his failures on local control. She said that's when the federal government is supposed to STEP IN.
Big cheers from the audience.
Like we said earlier, she's running away with this thing.
Oh and now it's time to ask Bernie Sanders about his past comments on diversity, which many have found inartful, to put it mildly.
10:10
OOH, let's talk about whether Democrats should think we can really magically work with Republicans, or should we NOT be naive idiots?
MICHAEL BENNET: Says it will not change "as long as Mitch McConnell is there." Correct!
CHUCK TODD: Joe Biden, have you been present for any of the last hundred years or so, to see how Mitch McConnell really is?
BIDEN: I have seen it! I have won things! I have a record to run on here!
BENNET: NOPE.
Now is the part of the debate where errbody gangs up on Joe Biden.
There was a little girl in California who was bussed to school. That little girl was me. #DemDebatepic.twitter.com/XKm2xP1MDH
There was a little girl in California who was bussed to school. That little girl was me. #DemDebate https://t.co/XKm2xP1MDH

— Kamala Harris (@Kamala Harris) 1561687866.0
10:15
QUESTION FROM MADDOW: What will you do if you are president and a Supreme Court strikes down Roe v. Wade?
SANDERS: Not really answering the question, says good words about reproductive justice, but also says he is against court-packing.
Maddow pushes back, says you're talking about preserving Roe, what happens if Roe is gone? He says something about Medicare For All. Swing and a miss, Bernie.
Gillibrand jumps in, directs her comments to all women of America. "Stop playing defense, start playing offense." Ties into her anti-corruption message, and how a lot of the stuff that's really screwed women -- Hyde Amendment, etc. -- came about because of bullshit compromises made in backrooms that used women's rights as a bargaining chip.
SHE'S NOT WRONG.
10:18
And now the six seconds about abortion rights are over and we move to climate!
10:19
Kamala Harris does not give two solitary fucks if Chuck Todd is trying to talk her from talking. Just gave a full speech on how DONALD TRUMP is the greatest security threat, because what he represents encompasses ALL these things. Climate change, abortion rights, Trump cuddling with Kim Jong Un, Trump taking the word of Vladimir Putin over the US intelligence community, ALL OF IT.
And now Pete is talking about using rural America to fight climate change, it is very #smart.
10:23
Q: Joe Biden, can you cut deals with segregationists to fight climate change?
HAHAHAHA that was a cheap shot from Wonkette, Rachel Maddow did not ask that at all.
10:24
Hahaha, Eric Swalwell does the "pass the torch" line AGAIN to fix the climate change issue, in case you didn't hear him the first time when he said Biden and Bernie are OLDS.
10:26
RAPID FIRE, FIRST THING YOU DO IN YOUR PRESIDENCY IF IT'S THE ONLY THING YOU GET PASSED:
SWALWELL: Gun control
BENNET: climate change/economic stuff
GILLIBRAND: Family Bill Of Rights
HARRIS: I like Kirsten's! And also tax cut for middle class, DACA, Gun stuff, ALL OF IT.
SANDERS: I do not like this question, we have to do a REVOLUTION.
BIDEN: I would like to relitigate Barack Obama's first year in office, Chuck Todd, you are bad at knowing things and asking things. Anyway, first thing I would do as president is "defeat Donald Trump." (????)

BUTTIGIEG: Fix our damn democracy.
YANG: gIVE YOu tHOSaND doLLARS
STINKINSLOPPER: Dunno, weren't listening
WILLIAMSON: Call the prime minister of New Zealand!
Wow what WAS that.
10:33
We can see why they took a long break that time, because that last thing was a FUCKSHOW.
Anyway, we are back, and talking about guns.
MADDOW: How you gonna grab errbody's guns?
SWALWELL: By letting you keep the regular ones and do a buy-back for all the war weapons, it is not too complicated. He cares about these things because he is a dad and a prosecutor and he gave a really good answer so we won't make fun of him too much.
MADDOW: Bernie, do you still believe that states should make decisions on guns, like you said in 2013?
SANDERS: You mischaracterize!
MADDOW: I read your quote.
(audience laffs)
Anyway, Swalwell and Sanders fight for a sec, and very quickly it is Kamala Harris's turn.
She says Swalwell's ideas are great, as prez she will give Congress 100 days to take all the great ideas and fucking fix it, and if they won't, she'll do it by executive order, goddammit. Says she's been way too up close with all these issues, hugged too many moms of homicide victims, and you know why? Because KAMALASACOPPPHASHTAGTWITTER!
Buttigieg chimes in with something very measured and smart, because he is measured and smart, unlike all the other boys, who are shrill.
10:39
Question from the audience!
Kathleen would like to know what about HER EMAILS, just kidding, there are no emails in this debate.
How do we fix all the damage Trump has done to America, starting to day one?
BENNET: That is a good question, here are a lot of good answers. Mentions, for example, that the world doesn't even believe our president when he says Iran bombed a thing. That's fucked up, right? Pretty fucked up!
Now they are going DOWN THE LINE and saying who their first call would be, to start repairing our alliances abroad and confronting threats we face.
WILLIAMSON: Call the European leaders and say WE'RE BAAACK!
STICKINPOOPER: He would call 'GINA.
YANG: He would call a country with lotsa foreskin, just kidding China and North Korea.
BUTTIGIEG: "We have no idea which of our most important allies he will have pissed off by then." FUNNY.
BIDEN: NATO
SANDERS: It's not just one country, it's the whole United Nations!
HARRIS: All of NATO.
GILLIBRAND: Iran, to stabliize Middle East.
BENNET: Everybody who is our allies or Central American.
SWALWELL: Something about Russia and NATO.
10:45
BREAKTIME! We are guessing closing statements come next and then this shit will be over.
Hey, while you are here, if you love Wonkette and you love ME and you love our liveblogs and you love ME, you need to know that Wonkette is 100% funded by YOU, so please hit those donation buttons to subscribe and/or donate and/or DO BOTH! We love you, you literally pay our rent.
10:49:
CLOSING STATEMENTS!
SWALWELL: I am a father. When I am not changing diapers, I am changing Washington. Washington is stinkier than diapers. I approve this message.
WILLIAMSON: The GOP won in 2016 by picking an idiot celebrity, why not our turn? Just kidding, she is talking into the screen about how she is going to GRAB TRUMP BY THE LOVE HANDLES, with love, and then she will be president, obviously.
BENNET: Story about his family, it is nice, we are very certain.
POOPERSCOOPER: I'm scccrrrrrrrappy! Down with socialism!
GILLIBRAND: Women in America are ON FIRE. Well guess what I have been a woman on fire in Washington opposing Trump harder than any of these other posers.
YANG: gIVe U 1 moaR tHoSaNd dOlLars?
HARRIS: "We need a nominee who has the ability to prosecute the case against four more years of Donald Trump, and I will do that."
10:59
UH OH! All our shit froze up, but to the best of our recollection, these were the last three closing statements:
BUTTIGIEG: None of this is theoretical for me. I have written the "just in case" letter to my family, because I was serving in war. I am married because of one vote on the Supreme Court.
SANDERS: A very Bernie closing statement about very Bernie things.
BIDEN: A very Biden statement about very Biden things.
Annnnnnnnnnnd in the after-coverage, the first thing brought up is the picture Kamala Harris tweeted of herself as a little girl, after her heartfelt statement to Biden about busing.
11:01
A source close to the Biden campaign tells me his staff is "freaking out" about his poor performance tonight.

— Olivia Nuzzi (@Olivia Nuzzi) 1561689129.0
We would be too.
OK, liveblog over! We love you, muchly! Goodbye!
gIvE uS thOsaNd dOlLarS!
Follow Evan Hurst on Twitter RIGHT HERE, DO IT RIGHT HERE!
Wonkette is ad-free and funded ONLY by YOU, our dear readers. If you love Wonkette, SUPPORT WONKETTE.

Evan Hurst
Evan Hurst is the managing editor of Wonkette, which means he is the boss of you, unless you are Rebecca, who is boss of him. His dog Lula is judging you right now.
Follow him on Twitter RIGHT HERE.