Liveblogging the Elena Kagan Confirmation Hearings, Part II
News
June 28, 2010 03:49 PM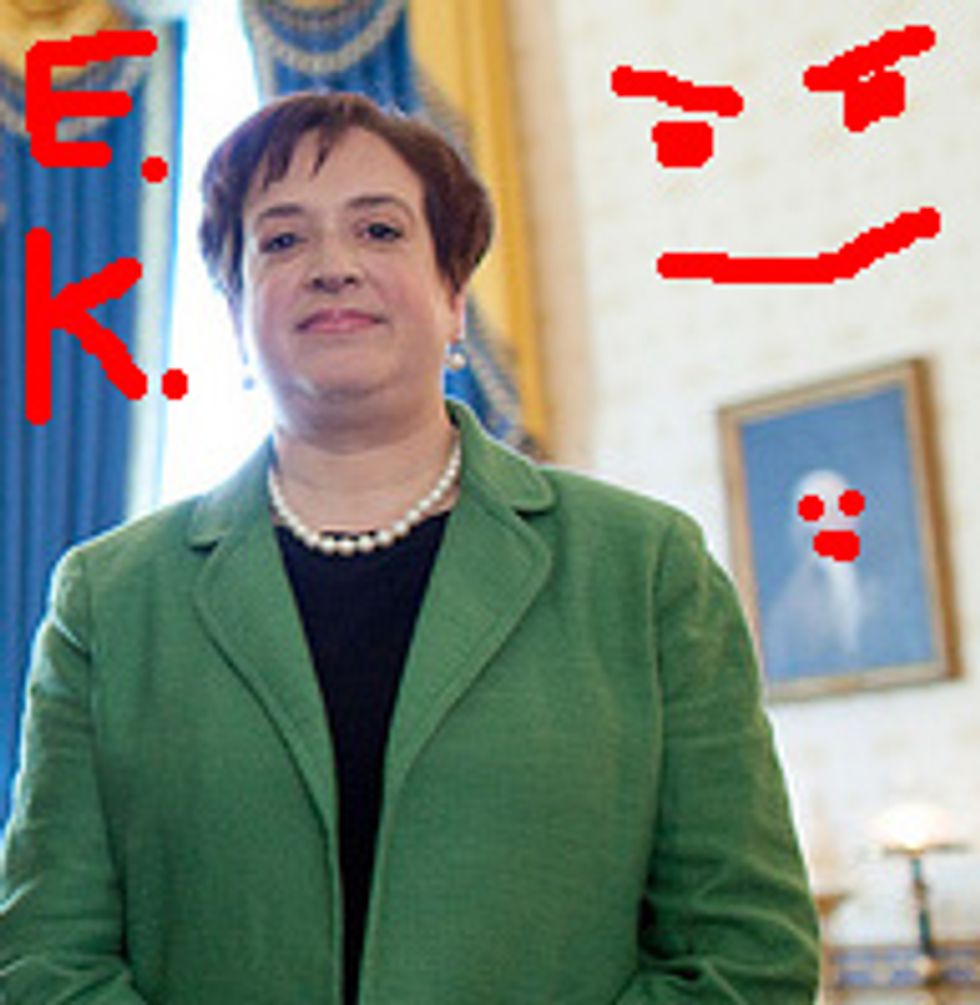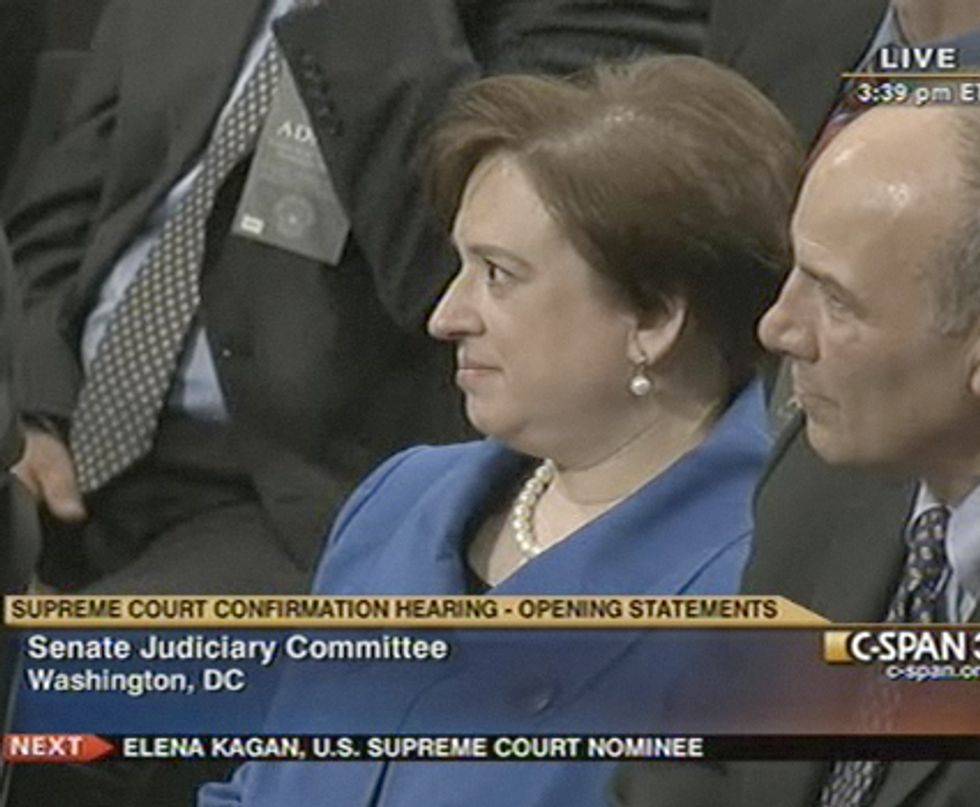 Ken has apparently died [IT IS CALLED "LUNCH AFTER WRITING FOR SEVEN HOURS," JACK -- Ed.], so here is a part two, at last, to this boring, meaningless ceremonial affair. Right now John Kerry and Scott Brown are the first "witnesses," here to introduce Kagan and pretend they know she will be a good judge and not try to rape everybody who comes in front of the Supreme Court. Right now we can officially call it: She WILL be confirmed, as Scott Brown is apparently the Robin to John Kerry's boring confirmation Batman, and also Robert Byrd's ghost will be wheeled in later and allowed to vote to confirm her.
---
3:48 PM -- Scott Brown does not continue the fapping about how great his predecessor Ted Kennedy was, electing instead to honor Robert Byrd and—
3:48 PM -- BREAKING NEWS, KAGAN JUST REACHED IN HER SHIRT AND ADJUSTED HER BRA OR SOMETHING. (Probably lighting it on fire. SHE'S A RADICAL!)
3:51 PM -- Kagan looks so sad and scared that Scott Brown introduced her but did not automatically endorse her. She must have switched off her burning bra quickly, as there is no fire.
3:51 PM -- SHE DID IT. SHE GAVE HER OATH.
3:51 PM -- Leahy called her "Sister General." Now she is speaking. LOOK, SHE CAN TALK, AFTER ALL THIS BUILDUP!
3:52 PM -- Kagan leads off with Robert Byrd love. By the way, Ken somehow missed this, Byrd's greatest legacy, earlier.
3:55 PM -- Kagan discusses her parents now, who are dead and less important than Robert Byrd to her.
3:55 PM -- Kagan thanks the female justices who went before her for "pioneering," and says she often puts their names in when she plays Oregon Trail on her 1990s Macintosh.
3:59 PM -- Fox cuts to a shot of Schumer, who looks like he's in love. It must be the sound of someone talking smart-like in that New York accent, reminding him of his first and only love, himself.
4:00 PM -- Kagan just giggled for some reason, but we missed why. Maybe she looked down at her silly giant clown buttons?
4:02 PM -- Al Franken is about to fall asleep or else his eyebrows are about to shoot off his face.
4:03 PM -- "I will make no pledges this week." Alright! We can stop this now! You're confirmed!
4:04 PM -- She is done now with her speech. She said nothing but managed to not shit on liberty, instead PRAISING it, of all things.
4:05 PM -- There is a giant woman with giant, long gray hair in the hug line. "Softball" "teammate," "Kagan"?
4:07 PM -- Kagan is smiling! She seems to like confirmation hearings and answering questions and being a good judge. INTERESTING TACTIC.
4:08 PM -- SO MANY HUGS. SO. MANY. HUGS. And now she's gone.
4:08 PM -- And now everyone else is filing out. Longest liveblogging ever!
4:13 PM -- In conclusion, Kagan was boring. And everything in this hearing was boring. This will all be boring. Nothing said will really be objectionable, unless a Republican says it, and then Kagan can just roll out her wife to sit behind her and cry, like Alito did, and everything will be done with. Goodnight, everyone!