Liveblogging the Glorious Primary Time of Middle America, America's America
News
August 03, 2010 08:06 PM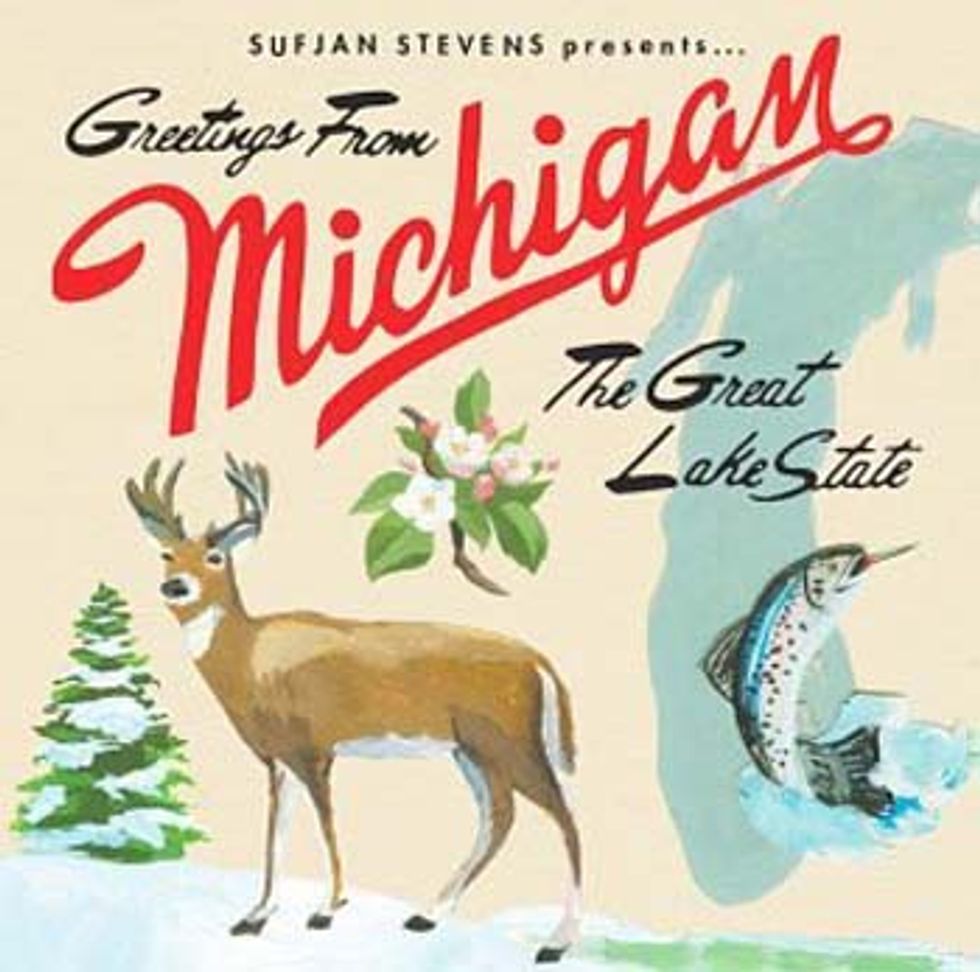 Tonight Michigan, Missouri, and Kansas decide their futures. Choose one candidate, and everybody gets laid tonight by a hot person. Choose another, and we all drown in a giant America-sized vat of Liquid-Plumr. Which choice will they make? The Michigan state bird is the robin! The Missouri state bird is the bluebird! The Kansas state bird is the western meadowlark! LET'S DO THIS THING. Crank up the Sufjan Stevens! We have U.S. senate and gubernatorial primaries to make little jokes about, folks.
---
8:06 PM — Important Michigan news: the Detroit Tigers are somehow winning 5-0, despite basically being a minor-league team right now because of all their injuries. DOES THIS MEAN UNDERDOGS WILL RULE THE NIGHT? Yes.
8:08 PM — With 0.0% of precincts reporting, there is nothing to report.
8:12 PM — Haha, Rick Sanchez is wearing reading glasses. He looks so smart! Yes, it appears nobody in the cable LAMESTREAM MEDIA is covering this. So all the glory falls to your afternoon editor.
8:18 PM — This Rick Snyder man is a Republican candidate for Michigan governor. Haha, nerd! "A very bright entrepreneur." More like a very bright entrepreneur of your editor's ass! Wait, that sounds bad.
8:20 PM — Here is a P'o thing about tonight's races. Vroom vroom!
8:28 PM — Aww, this is cute: Rick Synder's website doesn't work right now because this UStream up of his impending concession speech is messing things up.
8:33 PM — Here is a fun attack ad. Michigan Attorney General Mike Cox tearfully made a speech a few years back admitting he had an affair (with his cock[x]). And now he is being attacked with rumors that he went to one of America's Sext Mayor Kwame Kilpatrick's hip mayor's-mansion sex parties. Haha, "Cox."
8:38 PM — Also running in the Republican primary: U.S. Rep. Pete Hoekstra. He is generally an ass.
8:43 PM — Here is the platform on Hoekstra's website. He wants to be your slaveboy, Michigan! Whip him, please. He likes it when you whip him.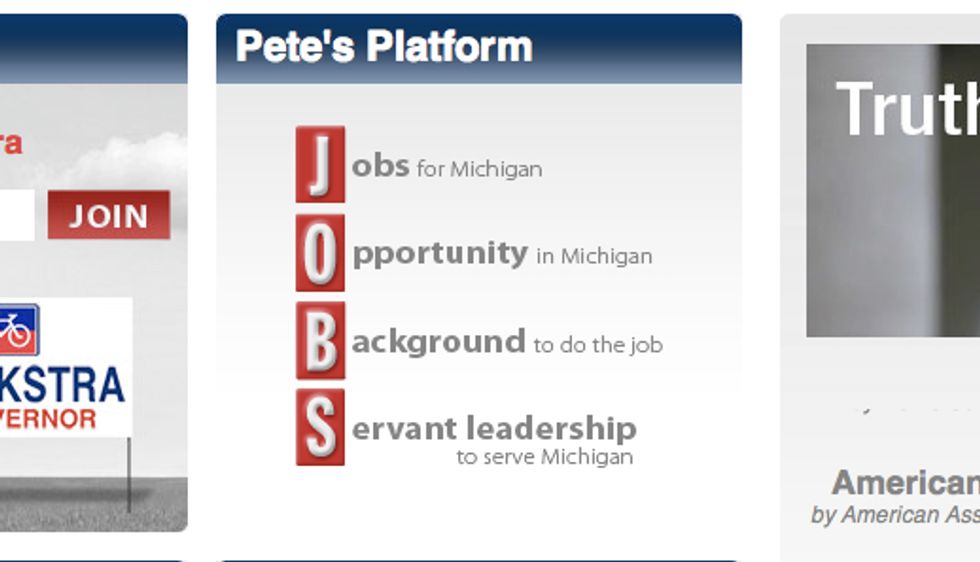 8:50 PM — chascates says somebody on Twitter called the Kansas GOP governor primary for Sam Brownback, and that is good enough for us. Once Brownback wanted to be president of the United States, but now he shall be president of Kansas, which is just as good.
8:51 PM — chascates has now UNDECLARED Brownback the winner. Grow some balls, chascates! We are still calling it for Brownback.
8:59 PM — The Detroit Free Pressis reporting that Lansing Mayor Virg Bernero has defeated House Speaker Andy Dillon for the Democratic nomination for governor. The ONE TOUGH NERD is magically leading Hoekstra and the Cox 36%-30%-19% according to their projections. Will Michigan be led by a nerd or the only person in the state to be named "Virg" or "Bernero"? It is amazing because these things both seem pretty foreign to the Great Lakes State.
9:01 PM — With 1.8% of precincts reporting, a little green checkmark graphic has called the Missouri Democratic nomination for U.S. Senate for Robin Carnahan. Also expected to win: Roy Blunt for the Republicans. The real winner is nepotism.
9:05 PM — The little green checkmark has now confirmed Wonkette's confirmation of chascates' confirmation that somebody on Twitter called Sam Brownback the winner in his GOP governor's race. He will face the unopposed Democrat Tom Holland, who is known as cool and extreme among Kansas youths because he has the same initials as skateboardman Tony Hawk.
9:19 PM — Holy shit, you need to look at this dumb "humor" video Roy Blunt put up on his YouTube account. What the fuck? The Riddler works with Batman and Robin? Nancy Pelosi is not assigned a superhero/villain? Obama is voiced by a white robot so as not to sound black so as not to sound racist? Also, we thought conservatives thought Obama was Heath Ledger. WHAT IS GOING ON?
9:21 PM — Batman-hater Congressman Roy Blunt has been declared the winner of his race. Smoke 'em if you got 'em, etc.
9:25 PM — Please remember that this number is not that of your dealer, though it should be. (Also, look at this Facebook account name: "bluntrd." Haha, Bluntard, Blunturd.)

9:40 PM — Tigers win! And now we continue here.