Liveblogging The Pre-Game To Obama's Saucy Congressional Gangbang!
News
February 24, 2009 08:31 PM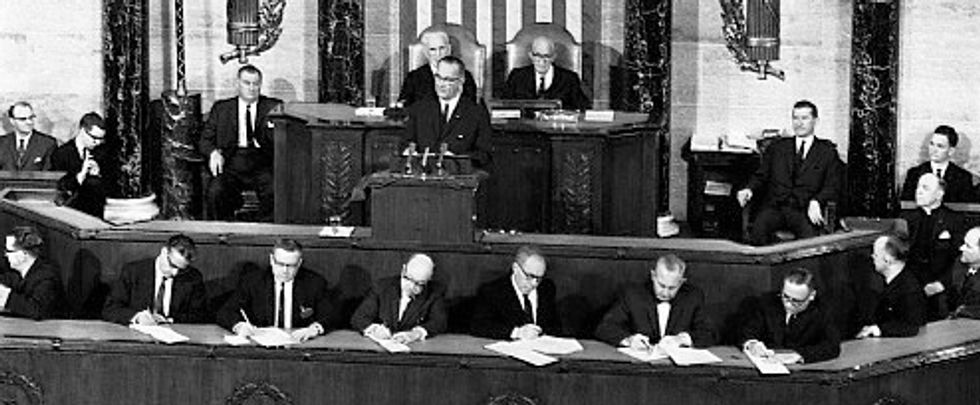 Oh jesus we turned on the CNN and the first thing we heard was your favorite Campbell uttering that most terrifying word from 2008: "expectations." As in, "Hey Roland, what expectations does President Obama have to meet tonight in order to 'win' the American people? David and Jeffrey, you guys just chime in, after Roland." These people do know that Barack Obama won the election, which was last November, right? Anyway let's see what other post-analytical proverbs of doom the CNN folks can bestow upon us.
---
8:32 -- Campbell Brown shows the results of a Facebook Poll. A number of Facebook users are worried about their "home value" above all else. Isn't Facebook just a bunch of college kids? No wonder so many of them defaulted!
8:33 -- Oh sweet, a commercial break. What's K-Lo up to?
Now They Tell Us [Kathryn Jean Lopez]
Radical communism!
8:35 -- Campbell shows up a "live picture" of Obama's motorcade leaving the White House. This speech, it's really happening!
8:36 -- WOOOOOOOOOOOLLLLLLLFFFFFFFF
8:37 -- Ooh, Wolf and Anderson Cooper went to the White House today, and guess what they learned? The speech will be 45 minutes to an hour long. The Obama White House is so transparent.
8:38 -- "Here are some old coots on the Senate floor, waiting."
8:39 -- Wolf says that Bobby Jindal has a "very compelling story" to tell America in his response. Maybe... THE EXORCISM STORY?
8:40 -- John King: Obama needs to use medical surgeon metaphors, to meet expectations. Extended metaphors. Oh good lord John King is telling the longest medical surgeon metaphor of all time.
8:41 -- John King has other metaphors, too. He says the American people want to know if Obama will take "the knife to the sacred cows," meaning, "will he cut entitlements." On the other hand, they were just talking about Bobby Jindal, so John King is basically racist.
8:42 -- We see that some of you would rather watch MSNBC. Well that's not in HD on Comcast (DON'T GET US STARTED), and we demand to see every pore of our cable teevee hosts. Besides, MSNBC is nuts.
8:43 -- Joe Biden shows up, HEY-O!
8:44 -- C'mon, CNN, the people want it, put the camera on America's new hero. We can hear the chants in the background... Cantor, Cantor, CANTOR, CANTOR...
8:45 -- BET's senior political analyst is on CNN. Guess BET is showing something else?
8:47 -- Wow, CNN has the editor of Forbes on, and he says (paraphrasing but not really), "Basically no one is for nationalization of the banks." Best Political Team on TeeVee, and they don't even have to read news about politics.
8:49 -- Hey there's Roland Burris entering the Senate behind John McCain. Did you know that Dick Durbin was racist to Roland Burris today?
8:50 -- There's John Kerry! The drinking game rule for a John Kerry sighting is, "cut your eyeball."
8:51 -- Candy Crowley has the scoop on Jindal! We'll hear both "bedrock conservatism" and "a mea culpa," so get your dancing pants on.
8:52 -- Hey look, it's our own Mayor Adrian Fenty... yeah, got nothing.
8:53 -- Oh thank heavens that Chelsea "Andrew Sullivan" Sullenberger is there, too; he's more or less the only non-shitsack human being left in America, and we should pay him tax money just to walk across the country and smile and land planes everywhere.
8:54 -- CNN warns: the Markets will react immediately, so Obama better be uhh good!
8:55 -- Forbes editor screams about Communism and Jacobins.
8:57 -- Wonkette editor Ken Layne tells us that Chris Matthews said about Bobby Jindal, "I'm not impressed with this guy one bit." He picked this verdict arbitrarily out of a hat, it sounds like.
8:59 --
9:00 -- Nancy Pelosi introduces Sully Sullen Sullenberg Sullenberger. Love that guy.
9:01 -- OK THIS LIVEBLOG IS DONE, disgraced mountain goat Ken Layne will now be writing words for you, here. Good luck, Barry!