Look Over Here, Elon! Devin Nunes Has Different Better Business Opportunity For You!
Tech
April 14, 2022 04:28 PM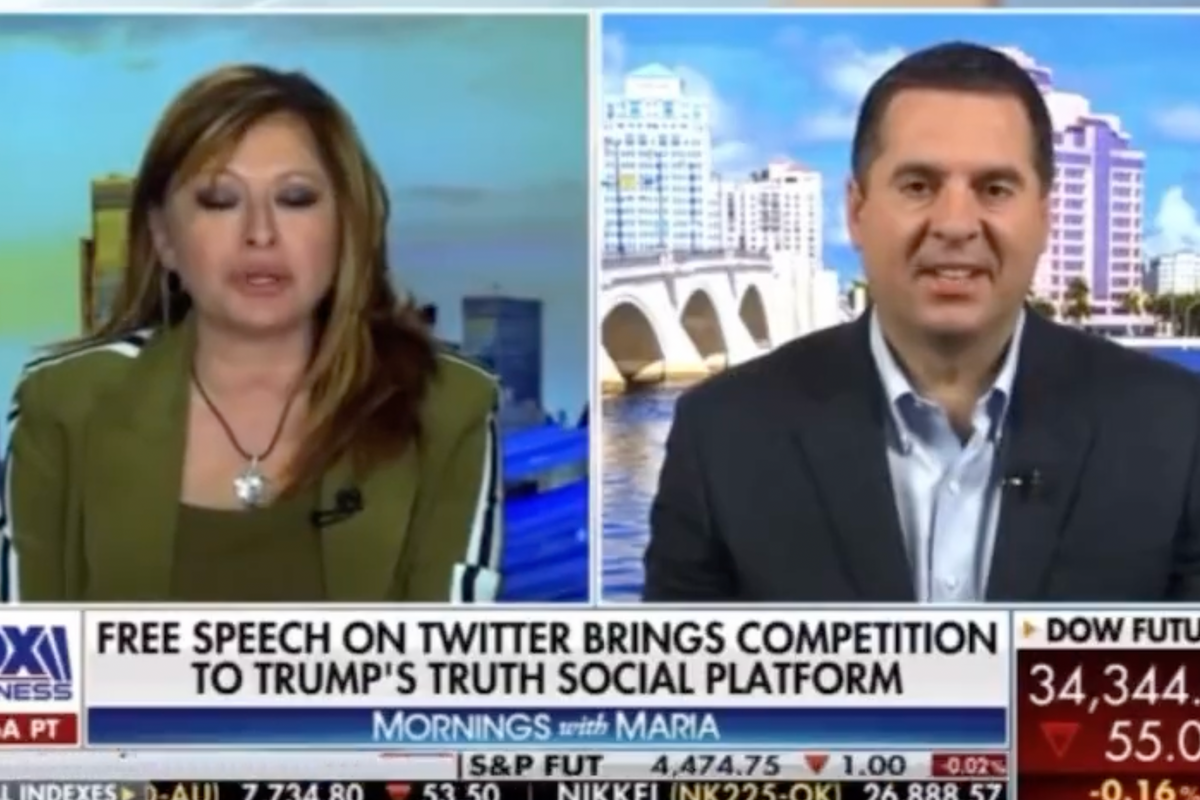 The other night Devin Nunes sat down with Fox's Maria Bartiromo to shit talk Twitter. Again.
"What is Twitter? Most Americans don't use Twitter," the congressman-turned-Truth Social CEO scoffed barely a day before news broke of Elon Musk's supposed offer to buy the company and take it private. "Twitter is a press release wire, it's a place where celebrities go and put out a press release. It's nothing more than that."
Let us pause here and note that Nunes's boss Donald Trump has filed a federal lawsuit to get back on the "press release wire" in which he argues that Twitter is the public square and demands millions in punitive damages for the loss of his precious account. And not for nothing, but Donald Trump won't wipe his ass with his own janky platform, much less post on it. But go on.
"Compared to what we're doing at Truth, where we're building a community, we're not a place for celebrities to put press releases — I mean, you can," Nunes chuckled.
---
Devin Nunes is back: \u201cTwitter is a press release wire, it\u2019s a place where celebrities go and put out a press release. \u2026 You know, compared to what we're doing at Truth, where we\u2019re building a community, we\u2019re not a place for celebrities to put press releases \u2014 I mean, you can.\u201dpic.twitter.com/zKohfWQhrr

— Eric Kleefeld (@Eric Kleefeld) 1649856225
Do watch the whole clip, where Nunes tries to sell Elon Musk on the idea of just joining Truth Social instead. You know, as long as he has an iPhone.
This is Nunes's second trip in a week to talk up his platform to the Money Honey, perhaps the only person north of OAN who can listen to him spew this bullshit with a straight face.

"It's clear that Twitter is kind of a ghost town," he said last Thursday," adding that "there's not very much activity over at Twitter right now, especially when you compare it to sites like ours where we're just in our beginning stages as we continue to test and bring people on day by day. Our interactions are already beating Twitter."
Define "beating?" Because you still can't get the Truth app on Android, the waitlist appears to be stalled out, and, as Daily Beast reporters Adam Rawnsley and Asawin Suebsaeng have reported, Truth is currently hosting just 513,000 daily active users, compared to about 217 million on Twitter.
But seems like Our Dev likes the humiliation, so he soldiers on. And a good thing, too, since Axios reported this morning that Truth had put up a bootleg account for Fox News, complete with a red checkmark to indicate it was verified — see, this platform isn't a cheap knockoff, they changed the color and everything!
"Great to have RSS feed for @FoxNews now LIVE here on TRUTH! This adds to @OAN and @NewsMax," Nunes, uh, "truthed." (Don't look at us like that! It's not our fault those doofuses call their fake tweets "truths" and RTs "retruths.")
Only Devin's truth wasn't true at all.
"We are not on Truth Social," a Fox News spokesperson told Axios.
Turns out that one of the ways Truth is "building a community" is by setting up accounts for media outlets and sports brands who have no relationship with the platform. For TMZ and the NFL, instead of a red check, there's a disclaimer that says the account is a bot. Only the Fox News avatar appears to have the imprimatur of legitimacy.
So did Devin "truth" this by accident? Did he really think Fox News had set up an account? Can he really be that bloody incompetent? Or was he lying out his sorry face, if you can even believe such a thing? Was he technically truthing -- that the Truth Social idiots had linked a Fox News RSS feed -- in hopes the shit platform's users would think it was the real thing?
Ah, well, fake it 'til you make it. And if you don't make it, keep faking, and make a beeline for Maria Bartiromo.
OPEN THREAD.
[Axios]
Follow Liz Dye on Twitter!
Click the widget to keep your Wonkette ad-free and feisty. And if you're ordering from Amazon, use this link, because reasons.
Liz Dye
Liz Dye lives in Baltimore with her wonderful husband and a houseful of teenagers. When she isn't being mad about a thing on the internet, she's hiding in plain sight in the carpool line. She's the one wearing yoga pants glaring at her phone.