Looks Like Pennsylvania's Not Finished Voting Against Doug Mastriano!
State/Local Politics
March 08, 2023 01:26 PM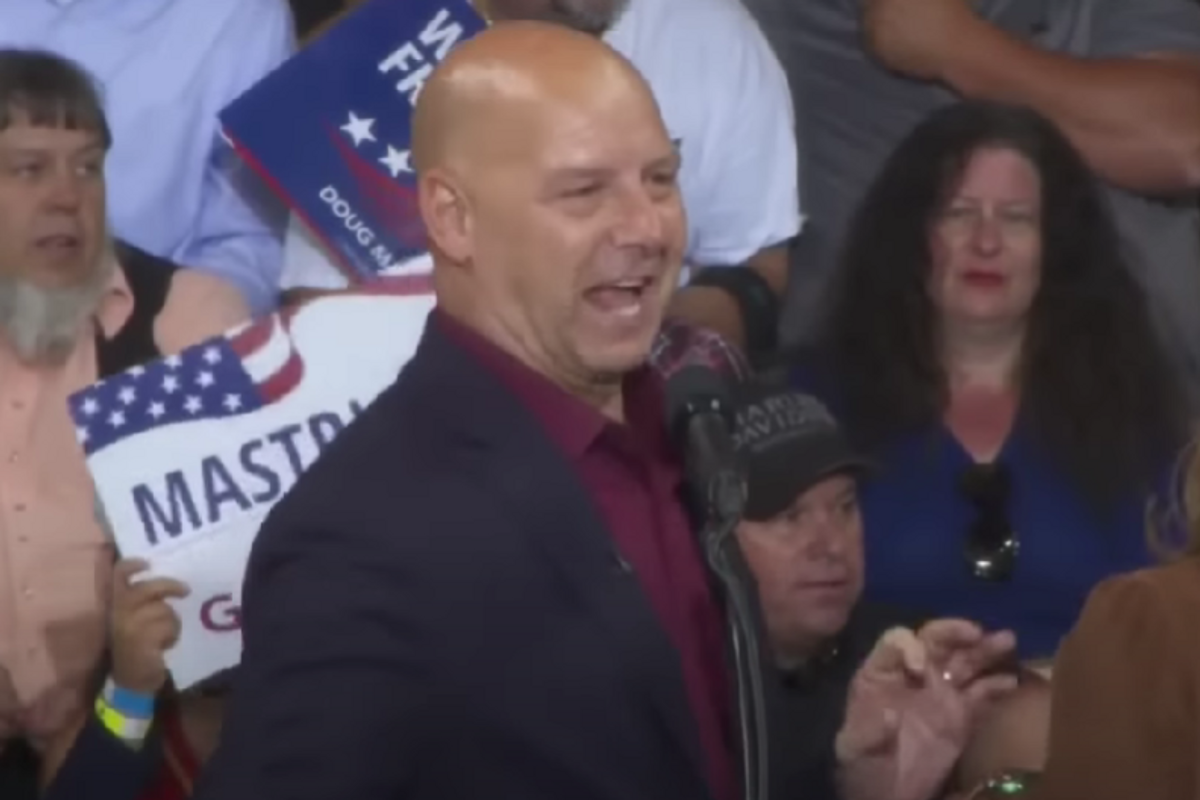 Doug Mastriano is the election-denying insurrectionist Republican whom Democrat Josh Shapiro beat like a drum in last year's Pennsylvania governor's race. It wasn't even close. Shapiro won by 15 points in both a swing state and a supposed "red wave" year. Politico describes these results as "an almost unheard-of shellacking in a battleground state where winners and losers are often separated by a single percentage point."
However, Mastriano is an optimist or just very stupid. He still has political ambitions. He claims he's converted millions of people to his cause and "can now strategize, politically, about how to use them."
PREVIOUSLY:
Doug Mastriano Loves Confederate Cosplay And Also Conversion Therapy

Doug Mastriano's Voters Gonna Be Very Hungry Losers Come November
"What do you do with a movement of 2.2 million?" he told POLITICO on a recent day in his office in the state capitol.
I dunno: Hold a potluck dinner with a very expansive menu? What you can't do with this "movement" is win statewide office in Pennsylvania, as Mastriano just demonstrated.
---
Mastriano insists that he's keeping his "movement" alive and will transform the Republican pParty on his way to higher office.
He asked, "We've seen people in the past, other Republican gubernatorial candidates, they rise and they disappear when they lose. Why?" Because they lost and had the decency to stop humiliating themselves. Mastriano continued, "You have people that love you and support you."
Mastriano is "praying" over whether to run for US Senate next year. His primary consultants apparently are God and his wife, Rebbie. He should consider talking to real people.
Democratic Sen. Bob Casey is up for re-election in 2024. He's a popular incumbent who has handily beaten almost normal Republicans in the past. Reportedly, no one in the Republican establishment is eager for a Casey/Mastriano matchup, even in a difficult year for Democrats. Election forecaster 270 to Win classifies Casey's seat as "safe." We can't predict the future, but it seems unlikely that an anti-abortion, white Christian nationalist will deliver an upset.
Now, I can't help laughing at this passage from Politico:
What Mastriano ultimately decides to do will illuminate just how chastened the most diehard supporters of former President Donald Trump are after the 2022 midterms.
Sorry, cult members are not known for learning from their mistakes.Their vision of the future is a man walking into a rake forever.
Usually, losses of that magnitude drive people out of electoral politics. But the last three federal elections have been discouraging for Republicans, and each time, they've shown little desire to course correct.
Yeah, I think that's another cult person thing.
Trump himself is campaigning again in 2024 and remains the frontrunner for the nomination. Whether the GOP finally does move on will be determined, in large part, by how Republican primary voters treat potential and declared candidates like him and Mastriano.
Establishment Republicans are feckless cowards who couldn't stop Mastriano in 2022 and will likely fail to do so again. State Republicans are currently courting former hedge fund CEO Dave McCormick, who narrowly lost last year's Senate primary to Dr. Mehmet Oz. They're convinced McCormick can win over the suburban voters who recoil at Mastriano's extremism. Of course, McCormick himself is a sell-out who tried and failed to win Donald Trump's endorsement and employed former Trump stooges during his campaign.
However, Mastriano does concede that Republicans not embracing "no-excuse mail-in voting" might've cost him the election. He also claims that rejecting mail-in voting is "so antithetical to how I view elections." (Even Trump has seemingly softened his position on mail-in voting.)
Mastriano won't attack potential primary rival McCormick but he's already set his sights on Casey.
"How do I beat the Casey name? 'Mastriano'?" he said with a grin. "At least they know who I am now."
Well, sure they do, but that's not a good thing.
[Politico]
Follow Stephen Robinson on Twitter if it still exists.
Did you know SER has his own YouTube Channel? Well, now you do, so go subscribe right now!
Subscribe to the Wonkette YouTube Channel for nifty video content!
Click the widget to keep your Wonkette ad-free and feisty.
Stephen Robinson
Stephen Robinson is a writer and social kibbitzer based in Portland, Oregon. He writes make believe for Cafe Nordo, an immersive theatre space in Seattle. Once, he wrote a novel called "Mahogany Slade," which you should read or at least buy. He's also on the board of the Portland Playhouse theatre. His son describes him as a "play typer guy."