Lyft Drivers Reach Triumphant Settlement, Somehow End Off Even Worse
US of America News
March 19, 2016 01:00 PM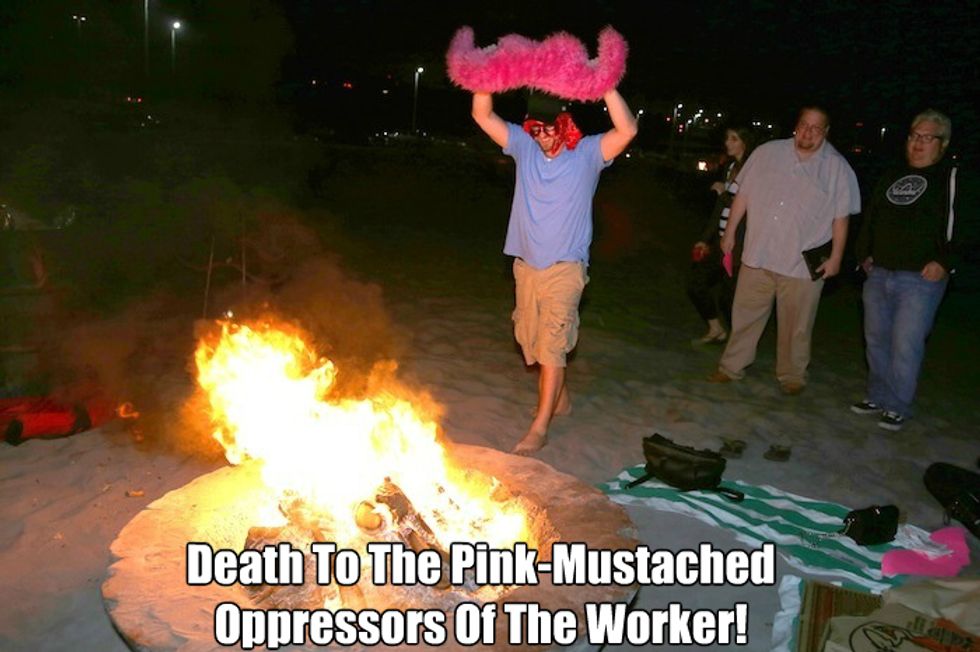 It's Lawsuit Saturday! So who's harassing our beloved Corporate Persons with frivolous allegations of misrepresentation and wage theft this week?
---
Probably just some commoners unable to achieve on the same playing field as our successful corporate exemplars without the help of Obama-loving trial lawyers.
Court Holds Duracell's 'Truthiness In Advertising' Is About As Good As We're Gonna Get
Battery behemoth Duracell faced a class action lawsuit alleging it misled consumers with ads and packaging guaranteeing that its batteries would not fail for 10 years. In reality, it might not be nearly that long before you kill yourself trying stop the carbon monoxide detector's incessant low-battery beeping. But it just wasn't your day, class action plaintiffs.
[U.S. District Judge Lucy] Koh said reasonable consumers would understand that P&G's representation that the batteries were "guaranteed for 10 years in storage" was a warranty to repair, replace or refund batteries that failed within that timeframe, and not a promise that the batteries "have no potential to leak."
"Guaranteed 10 years in storage" doesn't exactly sound like it includes an implicit warning about normal battery leakage, but we'll defer to the 33 page opinion that we're not going to read. However, with all due respect to the rationale of Judge Koh, the "reasonable consumer standard" seems like an inapplicable legal argument since we are not reasonable consumers. We're Americans.
A more appropriate rationale would absolve Duracell under the "don't believe the hype" doctrine. Of course ads are going to be misleading to varying degrees.
Advertisements and fancy packaging aren't much more than branding buzzwords. They're simply things our corporate persons say. Like "naturally flavored" or "friendly skies." They're expressions used to induce us to buy shit. There's no harm there. We're going to keep buying unnecessary garbage regardless. That's our thing.
Lyft Drivers Started Near The Bottom. Now They're There.
[contextly_sidebar id="3Ggy5zFHJpDBFFIKqYgAFzGfQvUUowlH"]Greetings from the Sharing Economy, where the only law is the infallibility of the 5-star rating system. The Teamsters and assorted Lyft drivers are contesting a settlement reached in a class action lawsuit that sought to define Lyft drivers as "employees." The proposed settlement of $12.25 million affects approximately 100,000 California Lyft drivers. But here's the thing: the settlement would leave the drivers classified as "independent contractors" and continue to shut them out of most worker protections and financial benefits enjoyed by the rest of us "employees." The prevailing "independent contractor" boondoggle is such a nonsensical windfall for our Corporate Persons that even the judge expressed skepticism at the proposed agreement.
The court questioned why it should approve a settlement that resulted in drivers ending up "closer to independent contractor status" than before, a result that is "contrary to the original goal of the lawsuit".
That's probably a great question for attorney Shannon Liss-Riordan, who also happens to be representing Uber drivers in a similar class action. You might think benefit eligibility, expense reimbursement and a semblance of security in the face of constantly impending financial catastrophe might be worth something to a Lyft driver. But according to the terms of the settlement, those are nothing, and drivers will instead be delighted to get a one time pay out of $53 or $679 dollars.
Next iPhone Offers Less, People Probably Already Waiting In Line
In non-lawsuit news for Sheeple, we will soon have a new iphone from the corporate person most likely to be named on Americans' power of attorney forms. I'm sure there are great new features! Invisibility cloaking software? Does it emit freshly baked cookie smells? Postmates, but for weed?
The ambitions for the new phone may be commensurate to its diminutive size. Unlike previous new iterations of the device, the 4-inch iPhone won't be packed full of technological innovations intended to send hordes of Apple fans queuing around the block on launch day to snap it up. Instead, it's meant to woo those still clinging to the more than two-year-old 5S or 5C, the last models with the more compact screen.
[contextly_sidebar id="2S4faIwpRDigQksHF2V3wfNYa8apm8ga"]It's smaller!!! Now everyone run out and buy three while you continue to pay off the two old ones. Apple can mail it in at this point, because we're all suckers. Bigger was better, now smaller is baller.
This is the leftovers of phones. Apple pretty much took all the wires, pixels and whatever shitty U2 album was lying around its sweatshop floor and packaged it in a slightly smaller case. They're expected to sell 15 million annually because "innovation." Ta-da!!!