Machete-Wielding Caribbean Pirates Conquer Stephen Breyer's Tropical Palace
News
February 13, 2012 04:27 PM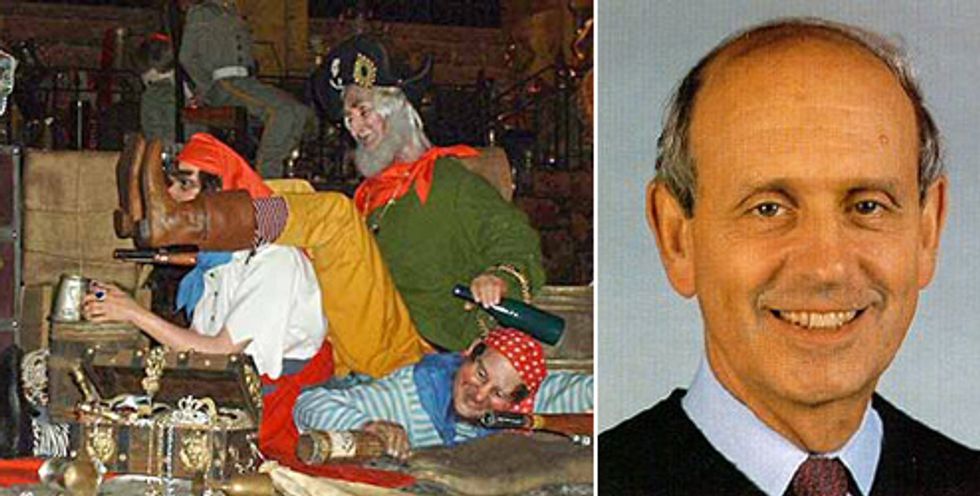 What have the pussy liberal Supreme Court judges gotten themselves into now? Justice Stephen Breyer, for one, was drinking parrot blood and making abortion jokes with friends in his Golden Hispaniola Caribbean Palace last Thursday when Keith Richards and Captain Blue-Beard sneaked in through the slaves' door, machetes in hand, killing everyone and seizing the Breyer estate's Booty as patronage for their Squid Queen.
---
This is what happened, right, AP stringer?
WASHINGTON - A Supreme Court spokeswoman says Justice Stephen Breyer was robbed last week by a machete-wielding intruder at his vacation home in the West Indies.

Spokeswoman Kathy Arberg said Breyer, wife Joanna and guests were confronted by the robber around 9 p.m. EST Thursday in the home Breyer owns on the Caribbean island of Nevis. Arberg said the intruder took about $1,000 in cash and no one was hurt.
Close enough.
Should Stephen Breyer now recuse himself from the health care reform case, after being robbed by Caribbean pirates?