MAGA Assaults Jussie Smollett Just Like The KKK Would Because They Are The KKK Now
Post-Racial America
January 30, 2019 01:40 PM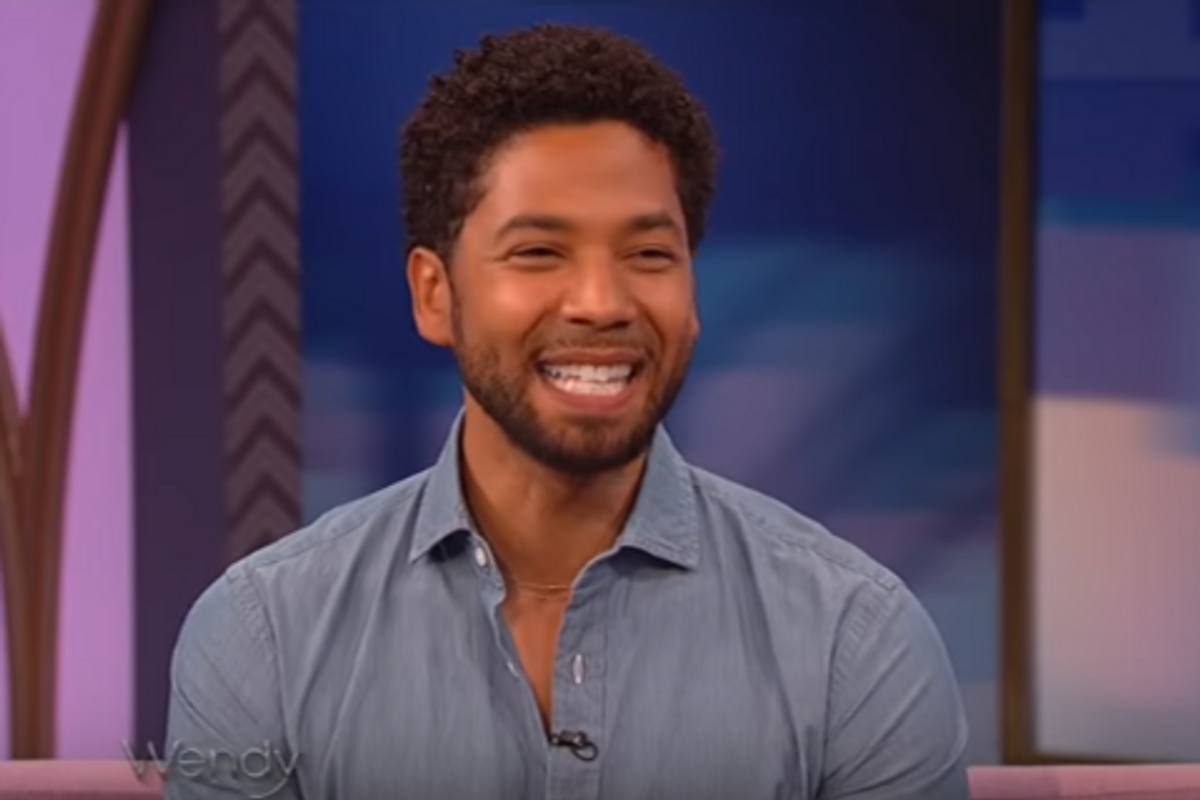 "A Modern Day Lynching" are the words Kamala Harris used in describing the attack on actor and recording artist Jussie Smollett early Tuesday morning. Has America ever been known for having random randos jump out of the bushes to beat openly gay actors up because "This is MAGA country!!" before? Exactly. I'm pretty sure they used to say, "This is Klan Country, BOY!" before they beat you up and put a noose around your neck. Times sure have changed!
Remember that thing called "postracial" America? Well, you can go cry a river of bitter tears in remembrance, because it's dead, and it never was alive in the first place. For this week's edition of "Damn, I thought Mississippi Burning was a movie!" we shall discuss how it is that a couple of alleged MAGA Goonbros brutally assaulted "Empire" star Jussie Smollett right in the middle of the blackest place Trump knows of: Chicago.
---
Chicago is known for many things to us outsiders: awesome pizza [Editrix: incorrect], Al Capone, MJ and the Bulls, Robyn, Dom, and Barack and Michelle Obama (the kids too). So, correct me if I'm wrong, but, Chicago is NOT known as MAGA Country, right?
From TMZ:

"Empire" star Jussie Smollett was brutally attacked by 2 men who beat him up, put his head in a noose and screamed, "This is MAGA country."
When the fuck did CHICAGO become MAGA country?? I have not been to Chicago, ever, but I highly doubt it's so Trumpish that jerks are running around with prefab nooses in their pockets just looking for a smoking hot black guy to abuse.
Sources directly connected to Jussie tell TMZ, the actor arrived in Chicago from New York late Monday, and at around 2 AM he was hungry and went to a Subway. We're told when shortly after he walked out on his way home, someone yelled, "Aren't you that f***ot 'Empire' n*****?"
"Aren't you that f***ot 'Empire' n*****?"
Man, ain't this postracial life just peachy as hell? And before you start declaring how America is better than that, please stop. We are no better than the worst things we do to each other. If we were better than that, a man who bought a 6-year-old amputee a handicap accessible van would be safe on our streets, no matter what color he was or who was in his bed. If we were better than that, this wouldn't happen at all.
The 2 men -- both white and wearing ski masks -- viciously attacked Jussie as he fought back, but they beat him badly and fractured a rib. They put a rope around his neck, poured bleach on him and as they left they yelled, "This is MAGA country."
Jussie took himself to Northwestern Memorial where he was treated. He was discharged later Tuesday morning.
A threatening letter had been received days before the incident; unfortunately, Smollett declined extra security protection that might have helped ward off this homophobic and racist -- or possibly even "racially tinged" or "charged" or "racist-adjacent" -- violence. Maybe now Kevin Hart will begin to understand why it's not a joke to talk about beating your kid for being gay. Maybe the fact that you have sympathy for a person who just had your joke acted out upon his body will show you that it was never funny. And also, that apologies are a character building exercise to help the asshole (you) in the situation learn to be a better person.
Lee Daniels, who produces the show Empire, posted this message to his Instagram about the incident:
America always loves to give itself a pat on the back; not for actually changing facts on the ground to keep people of color alive, but for trying, making strides, changing hearts and minds, and "overcoming our bigotries" over time, we give ourselves full fucking credit. This is because America has always been stupid and lazy when it comes to bigotry. We refuse to do much else besides talk and look stupid when the next incident happens. Incidents like this are the shades of yesteryear, or many yesteryears ago; they are demons rising in the mists ready to devour us whole. Many of us fear the return of those warm summer nights; nights filled with magnolia scented death, and "strange fruit" gently swaying with the breeze. Instead we prefer Black Bike Week, Freaknik, Juneteenth, and BEING ALIVE to the old "castrate and lynch the negro" entertainment those strangers in the past enjoyed. Today we have MAGA, and these new Klansmen are much the same as the old Jim Crow era Klansmen. Apparently those who do not believe in evolution simply do not evolve. Instead they go abuse openly gay beautiful black entertainers who are just trying to get a fucking sandwich to eat.
Wonderbitch
Follow Wonderbitch aka Bravenak aka Bianca DeLaRosa, loves her jobs as Social Media Manager for Wonkette more than Sarah Huckabee Sanders loves lying to America. Bianca also moonlights as a Witch (THE BAD KIND!!) and is a Freelance Goddess of All Things Ever. Be very nice her because she likes to curse people, especially mean people. You can find Bianca on Twitter @Wonderbitch81, or email her at bianca@wonkette.com