Manhattan DA Fishes Trumpworld Fixer Matthew Calamari Out Of Tank, Cranks Up Heat
Trump
June 22, 2021 11:26 AM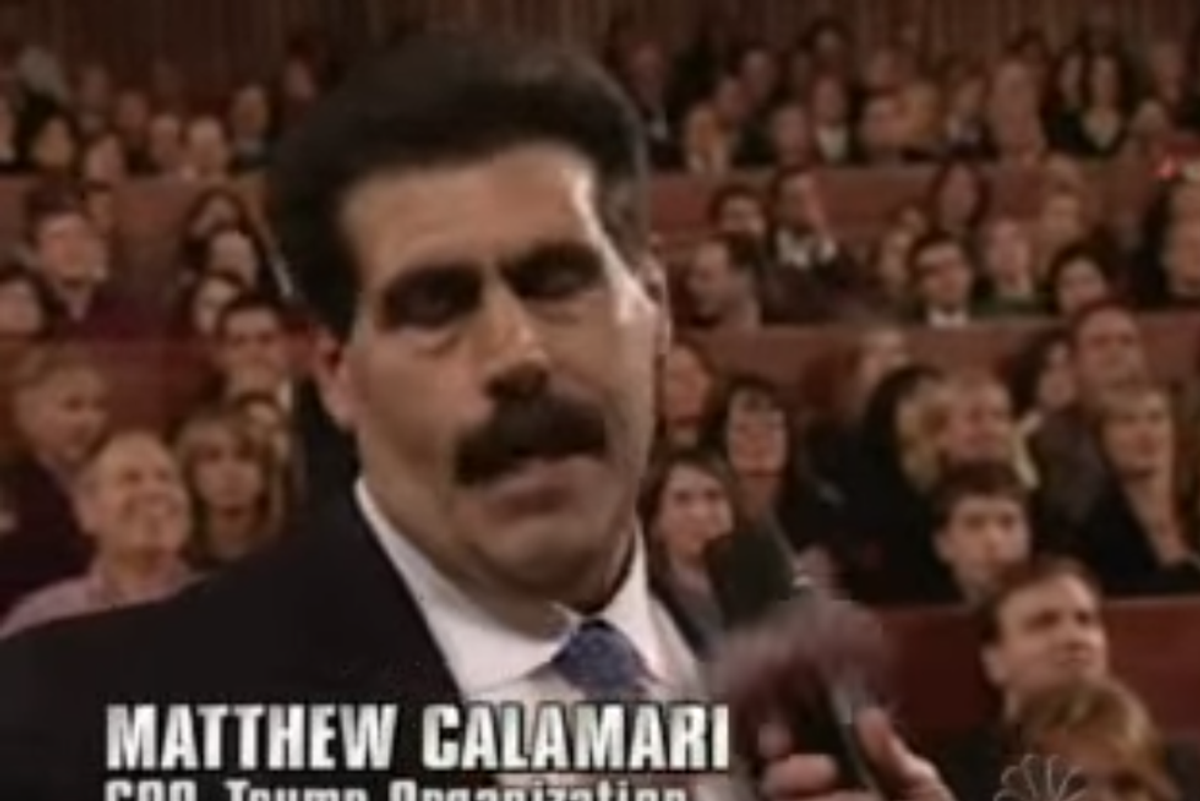 The Squid Man is back! Matthew Calamari, the security goon who may well know about some illegal shit going down in Trumpland, is in the news again, thanks to Manhattan District Attorney Cyrus Vance, Jr.'s effort to take down the madman of Mar-a-Lago.
According to the Wall Street Journal, Vance is grabbing Calamari by the pornstache in an attempt to get him to flip on his boss. And as with CFO Allen Weisselberg, another longtime Trump Organization official who according to many knows where all the bodies are buried, Calamari may have given prosecutors leverage by failing to pay income taxes on the various perks his boss gave him in lieu of compensation.
Calamari, a former bodyguard who impressed the Trump family by body-slamming hecklers at the 1981 US Open, has long been rumored to be willing to get his hands dirty for the boss. An anecdote from Lost Tycoon: The Many Lives of Donald J. Trump has Calamari dutifully declaring his willingness to kill for his beloved benefactor. And Michael Cohen, who famously declared himself willing to "take a bullet" for Trump (right up until he wasn't), fingered Calamari as a guy with inside knowledge of inflated insurance appraisals in questioning by Rep. Alexandria Ocasio-Cortez in 2019.
---
And so it's not exactly surprising that an investigation centered on allegedly fraudulent asset valuations would get around to the Squid Man eventually. Nor is it a shock that the Trump Organization is reported to have given both Calamari and his son, who also works for the company, free rent at Trump-owned apartments.
The elder Mr. Calamari has for years lived in an apartment at Trump Park Avenue, a luxury building on Manhattan's East Side, [...] people familiar with the matter said. He also owns a home on Long Island, according to public records. Mr. Calamari has driven a Mercedes leased through the Trump Organization, according to those people.

The younger Mr. Calamari lives in Trump Parc East, which is across the street from Central Park, records show. Barry Weisselberg, the son of Allen Weisselberg, said in a 2018 deposition for his divorce that he lived in the same building.
While it's not illegal to house your own employees, the IRS tends to take a dim view of taxpayers who neglect to declare thousands of dollars worth of benefits and pay taxes on them. Or it would if it had the time and resources to actually enforce the law. But luckily for the state of New York, Cy Vance and Attorney General Letitia James do have time. Particularly when they're looking to give longtime retainers like Weisselberg and Calamari a reason to cooperate and tell investigators what they know about the boss.
That fact that these two idiots brought their own sons into the Trump family business just makes it easier. And if the younger Calamari is as gormless as Weisselberg's son Barry, who actually admitted in a deposition that "It was a corporate apartment, so we didn't have rent," then this might be like shooting fish in a barrel. Although if there's another pissed off ex-wife floating around waiting to burn it all down, we'll know for sure that this whole thing is a simulation. (For the record, we have not heard of one.)
The Journal reports that Vance told Calamari and his son that they need to get their own lawyer, so they went out and hired Nicholas Gravante Jr., head of commercial litigation at Cadwalader, Wickersham & Taft LLP. Gravante, a former partner at Boies Schiller who has also represented Hunter Biden (because of course he has), is a highly competent practitioner who will not come cheap. (To be clear, the Calamaris have not actually been accused of any wrongdoing.)

Will the Trump Organization cover the Calamaris' legal bills? Or will they throw them under the bus? And then what will happen?
Guess we'll have to wait for the next episode of this seedy New York legal drama to find out!
Follow Liz Dye on Twitter!

Click the widget to keep your Wonkette ad-free and feisty. And if you're ordering from Amazon, use this link, because reasons.
Liz Dye
Liz Dye lives in Baltimore with her wonderful husband and a houseful of teenagers. When she isn't being mad about a thing on the internet, she's hiding in plain sight in the carpool line. She's the one wearing yoga pants glaring at her phone.