Martha Raddatz Yanks Talking Stick From Hillary To 'Splain Donald Trump What 'War' Is
News
October 10, 2016 11:26 AM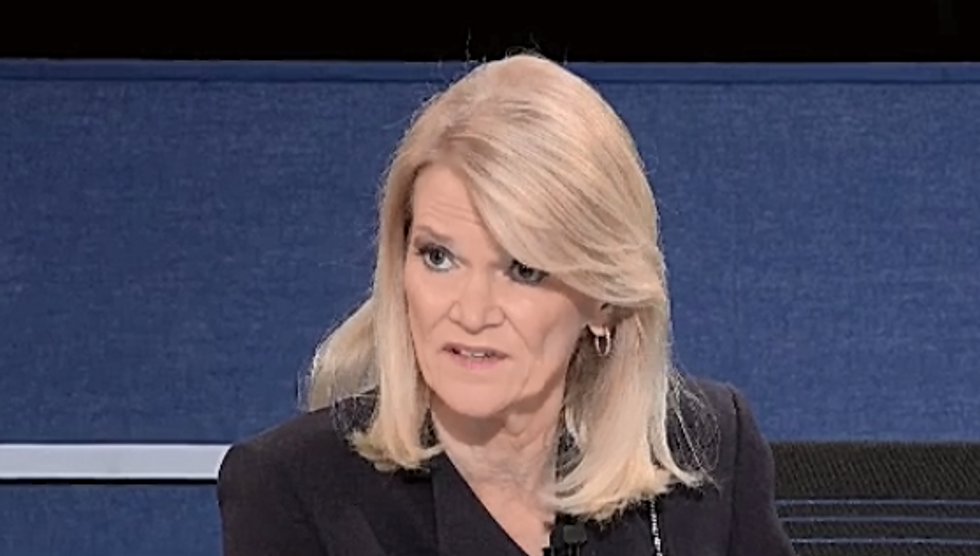 So mean, with her #facts and stuff!
---
Debate moderators are not supposed to actually debate political candidates. That is sort of a rule. That said, there are exceptions to the rule, especially in 2016, because Donald Trump is the stupidest, most know-nothing ass ever to be a major party's presidential nominee. So we forgive Martha Raddatz unequivocally for being DONE WITH TRUMP'S SHIT during Sunday night's presidential debate.
The subject of the discussion was "war," specifically the war against ISIS, and a Facebook lady named Diane wanted to know what the candidates would do about Syria and the humanitarian crisis in Aleppo. Hillary Clinton answered ably, noting that Russia isn't doing jack-squat about ISIS, but is rather targeting civilians and rebels who oppose Bashar al-Assad's regime. In other words, to do something about the crisis in Aleppo, we have to do something about Russian influence in the region, is what Hillz was saying.
Trump responded by vomiting catchphrases, revealing yet again that he does not know shit from shinola. He said Russia's nuclear program is YOOGE, whereas the United States's nuclear weapons are old and puny. He said Hillary Clinton doesn't even know who the rebels are -- WHAT A IDIOT, RIGHT? -- and that despite how some people don't have a freedom boner for Putin like Trump does, they are actually killing ISIS a lot. (This discussion starts around an hour in to the video.)
TRUMP: I don't like Assad at all, but Assad is killing ISIS. Russia is killing ISIS. And Iran is killing ISIS. And those three have now lined up because of our weak foreign policy.
CNN's factcheckers gave that line one million Pinocchios and a "GAH UR DUMB."
And THAT was when Martha Raddatz started to get annoyed with the thin-skinned orange asswipe talking at her:
RADDATZ: Mr. Trump, let me repeat the question. If you were president…
Right then everybody laughed because Trump's attention span is so weak and pathetic that he probably had no idea what the original question was in the first place. Raddatz continued:
… what would you do about Syria and the humanitarian crisis in Aleppo? And I want to remind you what your running mate said. He said provocations by Russia need to be met with American strength and that if Russia continues to be involved in air strikes along with the Syrian government forces of Assad, the United States of America should be prepared to use military force to strike the military targets of the Assad regime.

TRUMP: OK. He and I haven't spoken, and I disagree. I disagree.

RADDATZ: You disagree with your running mate?
YES! He threw his running mate Mike Pence under the bus! And for the record, that is EXACTLY what Pence said at the vice presidential debate, even though Monday morning Pence said he and Trump have the EXACT SAME POSITION on the issue, and that Martha Raddatz is a big honkin' liar. (We will have another post today about how Pence is a pussy, do not worry.)
Raddatz had another question for Trump, which she repeated twice so the baby-handed dumpster fire was sure to hear it:
RADDATZ: What do you think will happen if Aleppo falls?

TRUMP: I think Aleppo is a disaster, humanitarian-wise.

RADDATZ: What do you think will happen if it falls?
Trump responded that Aleppo already DID fall, and moreover that the United States is SO STUPID, the way sometimes we signal that we're going to attack a place, when wouldn't it be way more better if we sneak up on a place and murder it, and then tell everybody the next morning about how we murdered that place?
Raddatz was officially through with Trump at that point:
TRUMP: Why do they have to say we're going to be attacking Mosul within the next four to six weeks, which is what they're saying? How stupid is our country?

RADDATZ: There are sometimes reasons the military does that. Psychological warfare.

TRUMP: I can't think of any. I can't think of any. And I'm pretty good at it.
Trump is pretty good at military. He knows more about ISIS than the generals know, and he bravely served his country in OH WAIT, just kidding, he escaped military service in Vietnam because his gnarly big toe was achy that whole decade.
Help him, Martha, with but one example of why the United States might signal an attack beforehand:
RADDATZ: It might be to help get civilians out.
Trump didn't think of that reason, therefore it doesn't exist. And besides, if they got the civilians out, then Trump's Russian BFFs might not get to kill all the civilians, and that would make Putin very sadface emoji.
After all this, Raddatz cleansed her brain by letting Hillary Clinton say some #facts, and then she changed the subject, continued being a badass moderator for the whole rest of the debate, and probably drank all the bottles of wine afterward, because she deserved it.
[debate transcript viaFortune]
Evan Hurst
Evan Hurst is the managing editor of Wonkette, which means he is the boss of you, unless you are Rebecca, who is boss of him. His dog Lula is judging you right now.
Follow him on Twitter RIGHT HERE.