Marty Peretz Has Instinctual Knowledge Of Reasons Behind Unconfirmed Firing
News
June 15, 2009 04:15 PM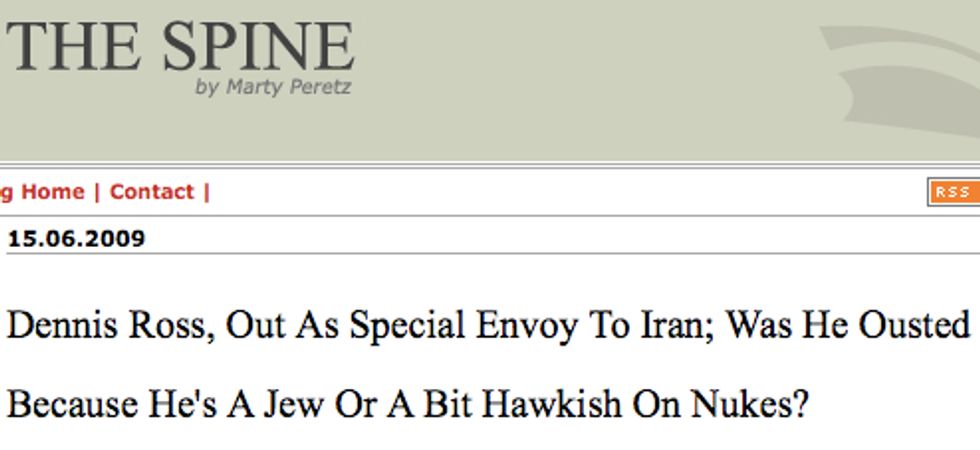 New Republic editor-in-chief Marty Peretz, known for his colorful view (complete hatred) of Arabs, read in an Israeli newspaper that Dennis Ross was being replaced as "Iran Czar" or whatever. Granted the State Department has denied this news report, and Dennis Ross never even held the position Peretz claims he did, but still, did Barack Obama do this because he's an anti-Semite or a pussy or both?
---
The pants were definitely off when he wrote this:
The news that Dennis Ross, long time State Department strategist and peace processor, is being bounced as special envoy to Iran comes from an article by Barak Ravid in the reliable (at least on these matters) Ha'aretz. The story seems to assume that Ross was declared persona non grata by Tehran either because he was a Jew or because he believes that Iran should not be permitted to acquire nuclear weapons. If the Obama administration so readily capitulated to Dr. Ahmadinejad's masters or minions, there's another reason to be worried about its seriousness in this very serious encounter between antagonists. No, we are actually enemies.
Well, Dennis Ross was never "special envoy to Iran," but maybe it was something like that. And a State Department spokesperson has denied the reports, saying Dennis Ross has everyone's full confidence and is working hard, today, in his office. It may well be true that he is on his way out (to another wing of the government), and the administration wants to keep it under wraps for now.
But for Marty Peretz, the American government has fallen apart completely and that Hillary Clinton is terrible and these things were obvious all along, kill us all:
To have crumbled precisely while the regime of the ayatollahs is facing a real crisis of confidence at home and something of a challenge to its legitimacy abroad is, well, just that: crumbling. It certainly does not testify to American resilience, even diplomatically. My instinct here is that the president and Mrs. Clinton are so eager to engage--engage even for its own sake--that they'll do anything to please the other. This does not come as a result of analysis. It is, I am sorry to say, a predicated formula.

I had an inkling of trouble a few weeks ago when The New Republic was negotiating to publish a small part of a new book, Myths, Illusions and Peace: Finding a New Direction for America in the Middle East, which Ross co-wrote with David Makovsky. Yes, the text of the book raises the possibility of a strike of last resort against Iran's nuclear installations. In any event, the State Department wouldn't give its approval. And you now know why. Or do you? I believe it's because the administration has given up the military option.
"Ten bucks says I'm right."
Dennis Ross, Out As Special Envoy To Iran; Was He Ousted Because He's A Jew Or A Bit Hawkish On Nukes? [TNR]